Getting quality meat has become more and more difficult in recent years. With headlines stating that chickens are raised as fast as possible to get them to our plate, and the environmental impact of large factory farms, it's hard to know what is safe to buy.
Even your local butcher can't always tell you where they source their meat from. Is organic meat really any better? That's what we're here to discuss.
This sustainable shopping guide will talk you through what organic meat is, what to know about conventional meat, plus I'll let you in on 5 of my favorite places to buy organic meat from.
This post does contain some affiliate links. If you choose to make a purchase Give a Damn Goods may receive a commission. Our commission is at no additional cost to you. Give a Damn Goods only recommend products and brands we truly believe in.
Quick List of Online Organic Meat Delivery Services
If you're looking for a quick list of organic meat brands to order from online, here you go! If you'd like to further your knowledge on organic meat and the industry, read on!
| Product Image | Product Name / Price / Description | Primary Button |
| --- | --- | --- |
| | Crowd Cow partners with sustainable farms and ethical fisheries around the world to provide high quality food. | |
| | Every product on Thrive Market's virtual shelves must meet their rigorous standards for quality, sustainability, and affordability. | |
| | From the sustainable sourcing practices of their farmer and fishermen partners, to butchering and processing in a state-of-the-art facility, to the eco-friendly shipping materials, Rastelli's takes pride in responsible meat. | |
| | Primal Pastures combines ultra-quality, high animal welfare, truly pasture-raised, beyond organic, soy free meats with the modern convenience of farm to doorstep home delivery. | |
| | Organic Prairie is an independent co-op of organic family farms. They believe food should be pure and simple with nothing added. They never use antibiotics, synthetic hormones, or feed treated with harsh pesticides. | |
What Is Organic Meat?
While many of us understand what it means for our vegetables to be organic, the organic label also affects meat. In fact, animals that are organic can at times live very different lives to conventional animals.
For meat to be classified as organic food in the USA, it must meet specific criteria. The animals must be fed only with food that has been organically grown, have access to the outdoors, and are not be given any antibiotics or hormones over the course of their lives.
From an animal welfare perspective, this can mean a massive difference in the quality of life these animals lead. As they must be given the chance to act according to their nature, they have more access to the outdoors, and can socialize in herds instead of being kept indoors constantly.
They are also not overfed, or given hormones to bulk them quickly. Their quality of life is more important to organic farmers than how fast they put on weight.
Is Organic Meat Grass Fed?
Grass-fed meat is distinct from organic meat. Not all grass fed meat is organic, and not all organic meat is grass fed.
Organic meat regulations require that animals are raised in living conditions accommodating their natural behaviors, meaning that all organically grown meat will have had the opportunity to graze on pasture and will lead an outdoor life.
However, the amount this grazing makes up their diet will differ between farms. For the most part, this distinction will relate to beef.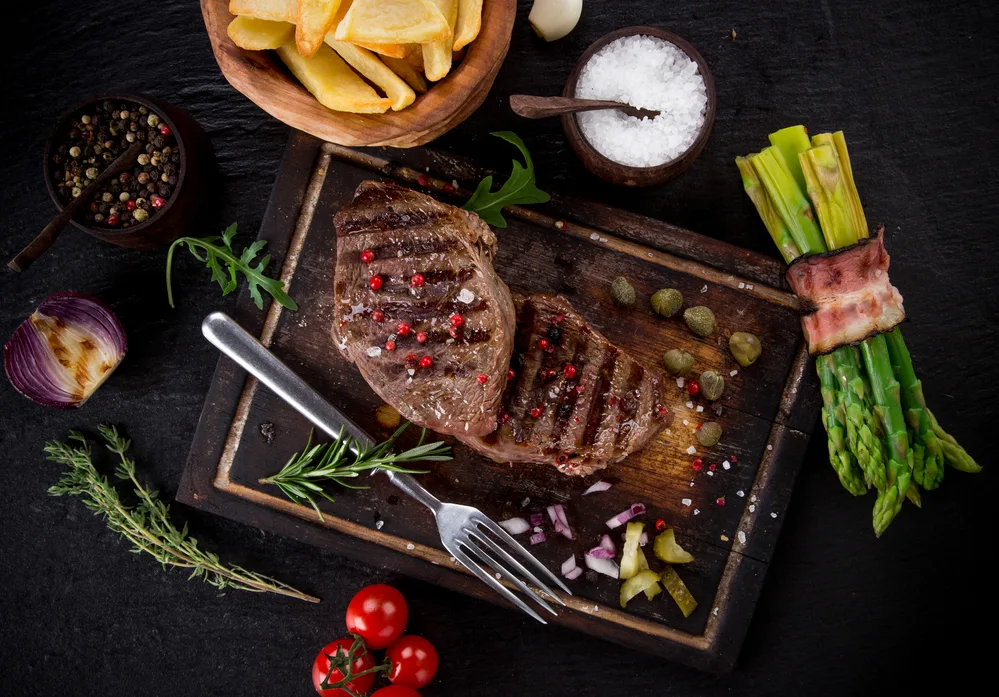 When choosing to eat organically, you should also consider whether your meat has been grass-fed.
This is known to be better for the animals and for the environment, as growing crops for animal feed — even when it's done so organically — puts a strain on resources and the land could either be used for other crops, or the grain could be used elsewhere.
While eating organically is sustainable, organic grass-fed animals are the next step up. You'll also come across the term pasture-raised meat in general, this means that the animals are free to graze throughout their life, but are given grain as well, particularly in the last few months on the farm.
It's important to remember however, that even though a product is labeled as "grass fed" the grass may have been sprayed with fertilizer and pesticides unless also labeled as organic.
Is Organic Meat More Expensive?
Typically, yes organic meat will be more expensive than conventional meat. This is often because of the higher costs to produce organic meat such as purchasing organic feed or the extra space raising socially responsible meat may require.
What's Wrong With Conventional Meat?
Unfortunately, there are many issues with the meat that we conventionally eat. One of the major parts of the regulations controlling organic farming is the fact the animals are not allowed any antibiotics or subjected to any hormones.
This is a common practice in conventional or factory farming, and antibiotics are regularly used as a preventative rather than a cure, increasing the likelihood of antibiotic resistance.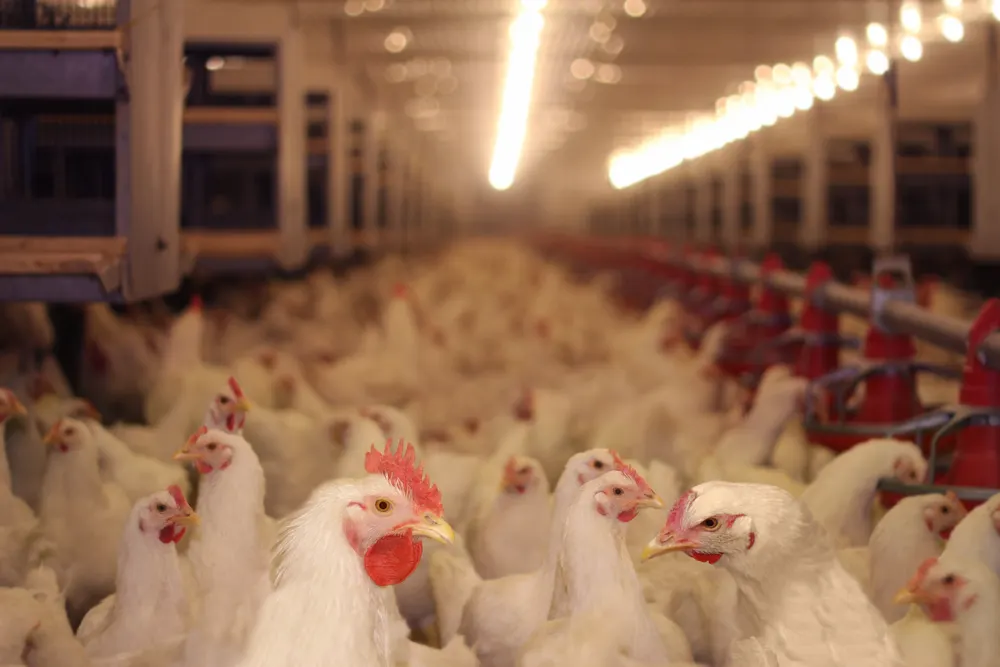 The lives that the animals live is also concerning and there are few other regulations that protect conventionally farmed meat.
Not knowing what type of life the animal lived, or the conditions in which it was kept is definitely a downside to conventional meat. With organic farming, you are able to trace everything back "from farm gate to your plate" which is much more reassuring.
Other practices in factory farms are just as concerning. There are now many claims that meat is injected with saltwater in order to add flavor to meat that is grown leaner.
It's a way to try and ensure that the consumer enjoys the meat even if they aren't sure of the best way to cook it, but it can lead to an excess of sodium in our meat products.
Health Benefits Of Organic Meat
Eating organic meat means that the animals have not been given any antibiotics or hormones over the course of their lifetime. This is seen as a health benefit of organic meat as any chemicals or hormones that animals ingest will end up having trace amounts in either their fat or muscle.
While there isn't much firm research that hormones or antibiotics in meat are dangerous, there are growing concerns over the practice. It also means that we aren't exposed to pesticides either.
Just like we don't want our fruit and veg to be grown using them, we also don't want animals to eat plants that have been sprayed with pesticides, as this could potentially end up in our bodies.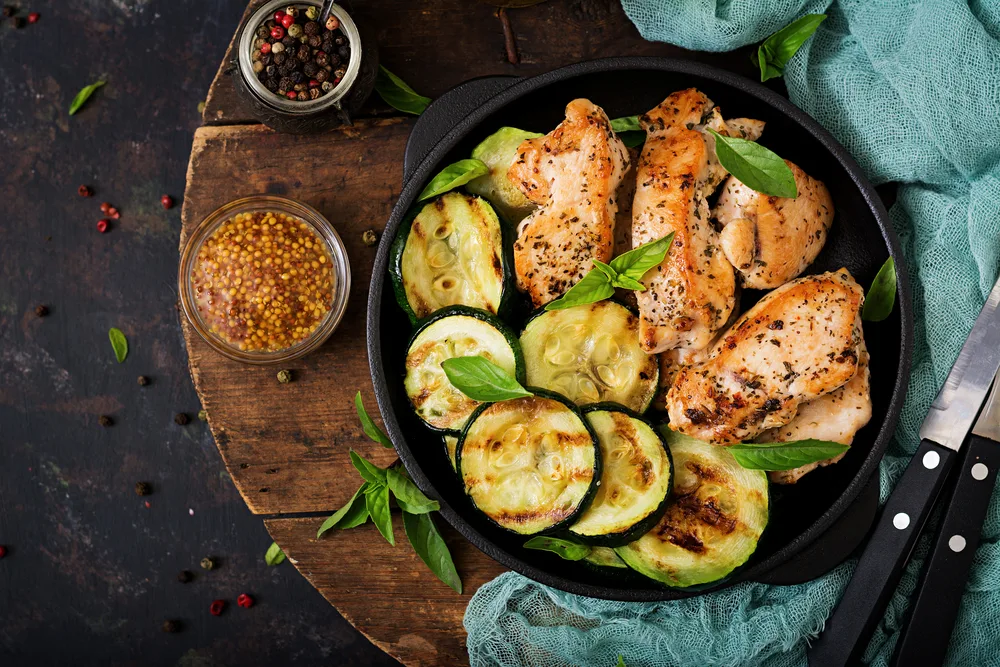 While you might think that, apart from the antibiotics, organic meat is more about the environment and the health of the animal, you'd be mistaken. Organic meat compared to conventional meat has less saturated fat — meaning less of what can clog your arteries — and more omega 3 fatty acids.
This means that you're getting a healthy source of protein and iron, without the usual dangers associated with meat-eating.
Environmental Benefits Of Organic Meat
Organic meat can have some great environmental benefits as well because of the sustainable practices.
As all of the forage and grass that organic animals eat needs to be organic as well, this is decreasing the amount of pesticides and herbicides used, which in turn decreases run-off into rivers which can pollute them and cause harm to wildlife.
In addition to this, it will increase the biodiversity of the land where this is grown.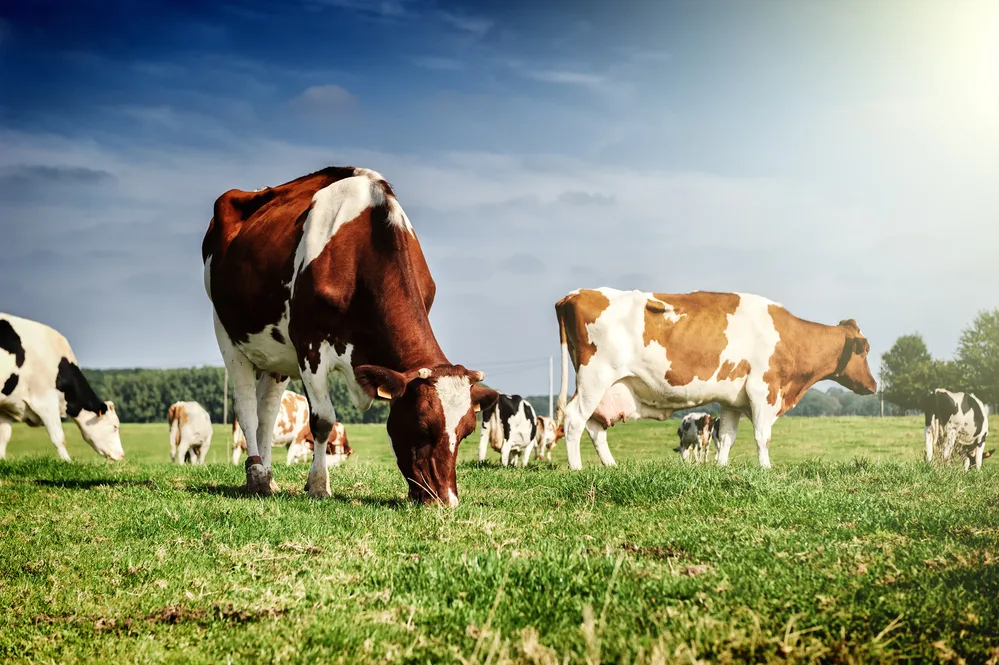 Having animals grazing on land can also increase biodiversity. So long as the area isn't overgrazed, cropping grass and plants to different lengths encourages growth of certain wildflowers, and can maintain important shrubland that is the home to a variety of wildlife.
Managed grazing can also put carbon back into the soil that would have entered the atmosphere as CO2. In turn, grazing animals provide their own fertilizer in the form of manure, which provides the soil with nitrogen and is especially useful when used alongside crop rotations.
5 Best Places to Buy Organic Meat
Now that you know all the ins and outs of organic meat, it's time to get shopping! While the best place to get organic meat is usually your organic local farmer or farmers markets, you may not live near any local farms that are organic, and your local grocery store may not have sustainable meats either.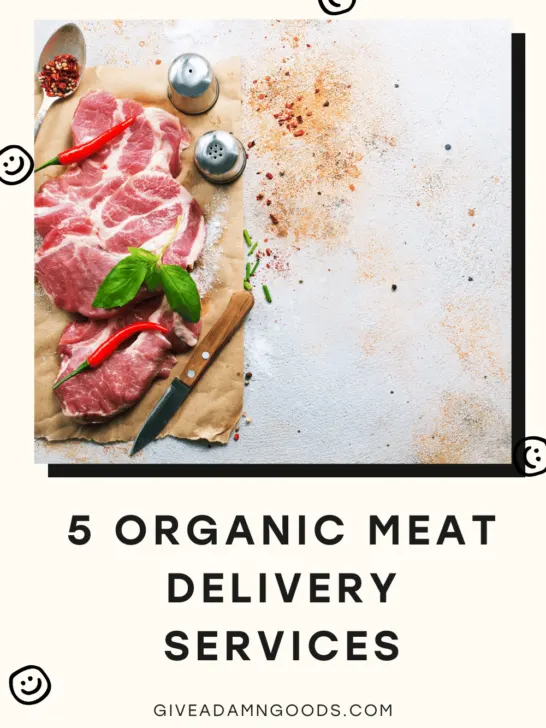 There's good news though, as many small farms work with delivery services, so don't be afraid to shop online!
Here are 5 of the best organic meat delivery services that will deliver organic meat right to your door. It's an easy way to shop when you have limited time!
Selling a variety of meat, from 100% organic grass-fed beef to organic free-range chicken and even seafood, with Crowd Cow, you can even pick which farm your meat comes from. The offer different cuts of meat, from ground beef and rib-eye to pork chops and whole chicken.
Offering both one-off purchases and a regular subscription service, all of their meat is frozen at its freshest and sent to you in sustainable packaging, including biodegradable foam. You can use my referral link for $25 off your first Crowd Cow purchase.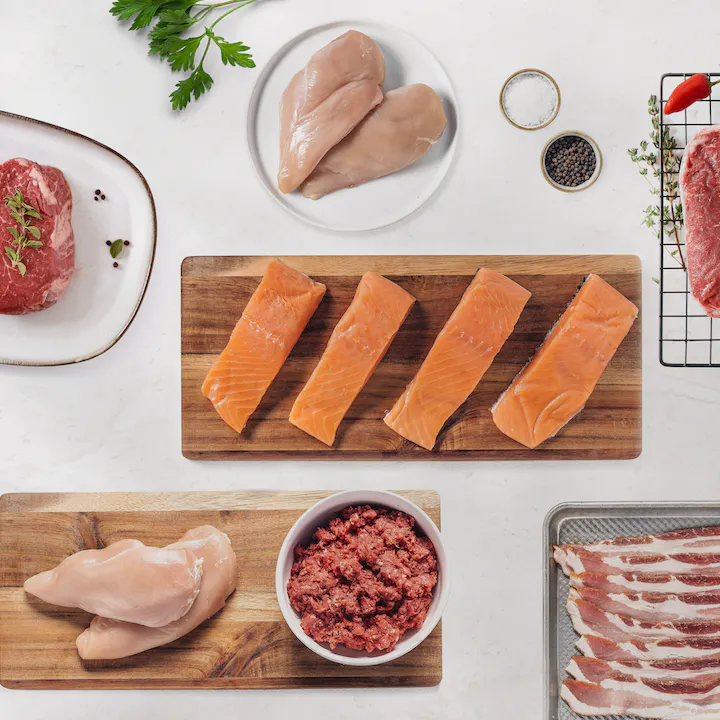 Crowd Cow is my personal go-to for ordering meat. I really like the quality of their beef products. We love their steaks, ground beef, and chicken. I also appreciate that Crowd Cow regularly marks down different items. This allows me to try new items at discounted prices.
Tracing its beginnings to a one-room butcher shop over 40 years ago, Rastelli's has kept the same family values that they were founded on, scaled up to deliver organic high-quality meat across America. They are very particular about who they partner with, and the farmers that supply them really are treated as partners here.
With premium cuts of certified organic beef and organic chicken, you'll find it hard to choose what to cook first. Other organic meats include organic turkey bacon, chicken wings, burgers, and marrow bones!
Along with their organic products, Rastelli's also offers wild-caught seafood, pasture-raised pork, and other high quality specialty meats.
Rastelli's is my go-to for organic grass fed burgers. I'm always impressed by the flavor!
At Thrive Market, you can not only purchase organic meat, but the rest of your groceries as well. From cereal to haircare, all of the products sold here are GMO-free. They even have a list of 500 "never ingredients" that you won't find on their virtual shelves. This includes dyes and additives that are banned in many countries outside of the US.
Thrive Market's organic meat selection includes organic chicken breasts, organic chicken sausage, organic pork chops, organic ribs, and more. Thrive Market is a great option when trying to shop organic on a budget.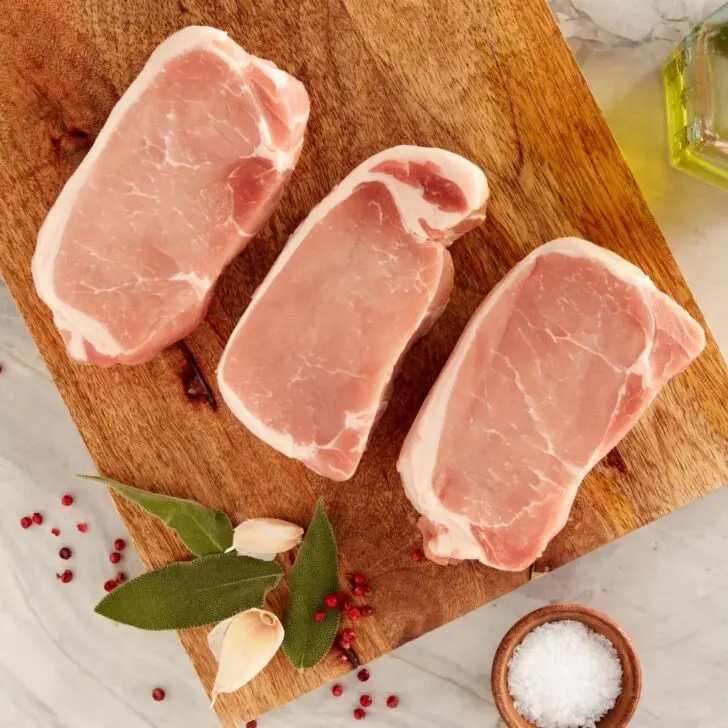 A membership is required to shop at Thrive's Market's online store, but with everything in one place with lower prices and similar products, shopping for organic produce to organic meat has never been easier. They have a discount off your first order with any new annual membership.
You can use my referral link for 40% off your first Thrive Market purchase. We order their organic meats regularly as we tend to find their prices to be a bit lower! They even have a price matching program too!
As the name suggests, Organic Prairie only sells meat that is USDA Certified organic. Pushing back against the greenwashing "natural" market, they believe that if it's not organic, it's just not good enough to eat. Even their pork is organic, which is rarer to see.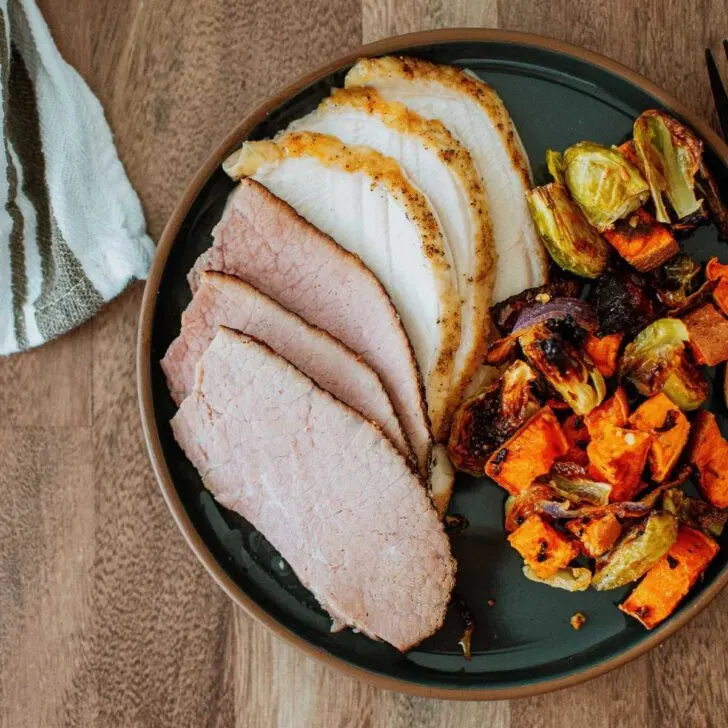 They have organic chicken, beef, pork, ham, and turkey as part of their online meat delivery services. Plus, they also offer free shipping on orders over $200.
Primal Pastures label their meat as "beyond organic". While animals are raised on organic principles, with no growth hormones or antibiotics, they don't see the need to get the official label.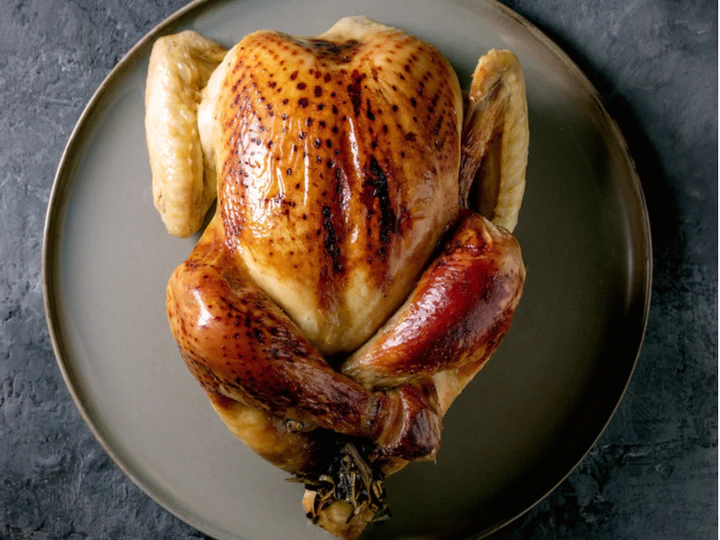 Wanting to create a network of farms and quality meat that they would be happy for their grandchildren to eat, this California company will tell you exactly what it is they feed their animals, and they avoid both corn and soy in all of their animal feed. Make your own custom box or shop their curated selections.
While their meats are not third party certified organic, they are incredibly transparent about using organic feed and regenerative agriculture practices.
Tips for Shopping for Organic Meat
If you're ready to start shopping for organic meat here are some tips to consider!
Try Shopping Locally
There are a lot of small farms that use organic farming practices, but don't hold the third party certification.
If you're shopping at a local butcher shop or farmers market consider asking about how the animals were fed and raised.
This is a great way to start a conscious conversation, learn about local food systems, and potentially find local organic meats to enjoy.
Sign up for E-mails & Save Money
If you're able to shop online from one of the brands listed above try signing up for their e-mail list and watching for sales. This is a great way to save money as organic meat tend to be more expensive. Sales can be a great opportunity to stock up and keep your organic meat in the freezer.
​Remember that organic meat is an investment in your health because you're avoiding the low quality feed and potential antibiotics or hormones that can be found in conventional meats.
Check Grocery Stores
Organic food is gaining popularity and becoming a bit more accessible at grocery stores. While health food stores like Whole Foods and Trader Joes are known for having organic products, stores like Kroger and Target have started their own lines of organic products.
These can typically be a little bit cheaper than shopping at the health food stores.
There you have it, our guide to what exactly organic meat is, and what the benefits are of buying it. I hope that you've learned something, and that you might consider moving to 100% organic meat in the future.