This sustainable buying guide will focus on the environmental and health impacts of makeup, plus 6 of the best eco-friendly makeup brands.
This post does contain some affiliate links which means Give a Damn Goods may receive a commission if you decided to purchase. Our commission is at no additional expense to you!
Quick List of Sustainable Makeup Brands
If you're just looking for a quick list of eco-friendly makeup brands to check out, here you go! Read on to learn more in depth about how you can make your makeup routine a bit more sustainable by looking for certain ingredients & why we love these brands.
| Product Image | Product Name / Description | Primary Button |
| --- | --- | --- |
| | | |
| | Inika Organics pride themselves on having 100% natural products that are completely free of synthetics & prioritize organic ingredients. | |
| | Primally Pure focuses on creating high-quality eco-friendly skin & beauty products made with clean ingredients. | |
| | River Organics products are Leaping Bunny Certified, soy free, and palm oil free. | |
| | Tre'stique is a clean beauty brand designs all of their products so you only buy it once, then refill and reuse endlessly. | |
| | Corvus Botanicals sustainable beauty products feature organic ingredients, compostable packaging, and are ethically made in the USA. | |
| | W3ll People is a clean beauty brand that's synonymous with ethical, sustainable, and minimalist makeup that's designed to help you feel good, look good, and do good. | |
What's Wrong with Conventional Makeup?
Whether you use makeup daily or only for certain events, we all get that feeling of triumph when we find a product that's just right for us and our desired beauty routine. It may be a designer brand or a long-time favorite from the local drugstore, the right makeup will have us coming back time and time again. But not all is what it seems.
If you're someone who has sensitive skin, you might already be aware of some of the surprising ingredients in beauty brands across the country. Ingredients that could be potentially dangerous to our health. What's more, the beauty industry has a terrible track record with one other thing – sustainability.
Let's start by exploring the impact conventional makeup brands have.
Environmental Issues with Makeup
What are the environmental issues with makeup? Surely it can't be that bad, can it? Well, the short answer is, yes it can. The cosmetics industry has long been the cause of major concern to activists. Here are just a few reasons for this:
Wasteful Packaging
We all love the look of new makeup, the shiny cases that click open, the beautiful boxes, and even the bags we're given to carry them out of the store. Yet where does all of this eventually end up? Most likely, the landfill.
Most makeup packaging isn't typically made to be recycled, whether it is plastic packaging or not, and when you look at the sheer amount of it compared to the size of the makeup involved, it's clear to see why packaging is a problem for this industry.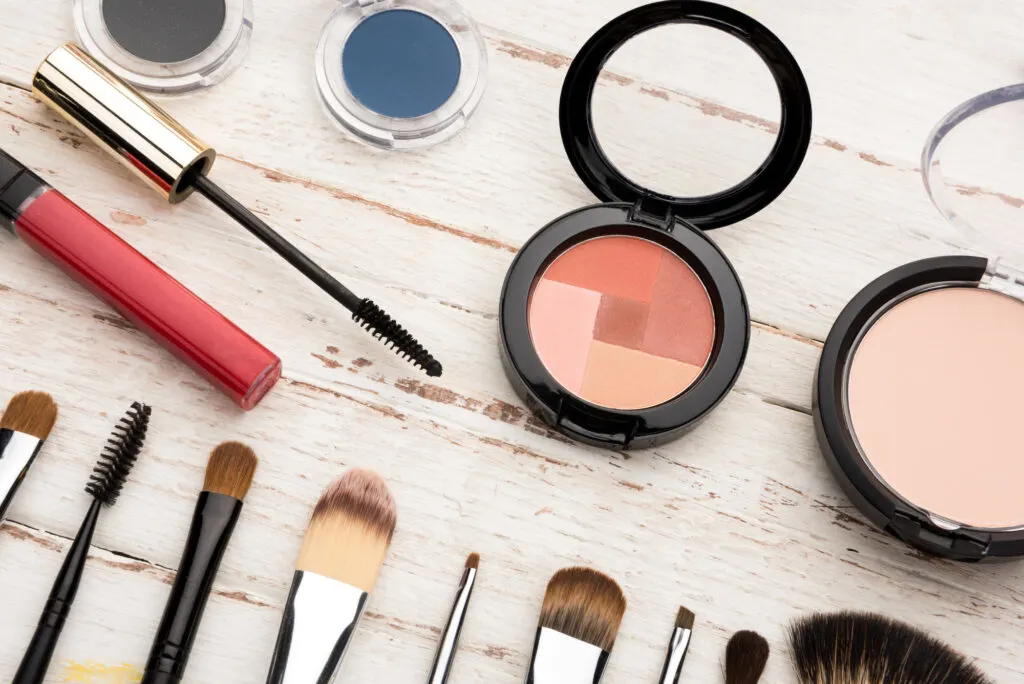 Plastic Pollution
Linked to this is of course plastic pollution. Disposal of containers makes up 70% of the cosmetic industries carbon emissions and the waste that this produces isn't leaving our planet any time soon. Pair this with the amount of single use items in the cosmetics industry, and we've got a serious problem.
Take disposable makeup remover wipes for instance. The majority of these can't be recycled and don't biodegrade, so they're just accumulating in our environment. The fibers they are made of can also pollute our waterways and damage marine life.
Deforestation
Another major environmental impact that the makeup industry causes is deforestation. The main reason for this is palm oil. It is one of the most used ingredients in the cosmetic industry, and this demand has seen whole swaths of forest destroyed in order to plant it in sterile rows that destroys the habitat of many species.
The rainforest has also been cut down for mining access for another popular makeup ingredient: mica. It's used to add shimmer to lipstick and eyeshadow.
Health Issues with Makeup
It's not just our natural environment that is damaged by current makeup regulations. On top of the environmental impacts, our health can be impacted as well. You can be sure however, that if an ingredient is dangerous for us, it will also be dangerous when released into the environment.
In the U.S., "The law does not require cosmetic products and ingredients, other than color additives, to have FDA approval before they go on the market." This means that while you might think that anything sold specifically for use on your face or lips must be safe for you, that's not always the case.
Ingredients to Avoid & Why
There are only 11 chemicals in the US banned for use in cosmetics. In the EU however, there are more than 1,300. It's a scary thought, which is why I've put together a list of some of the main ingredients you should be aware of. This isn't exhaustive, but it should tell you whether the makeup you already own is safe for you to use. Read more about cosmetics and chemicals with these articles from Environmental Working Group.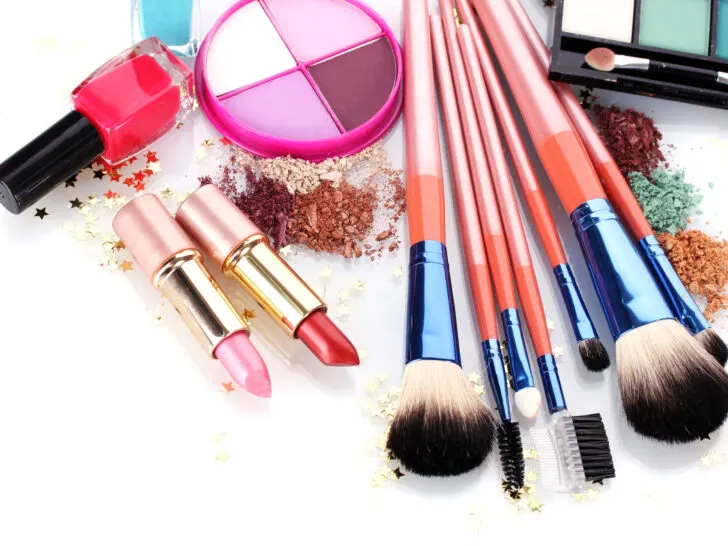 Parabens and Phthalates
Found uncomfortably often in makeup and cosmetics — everything from deodorants to toothpaste to dry shampoo — parabens and phthalates are two ingredients you should really try to avoid. Used mostly as either a binding ingredient or a preservative, they have been linked to changes in hormonal balance. In the case of parabens, it is a rise in estrogen. This, in turn, can increase cancer risk. Any product labeled "long-lasting" or "wear resistant" likely contains PFAs.
BHA and BHT
Used as both a fragrance and a preservative, both BHA and BHT are toxic chemicals to have in your makeup. A known carcinogen, they can also affect your hormones. BHA has been banned from use as a fragrance in cosmetics in the European Union.
Triclosan
This ingredient is actually banned by the FDA, but only its use in soaps. It can still appear in other cosmetics. It's used both as an antiperspirant and a preservative, but it can irritate skin, and has also been linked to disrupted hormones. Plus, if the FDA has already banned its use in soaps, why is it still allowed in our makeup?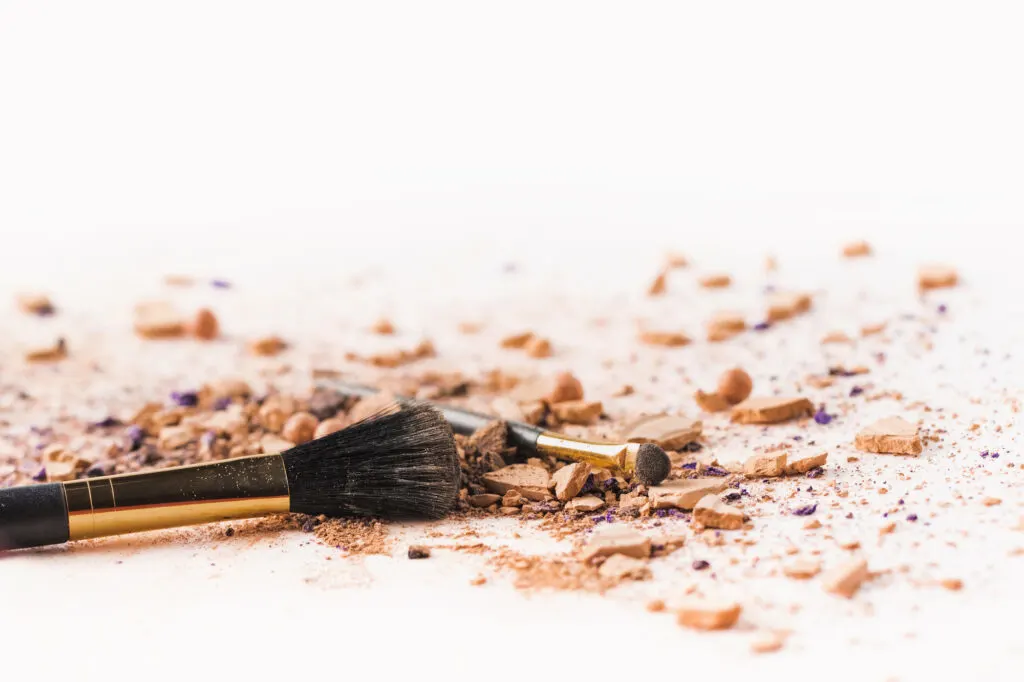 Lead
It might be hard to believe, but lead does appear in our makeup, especially in lipsticks. Well known for its dangers, lead was banned from paint years ago, yet we're still allowed to put it on our face. Plus, lead isn't an irritant, which makes it even harder to avoid as our skin won't react to its presence.
Better & Cleaner Ingredients to Look For
There are however some ingredients that you can look for when buying sustainable makeup that you know are likely to be kinder to your skin — without the potential long-term health effects associated with outer chemicals. These are generally all natural and biodegradable, but synthetic ingredients have their place too.
Shea Butter
Shea butter is able to be sourced in an eco-friendly and sustainable way and is a natural product that can biodegrade. It's been used in Africa for years to keep skin silky smooth, and is a great moisturizer in all makeup products.
Beeswax
Another natural sustainable product to look for in your makeup is beeswax. Eco friendly and non-toxic, harvesting beeswax doesn't harm the bees, and experienced beekeepers know just how to do it right.
Third Party Certifications
Buying eco-friendly makeup can be a minefield, which is why having 3rd Party Certifications can help give you peace of mind before buying.
6 Eco-friendly Makeup Brands for Clean Beauty
Still not sure which natural makeup brands are best for your makeup routine? Here are six of my favorite eco-friendly companies that have makeup products I know you'll just love. These brands focus on high-quality products, sustainable packaging, and clean ingredients.
Elate Cosmetics' Vegan Makeup
Elate products are 100% vegan and cruelty free. What's more, they have a fantastic range to choose from. In order to help when making the difficult decisions they have a great range of samples so you can try before you buy a larger version, from lip balm to eye shadow and everything in between.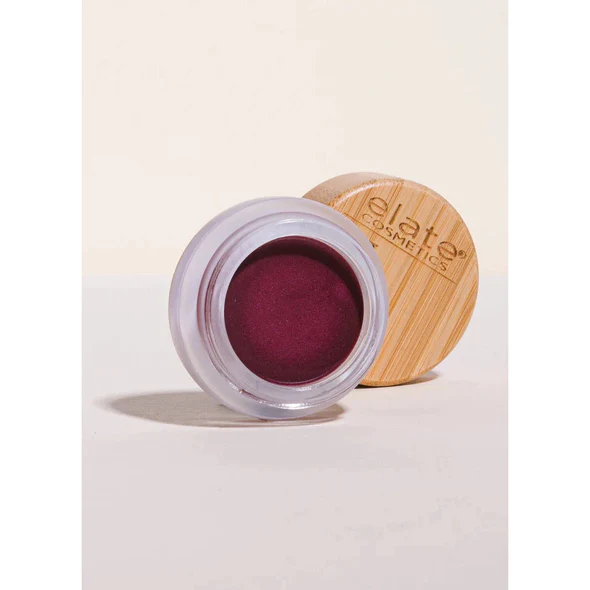 Their sustainable make up is available in plastic-free packaging so no pileup of little plastic bottles in your trash can. Speaking of packaging, Elate uses seed paper packaging for some of their products, meaning you get a bonus garden when you purchase.
Certified B Corps as well as Leaping Bunny certified, you know that this brand is conscious of the environment and their actions.
Inika Organics: Organic Beauty
Inika Organics pride themselves on having 100% natural products that are completely free of synthetics.
Kind to the skin, Inika has a large range of products, with everything from contouring powder to primer to organic lipsticks for you to try, all with a high percentage of organic ingredients in each formula.
Primally Pure Organic Skincare
Primally Pure is a family run business that believes less is more. They are all about creating skincare and makeup with fewer, high-quality eco-friendly products to keep what we're putting on our face as pure as possible. They have a range of skincare products and non-toxic products including cleansers, serums, tinted lip balms, and more.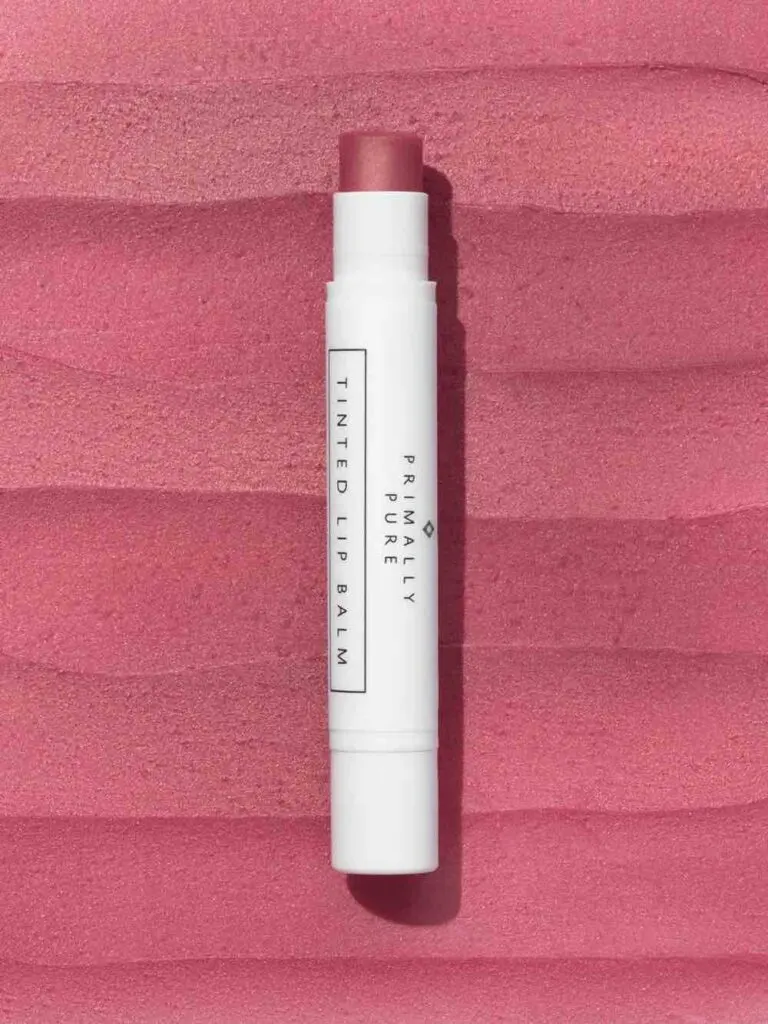 As part of their eco-friendly practices they even have a "mail your empties" agreement with PACT meaning that they can guarantee that all of their recyclable packaging will actually get recycled. Using natural ingredients at their very best, you know there won't be any parabens or synthetic dyes here.
River Organics
Striving to keep their products as organic as possible, River Organics are Leaping Bunny Certified and 100% vegan. Both soy and palm oil free, they take great care into what they put in all of their vegan products, and the dedication is plain to see.
They even have a bamboo mascara and eyebrow brush available so that you can apply their vegan makeup and organic products with ease.
Trestique 's Makeup Made with Clean Ingredients
Trestique are taking sustainable products to a whole new level. This clean beauty brand designs all of their products so you only buy it once, then refill and reuse endlessly. They even pass EU guidelines, which are notoriously strict. They also have what they term a Never List- an ingredient list that you will never find in any of their makeup.
Plus they have a fantastic starter kit to get you acquainted with their full range of products. Trestique's makeup includes mascara, foundation, lip stick, and more.
Corvus Botanicals: Clean Ingredients & Zero Waste Packaging
With Corvus Botanicals, you really know where every ingredient has come from. They are committed to sustainable practices and not greenwashing any of their products. This eco-friendly beauty brand has a lovely range of products, including their ever-poplar lip tints, utilizing sustainable packaging design to reduce waste.
Their products are made in small batches and use a compostable or refillable container for all their natural beauty products. They don't use synthetic fragrances in any of their products. Corvus Botanicals also prioritizes organic, sustainably sourced, and fair trade ingredients.
W3ll People's Eco-friendly Beauty Products
W3ll People is a leading clean beauty brand that's synonymous with ethical, sustainable, and minimalist makeup that's designed to help you feel good, look good, and do good.
Founded in 2008 by three passionate eco-beauty lovers, W3ll People has remained committed to producing high-quality cosmetic products created with safe, natural ingredients in small batches to keep each product as fresh and potent as possible.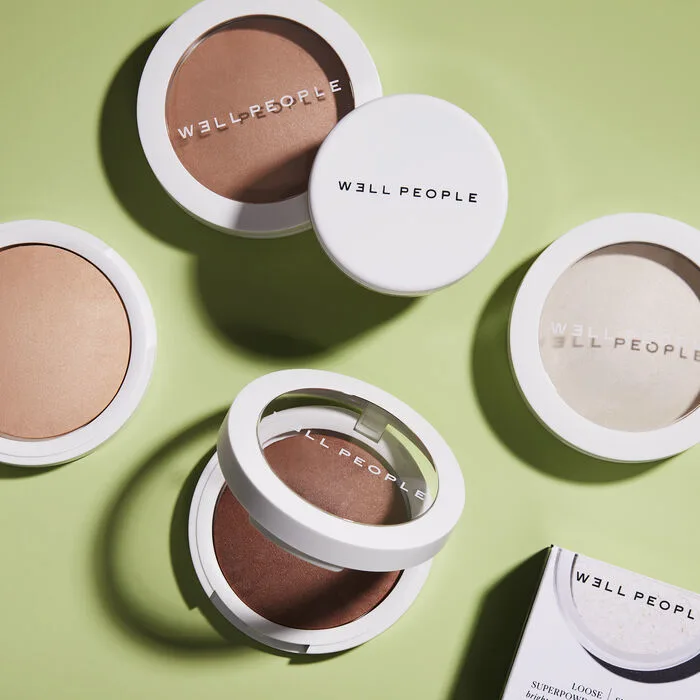 Their philosophy is based on enhancing the natural beauty with simple, high-performance, and versatile makeup products that suit any skin type or tone without sacrificing the planet or animals.
Today, W3ll People is synonymous with uncompromising sustainability, minimalism, and performance, and it continues to inspire a generation of conscious consumers to redefine beauty, one product at a time.
This eco-friendly makeup brand now has100+ EWG verified™ plant-powered makeup and skincare products. Their selection of makeup includes mascara, brow gel, lipstick, eyeliner, eye shadow, blush, moisturizer, foundation.
I've personally ordered some of W3ll People's makeup from Thrive Market. I really like their mascara.
Tips for Shopping for New Eco-friendly Makeup
Swapping out your makeup can be overwhelming. Here are a few tips to help!
Swap out one product at a time. Instead of trying to conquer your entire makeup draw. This gives you time to research brands, ingredients, and find the perfect swap for that individual makeup product.
Purchase smaller sizes if possible. If mini or travel size bottles are an option try to purchase these. This is a good way to test the makeup on your skin and not have to make a huge commitment incase it isn't the type of product you're looking for.
Don't get discouraged! It might take a few tries to find the perfect swap!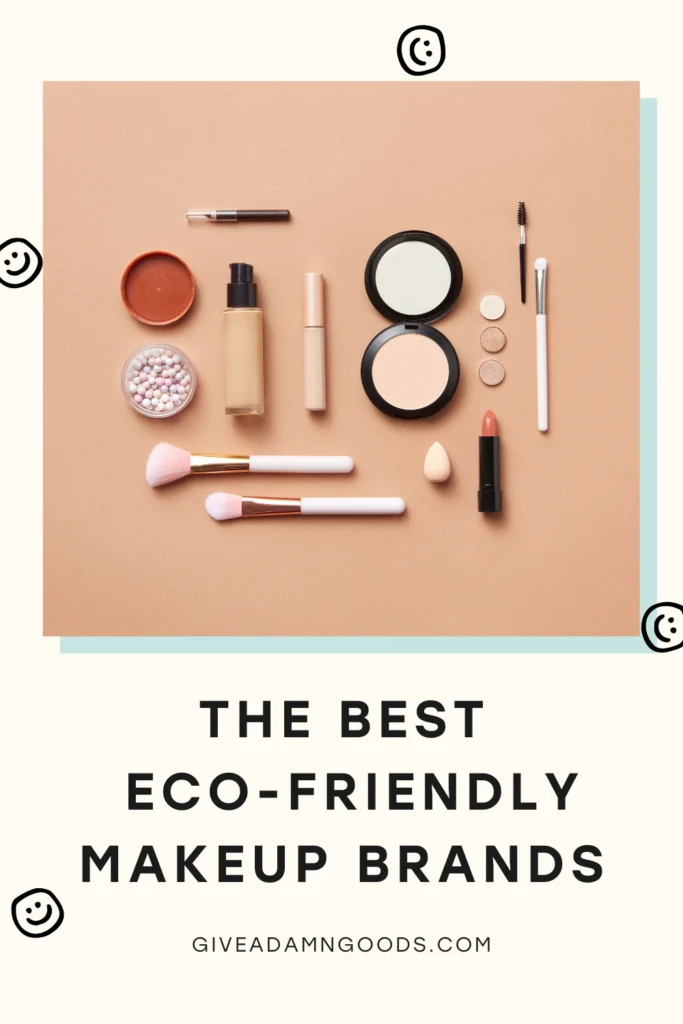 There you have it, my guide on what to avoid — and what to look for — when it comes to makeup. Hopefully you've learned about the environmental impact that the cosmetics industry has, and found some new brands to try out.
We wish you the best on your clean makeup journey and hope this shopping guide for sustainable beauty products was helpful!