Makeup is a great way to express yourself and get out of your comfort zone when you want to try a bold look. However, there are some days you may want a more natural makeup look. There are many benefits to choosing this.
In this post we will explore what a minimalist makeup look consists of, and why clean makeup is the best choice when creating this look.
This post does contain some affiliate links. If you choose to make a purchase Give a Damn Goods may receive a commission. Our commission is at no additional cost to you. Give a Damn Goods only recommend products and brands we truly believe in.
Quick List of Minimalist Makeup Brands with Clean Ingredients
If you're just looking for a quick list of of clean minimalist makeup brands to shop, here you go! If you'd like to further your knowledge on ingredients and why we love these brands, read on!
What Is A Minimalist Makeup Look?
A minimalist makeup look is exactly as it sounds, a routine that uses minimal makeup products and gives off a more natural look. Whether you are a true makeup minimalist, or you are in the makeup beginners category, a minimalistic makeup look is a great go-to.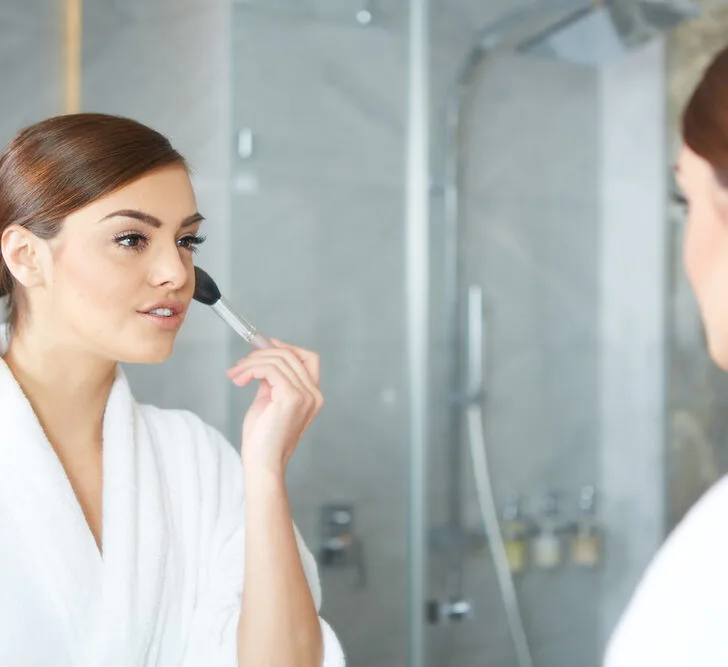 Minimalist makeup has become one of the many makeup trends. However, there are many reasons why someone might want to create a minimalist makeup routine of their own. A few reasons include:
Conscious consumers want to save money: buying fewer products means more money saved
Busy people want to save time: the less steps in the beauty routine, the more time that is saved
People want to try something new: a full face of makeup can be fun, but a great way to change it up is to go for a minimalistic look
Varying skill levels such as being new to the makeup world: starting out with minimalistic looks are a great way to get a few staple products into the makeup bag without feeling completely overwhelmed
Some people have sensitive skin: we'll talk more about this a little further down, but minimalistic beauty often goes hand in hand with clean beauty
How To Create A Minimalistic Look
The key to a great minimalistic look is to highlight your natural features. You don't need a ton of makeup to achieve this, you just need quality natural products.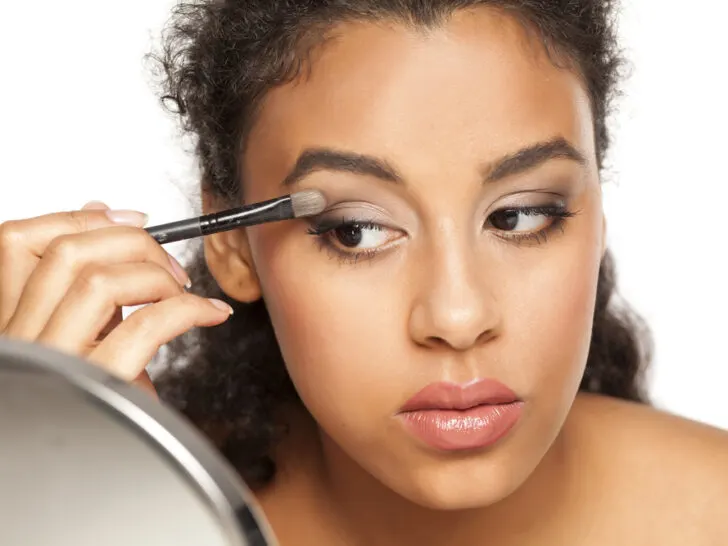 Step 1: Do Your Skincare Routine – a clean face is a must before adding makeup.
Step 2: Pick Your Coverage – are you going to do foundation, tinted moisturizer, or bb cream.
Step 3: Pick Multi-Use Products – the less product you use, the easier and quicker the routine will be. By choosing cream-based products you can usually use it for more than one thing.
Step 4: Add Mascara – to finish off the look add a coat or two of your favorite natural mascara.
Now that you know how to create a minimalistic makeup look, let's talk about ingredients, clean ingredients.
How to Shop for Clean Makeup
Clean makeup refers to beauty products that are made with natural ingredients. The beauty industry isn't regulated so many beauty brands can get away with putting whatever they want in their products.
This is where clean beauty steps in. There have been companies that have come along and changed our perceptions of what makeup can be for us. It doesn't have to be filled with toxins, we have better options.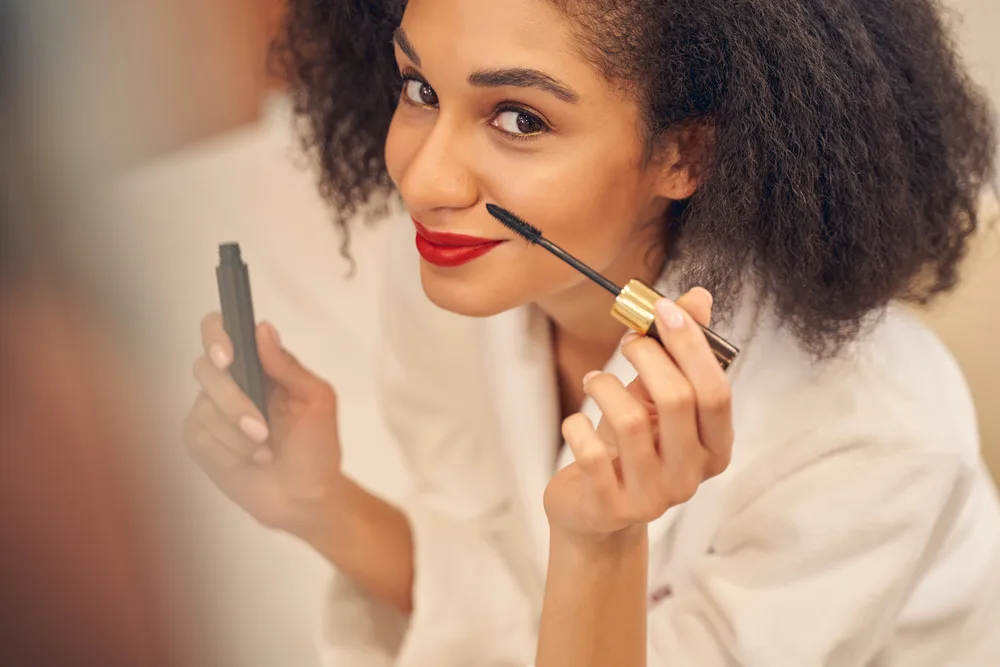 As The Good Face Project points out, clean beauty can mean different things to each beauty brand. It's important to do your own research and look at ingredients before purchasing.
Before adding any new products to your minimalist makeup collection, make sure they are free of these ingredients:
Parabens
Fragrance
Phthalates
Sodium laureth sulfate (SLS)
Formaldehyde
Those are just some of the ingredients you don't want to see on a label. Instead, it's best to see natural and organic ingredients to be considered a clean makeup brand in my eyes.
Why Is Clean Makeup A Better Choice?
If you have sensitive skin it's imperative that you choose clean makeup over traditional makeup. In addition to that, by choosing natural products you are making a difference for the planet.
As you'll see soon, the clean minimalist brands featured in this article have made significant contributions to making the world a better place to live.
Through their innovation and commitment they have made strides in the clean beauty industry. By supporting them by purchasing these clean products, you are helping to support a cleaner beauty industry.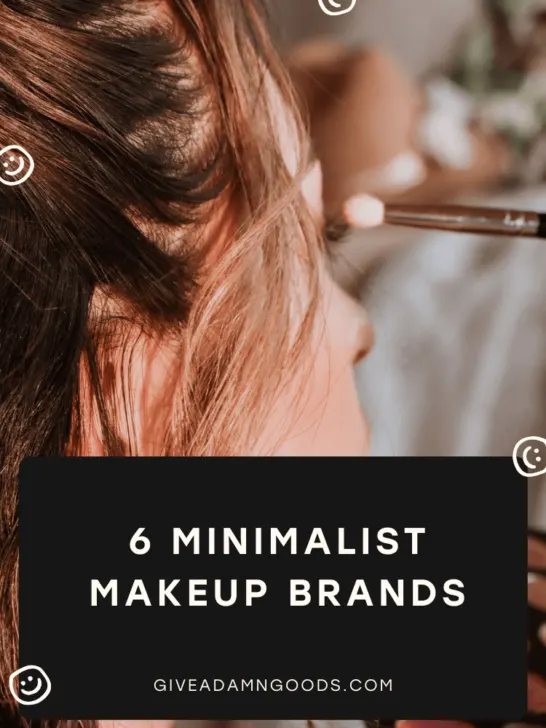 6 Clean Minimalist Makeup Brands
Now that you are familiar with clean minimalist makeup looks, it's time to talk products and the companies that make them.
Here are six of the best minimalist makeup brands, and some essential products to check out.
River Organics is a zero waste brand that is located in Wilmington, North Carolina. The organic skincare and makeup brand was founded by husband and wife, Fabien and Corrine.
Their beauty products are perfect for consumers because they are made for all skin types featuring clean organic ingredients. The products are also safe for the Earth due to their eco-friendly packaging.
Their products are great if you're just looking to add a little color or make your eyes stand out with some zero waste mascara.
Ilia Beauty's Minimalist Looks for Any Skin Tone
The Ilia journey began with a simple lip balm. When the founder of the company, Sasha, found out that her favorite lip balm contained unsafe ingredients, she was ready to take action.
In 2011 Ilia Beauty was born. The company's focus remains on clean beauty. Making sure that the right ingredients are used and creating sustainable packaging is how they accomplish that.
Ilia is a well known for their foundation which is great for creating a minimalist makeup look. Take a look at some of the products you'll find on their site.
All three of 100% Pure's founders are on a mission to impact the world through their natural beauty products. At 100% Pure they do a couple of things to ensure that their products cause no harm to their customers or the world.
100% PURE formulations adhere to strict purity standards and will never contain harsh or toxic ingredients. They source pigments from fruit, vegetables, tea, and cocoa to avoid commonly used FD&C colorants and heavy metal dyes.
They ensure that all formulas are biodegradable and they take steps during packing and shipping to be as sustainable as possible. Try their tinted moisturizer or BB cream to create your everyday minimalist look!
Ere Perez was created in 2002 and based out of Australia. What started with a natural mascara has now expanded to 41 skincare and beauty products that include over 120 color variations. The company has made big strides to keep their company as sustainable and eco-friendly as possible.
From using 100% plant based materials, to creating products that can have multiple uses; Ere Perez puts in the work to create lasting change in the beauty industry. Check out some of the products you'll find on their site.
Consider trying one of their zero waste Coco Crayons for a bold lip with your minimalist look!
Melodie Reynolds created Elate Cosmetics in 2014. Since then her company has been redefining what low-waste looks like in the beauty world. Elate Cosmetics has donated over $27,000 to social and environmental causes in 2020 alone.
100% of elate's products are vegan and cruelty-free and 75% are organic showing their commitment to clean ingredients.
In addition to that, things like their seed paper packaging has also helped create change in this industry, as well as the world. Here are a few of the products can be great for creating your minimalist makeup look.
Consider using the unifying glow powder to bring out your smooth glowing skin and adding a pop of color with the better balm.
14e cosmetics use natural ingredients that are also vegan, ethically sourced, and cruelty free in all of their products.
A unique feature of these products is that Aloe Vera is used as a base. This means you are getting products that are going to be great for your skin. Check out these skin-loving products.
Hopefully this sustainable beauty guide has helped you learn about some clean make-up brands for your minimalist look! Enjoy celebrating your effortless beauty with minimal effort.