There are several reasons why people want to dye their hair. One of the most popular is to cover up grey hairs.
Our hair color comes from melanin, a natural pigment that determines hair color. Hair turns grey when the production of melanin decreases or stops. That's when a lot of people reach for the dye or make an appointment at the salon.
Whether you're looking to cover up a few gray hairs or want to completely change your look, it can be an empowering experience that puts the control back in your hands.
From concealing signs of aging to simply wanting a new look, celebrating hair color is all about personal preference and confidence.
This post does contain some affiliate links. If you choose to make a purchase Give a Damn Goods may receive a commission. Our commission is at no additional cost to you. Give a Damn Goods only recommend products and brands we truly believe in.
Quick List of Non-toxic Hair Dyes Made with Natural & Organic Ingredients
If you're looking for a quick shopping list of less toxic dyes to cover up your grey hairs, here you go! If you'd like to further your knowledge on ingredients and learn more in depth about why we're recommending these brands, read on!
Some may feel that dyeing their gray hair is a way to look younger, while others want to avoid the hassle of regularly touching up their roots.
Whatever your reasons for wanting to dye your grey hair, there are both natural and conventional dyes available.
It's important to find out which option works best for you and understand the risks associated with each. With the right information, you can make an informed decision about the best way to dye your hair.
If you've ever dyed your hair, you're likely familiar with the noxious smell that accompanies the process – whether you're doing it alone or having a professional do it for you. It doesn't take much guesswork to realize that those fumes indicate the presence of chemicals.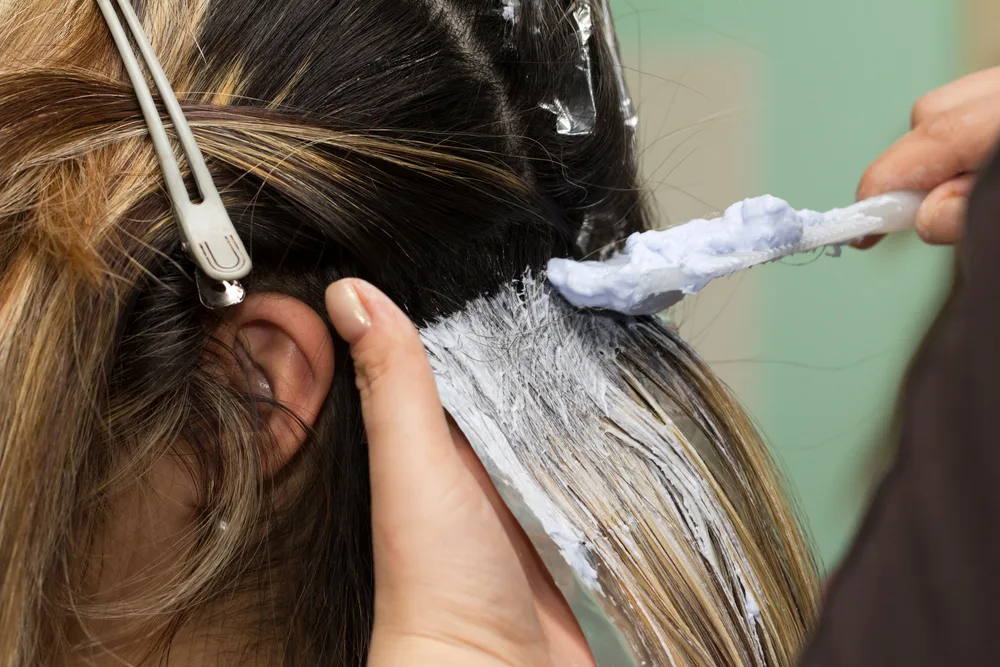 This sustainable shopping guide will help you learn about the potentially toxic ingredients in traditional hair dyes, further your knowledge on reading hair dye labels, and introduce you to some cleaner hair dye brands focused on botanical ingredients for covering up those gray hairs.
The Toxicity of Hair Dye
There are three types of conventional dye – permanent, semi-permanent, and temporary. These dyes use chemicals to change the color of your hair. Permanent dye is the most popular since it lasts longer.
It also has the most potential toxicity, because it penetrates your hair and lasts until replaced by new growth. Darker dyes are also of greater concern, as they contain more chemicals.
In the 1970s, dye components such as aromatic amines were found to cause cancer in lab animals and so were removed. Studies into the toxicity of hair dye have continued – especially in connection with cancer – but results have been tenuous and conflicting, especially when it comes to personal use.
It is difficult to study dyes because they are all different and there are other factors to consider in human studies such as sex, race, age, and whether or not the person is a smoker.
We are exposed to dyes when they are absorbed through the skin or the fumes are inhaled. Hairdressers, barbers, and stylists may face a greater cancer risk since they are exposed to the harmful chemicals from conventional hair dye more often.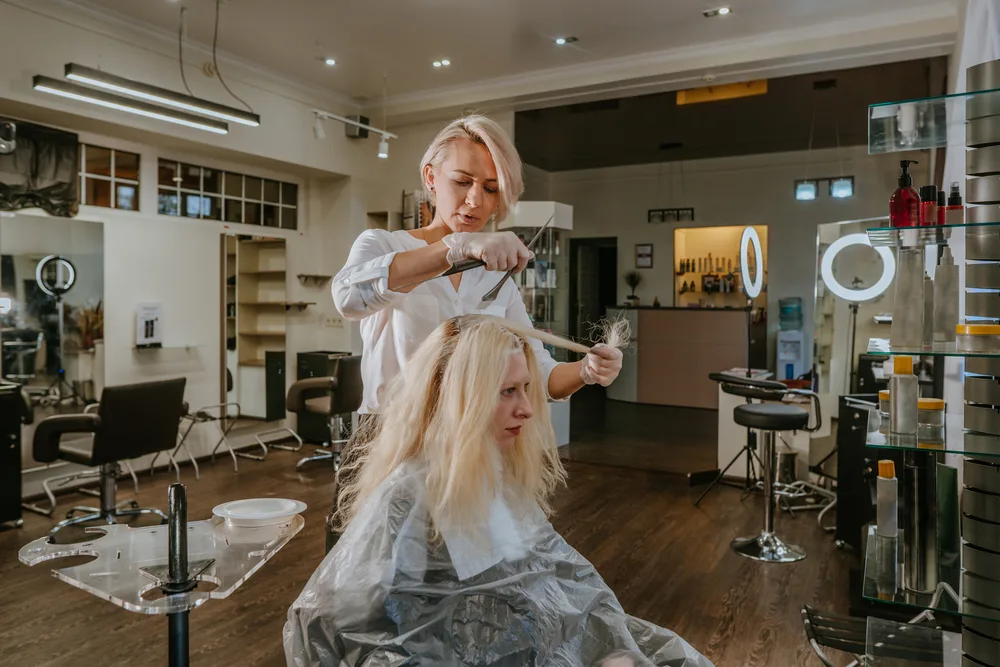 While cancer has understandably received the most attention, there are other health risks and impacts to consider as well such as allergic reactions, issues for those with sensitive scalps, and hair loss.
While using hair dye does not cause hair to fall out or stop growing, it may damage it and result in breakage creating a loss of existing hair.
Ingredients to Avoid
While the link to cancer requires further research, especially when it comes to personal use, if you'd rather exercise caution when using conventional hair color, here are a few ingredients to avoid.
Natural and Organic Hair Dyes
A safer option for coloring your hair is using natural dye. These dyes are plant-based, using ingredients like henna powder, rhubarb root, indigo powder, natural herbs, fruit, vegetables, and wheat proteins. We've included some ideas for covering up gray hairs with household pantry items below!
Not only do some of these (like henna) have low allergic potential, but there are brands ensuring the ingredients used are grown and processed organically.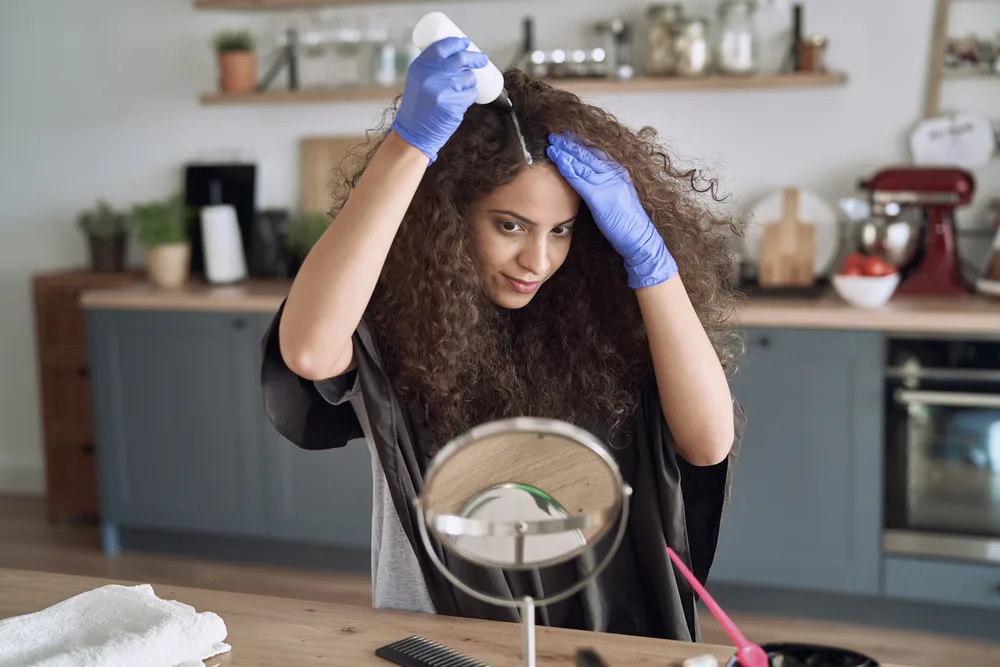 The only downside is that natural dyes may not change hair color as effectively and may fade faster.
Furthermore, it is difficult to find dyes that are completely free from chemicals: even many so-called natural and organic dyes still contain chemicals – especially PPD, since this chemical allows the color to last longer.
Regardless of what dye you choose, always follow the instructions on the box and practice basic safety like wearing gloves during application.
5 Natural and Organic Hair Dyes to Cover Up Grey Hair
While all non-toxic hair dye brands have their pros and cons, these are some of the cleaner natural hair dye products that are a great option for gray coverage.
Be sure to do your own research as ultimately you have to decide the best ingredients for your hair. It's really challenging to find brands that are 100% non-toxic, so learning about ingredients and deciding what is best for your hair journey is a personal decision.
It's also important to be aware that different dyes might work better for different hair types. So, it might take you a bit of time to figure out what works best with your hair.
Made with certified organic ingredients, Naturigin uses Nordic fruits and berries combined with essential oils to provide a range of safe, high-quality hair care products. They only make permanent hair dye, because it is easier to maintain and better at covering grey hairs.
Free from ammonia, they offer a range of colors as well as a coloring chart and mixing guide.
Along with using certified organic ingredients, they are certified by The Nordic Swan Ecolabel, which ensures a low environmental impact, limits toxic chemicals, and guarantees products free from microplastics and endocrine disruptors.
Naturigin's products are vegan and hold Asthma Allergy Nordic certification to help control and eliminate allergens.
Naturigin offers lighter colors, darker colors, and unique options. Their hair dyes can be purchased for around $15+.
Starting in Rome and spreading to stores across the globe, Herbatint is committed to providing quality products that are safe, sustainable, and eco-friendly. Their permanent hair dyes contain eight organic herbal extracts, are free from ammonia, and have a low concentration of hydrogen peroxide.
They also offer organic vegetal coloring, which combines dyeing herbs with Ayurvedic leaf powders. It has no artificial colorants or added chemicals. Both products are vegan and cruelty-free.
Herbatint dyes can be purchased for around $15+ online or in select stores. Herbatint also has a range of colors including more natural looking hair colors and bolder options.
Offering a variety of personal care products – from skincare to hair care – Khadi works with handpicked natural ingredients sourced from India and seeped in the Ayurvedic tradition. Their vegan hair colors are 100% plant-based dye, using Ayurvedic herbs, roots, and leaves.
These ingredients are grown and harvested by small co-ops and are free from synthetic dyes, fragrances, and preservatives.
Along with a selection of natural hair colors, they offer shampoos made with plant-based ingredients, and hair oils to help nourish and protect your hair.
Khadi offers colors such as dark brown, hint of gold, blue black, auburn read, and more. Khadi hair dyes can be purchased for around $21+.
Applying ONC is a unique process since heat is used. Conventional dyes have a high pH due to the many chemicals in the products. These open the cuticles to allow the dye in.
Since ONC has fewer chemicals, it has a low pH, so heat is used to open the hair cuticle and infuse color. This makes for a less itchy and less damaging process.
ONC's ingredients are not only free from ammonia, formaldehyde, and resorcinol, but are also organic, vegan, and cruelty-free.
ONC offers color options such as black, glamorous brown, honey blonde, irish red, and more. ONC hair dyes can be purchased for around $28+.
Henna Color Lab dyes are free from ammonia and PPD. They use henna hair dyes that bond with your hair and contain Ayurvedic herbs to condition your hair and scalp. Henna Color Lab is vegan and cruelty-free with certification from PETA and Leaping Bunny.
They use natural, sustainably-grown ingredients sourced from northwest India, while the rest of their operations – from design to shipping – are kept local in Portland, Oregon. Along with hair dyes, they also offer beard dye.
Henna Color Lab's henna dye's can be purchased from $11+. This brand also sells dye application tools, so it's a great place for hair dye beginners to shop!
They have a range of colors including more natural shades and some bold colors like Indigo, Ginger Blonde, and Wine Red.
Natural Alternatives to Hair Dye
If you're not ready to commit to hair dye, there are plenty of natural alternatives that can help cover up gray hairs without the use of harsh chemicals. These are some items that you might have in your house and can use to help cover up those gray hairs!
By using these natural alternatives, you can easily cover up gray hairs without having to worry about damaging your hair with harsh chemicals.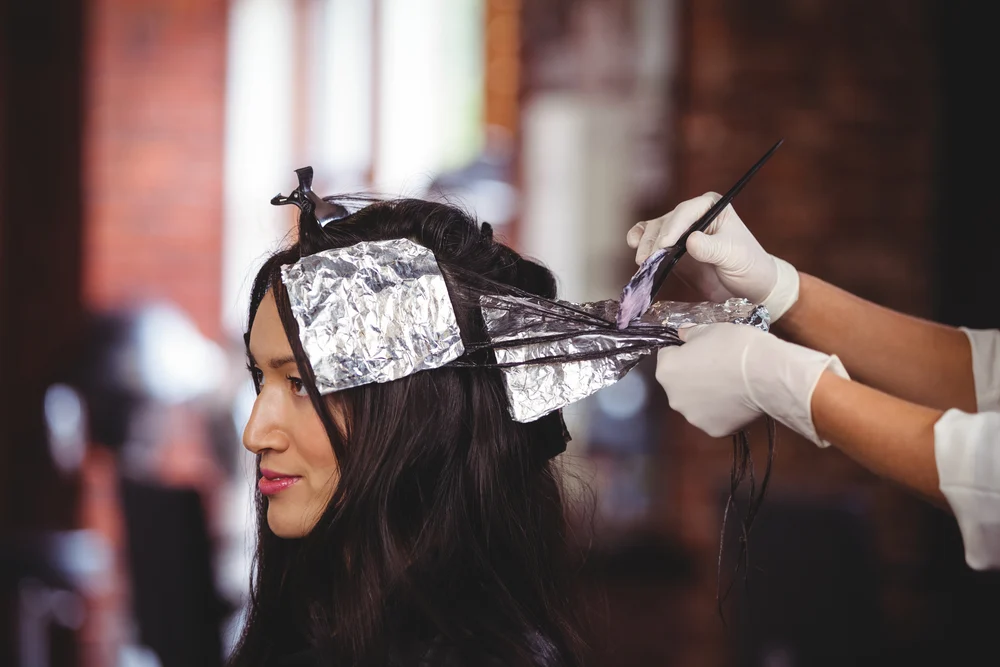 Tips for Dying Gray Hair
If you're ready to cover up your gray hairs be sure to consider these tips before getting started!
Start Slow: If you're new to dying your hair, start by using a semi-permanent hair dye instead of a permanent color. This will give you the opportunity to practice and adjust the shade until you get it just right.
Choose Color Carefully: If you want to cover up gray hairs, choose a color that's no more than two shades darker than your natural hair color. If the shade is too dark, it could look unnatural and may not cover up those pesky grays.
Test It Out: Before you start dyeing your hair, always do a strand test first to make sure the shade looks good—and that you're comfortable using it. This can also help you adjust the color if it's not quite what you want.
Pay Attention to Coverage: When you dye your hair, make sure you get complete coverage so that all of those gray hairs are covered up. Use a tint brush and apply the dye evenly from root to tip and focus on areas with gray hairs.
Don't Overdo It: Too much hair dye can damage your hair, so don't overdo it. If you're just covering up a few grays, try only applying the dye to those areas instead of dying your whole head.
Use the Right Products: When covering up gray hairs, make sure you use products that are specifically designed for color-treated hair. These products will help keep your hair looking vibrant and healthy while you're covering up those grays.
Ask a Professional for Help: If you're not sure what you're doing, it might be best to enlist the help of a professional hair stylist! Head to your local hair salon to ensure your hair is dyed correctly.
With these simple tips you'll be able to cover up gray hairs easily and enjoy beautiful colored locks for months to come!
Hopefully this guide gave you some ideas for choosing a clean hair dye if you decide to cover up your gray hair.
Don't forget to read those ingredient lists when shopping for all your hair products!
And don't be afraid to embrace your current color and fall in love with those gray hairs!