Is there anything better than biting into delicious, mouth-watering candy and savoring a sweet treat?
Candy can bring back core memories of hanging out with friends, dressing up for Halloween, digging into your Easter basket, or even just grateful your parent was thinking of you when they left that chocolate covered morsel on your bedside table.
This post does contain some affiliate links. Give a Damn Goods may receive a commission if you decide to make a purchase. Our commission is at no additional expense to you. We only recommend products and brands we truly believe in.
As it's estimated that the average American consumes 8 pounds (yes, that much!) of candy every year, the quality of what you put in your mouth makes a difference.
No matter if you have an unrelenting sweet tooth or a midnight treat, organic candy can provide you with a healthier option than compared to conventional candy brands.
This sustainable shopping guide will help you better understand ingredients to avoid, better ingredients to look for, and organic candy alternatives.
Quick List of Organic Candy Brands
If you're just looking for a quick list of organic candy brands, here are some great options!
Read on if you'd like to further your knowledge on potentially harmful ingredients in traditional candy, cleaner ingredients to look for, and more in depth detail about why I think these are some of the best organic candy options!
Does Organic Candy Taste Bad?
Before we dive into what organic candy is….let's get this question out of the way. I know a lot of people are hesitant to try organic candies because of concern for the taste. Honestly, I think organic candy tastes better.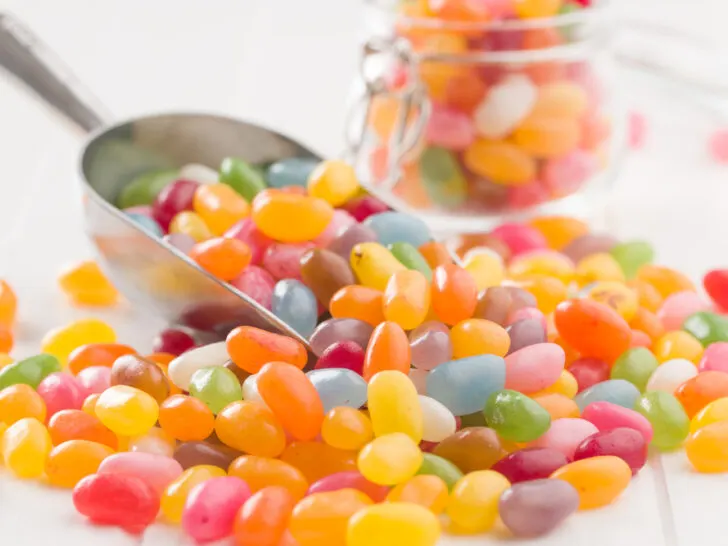 For example, Yum Earth is my personal favorite candy brand for fruity candies such as lollipops, gummies, and hard candies. I think the fruity flavor of their candy tastes more real and less fake because it IS made with concentrate from fruits and vegetables.
I've tried nearly all their candies and they're my go-to brand for a sweet tooth fix. Read on for my favorites!
What is Organic Candy?
Yes, there is organic candy in the world, and as we've discussed it does not have a bad taste! I can personally say from experience that organic candy has a great taste.
In fact, organic candy is experiencing a renaissance of demand, with a market value of $824 million in 2020 alone. That is a massive amount of individually wrapped heaven.
This statement proves that organic candy is not a fad. Organic candy is candy that has been specifically created with cleaner ingredients, some of which are USDA certified organic.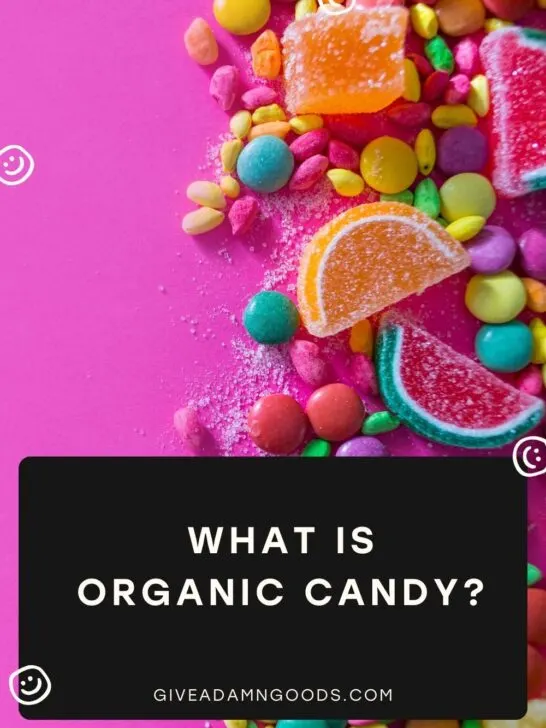 Organic candy won't contain as many harmful ingredients found in popular conventional candy brands such as artificial additives or synthetic chemicals, just pure, delicious delight.
To put it simply, organic candy typically doesn't contain things like high fructose corn syrup or food dyes and artificial colors.
You can easily look for popular ingredients on the back of a candy label. A few examples including organic cocoa butter, organic tapioca starch, organic cane sugar, and organic brown rice syrup.
Why is Organic Candy a Better Option than Conventional Candy?
Candy is especially popular with young children. Who can deny those beautiful moments when your parents would pass you a few dollars and let you loose in a candy aisle?
As parents are becoming more aware of the every day toxins children face, it's become more popular to choose food organic foods.
Organic candy offers way better options than the mass-marketed brands you come across. Organic treats are undoubtedly a step up it typically contains cleaner ingredients. A few things to avoid when candy shopping include:
Artificial Dyes
Artificial dyes, also known as synthetic dyes, are chemical substances used to add color to a variety of items including food. They are derived from petroleum or coal tar sources.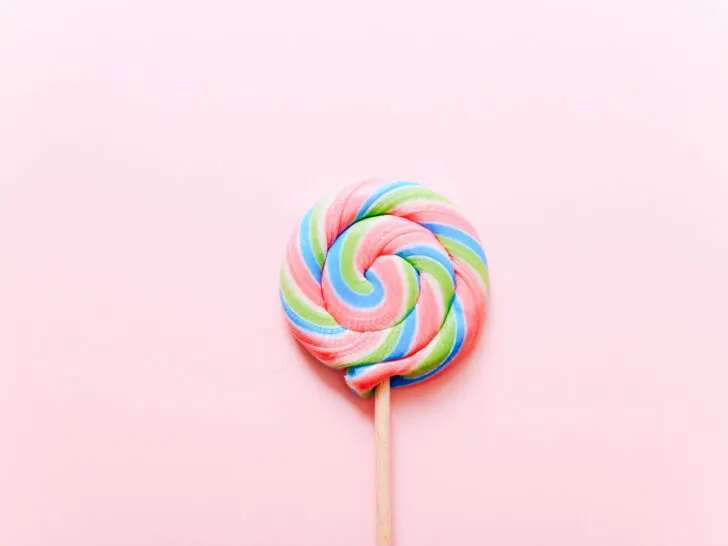 Unlike natural dyes which are extracted from plants, animals, or minerals, artificial dyes are made in a lab and often produce brighter, more consistent colors. Some common types of artificial dyes include Red 40, Yellow 5, and Blue 1.
While they make products more visually appealing, there's ongoing debate over the safety of artificial dyes. Some studies have linked them to health issues like allergies, hyperactivity in children, and even cancer.
High-fructose corn Syrup
High Fructose Corn Syrup is a type of sweetener made from corn starch. As its name suggests, it's high in fructose.
The process to make high fructose corn syrup involves converting some of the glucose in corn starch into fructose. The result is a syrup that tastes sweeter than regular corn syrup.
High fructose corn syrup is widely used in the food industry because it's cheaper and easier to handle than other sweeteners. It's commonly found in a variety of processed foods and beverages, including soft drinks, cereals, baked goods, and condiments.
However, some studies have linked high fructose corn syrup to several health issues such as obesity, diabetes, heart disease, and fatty liver disease. Some studies suggest that our bodies metabolize fructose differently than other sugars, which may lead to increased fat storage and other negative health effects. But more research is needed to fully understand these connections.
Too Much Sugar
We know the drill with this one. This can lead to weight gain, an increase in heart disease, and other health problems. Typically organic candy has less sugar.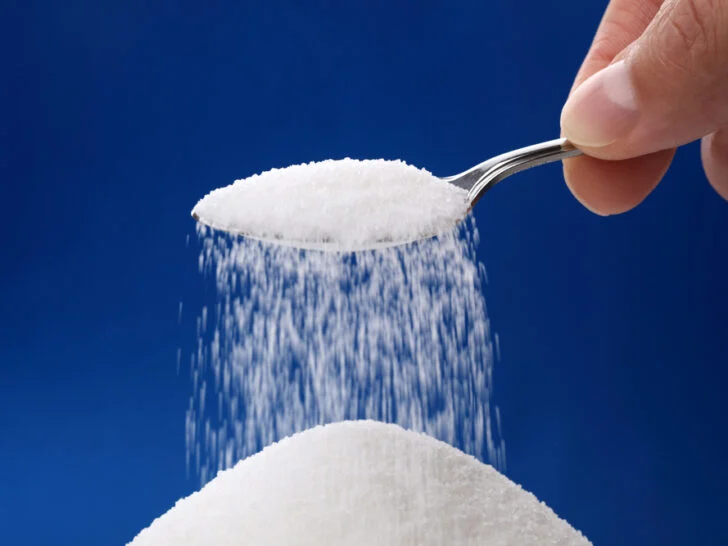 GMO Ingredients
When we talk about GMO ingredients in food, these are ingredients derived from plants or animals that have undergone genetic modification.
Some of the most common GMO crops include corn, soybeans, canola, and sugar beets. These crops are often modified to resist pests, tolerate harsh conditions, or change the nutritional profile.
When these genetically engineered crops are processed, they yield ingredients that are widely used in the food industry. For example, corn can be turned into cornstarch or high fructose corn syrup and soybeans can yield soybean oil.
These GMO-derived ingredients are found in many packaged and processed foods. As per the data from the Center for Food Safety, up to 92% of U.S. corn and 94% of soybeans and cotton are genetically engineered.
However, it's important to note that the safety of consuming GMOs is a topic of ongoing debate. Regulatory agencies around the world, including the U.S. Food and Drug Administration (FDA), generally agree that GMO foods are safe to eat.
But some people and groups raise concerns about the potential long-term effects on human health and the environment.
Potential long term impacts include hepatic, pancreatic, renal, or reproductive effects and may alter the hematological, biochemical, and immunologic parameters.
Brands using creating products with organic practices in mind prioritize non-GMO ingredients. You can learn more about GMO ingredients at the Non-GMO Project.
Other ingredients to be aware of include palm oil, artificial flavors, and natural flavors.
On top of these ingredients, there are the microplastics, bad packaging practices, and plenty of other eco-unfriendly situations that arise with the mass production of nonorganic candies. A lot of the brands we discuss in this guide produce their candy in small batches. This is great for reducing food waste and plastic packaging waste.
With the best organic candy brands, you get the satisfaction of delicious sugar (usually from natural sources) and less of the artificial flavoring or dyes that can lead to serious health effects down the road.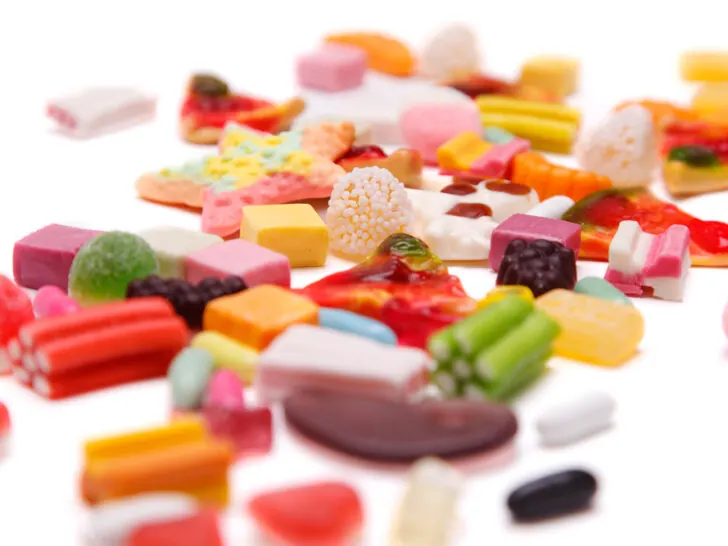 Certified Organic Candy vs. Candy Made with Organic Ingredients
It's important to know the difference between candy that is certified organic and candy that is made with organic ingredients. Both are better options that conventional candy!
Food products can be certified organic by the USDA. USDA organic products must meet certain standards and you can learn more in-depth about them on their website.
The USDA has four different areas of certification for organic products:
100% organic: "In the "100 Percent Organic" category, products must be made up of 100 percent certified organic ingredients. The label must include the name of the certifying agent and may include the USDA Organic Seal and/or the 100 percent organic claim."
Organic "In the "Organic" category, the product and ingredients must be certified organic, except where specified on National List of Allowed and Prohibited Substances."
Made with: "For multi-ingredient products in the "made with" organic category, at least 70 percent of the product must be certified organic ingredients. You won't find the organic seal on these products."
Specific Organic Ingredients: "Multi-ingredient products with less than 70 percent certified organic content would fall under the "specific organic ingredients," and don't need to be certified. These products cannot display the USDA Organic Seal or use the word organic on the principal display panel. They can list certified organic ingredients in the ingredient list and the percentage of organic ingredients."
Some candy brands may use organic ingredients, but have not yet been third party certified. It's important to note that being certified by a third party requires time and resources some small brands don't have.
Think about the small scale candy brands at your local farmers market! Don't be afraid to ask for more details.
Is Organic Candy More Expensive?
Yes, typically purchasing organic candy is more expensive due to the higher quality of ingredients. These brands aren't usually trying to cut corners with their quality or cost and this gets passed on to the end consumer.
However, the candy brands listed below have links to purchasing in bulk to make sure you get the best bang for your buck!
All right, that should serve as a good overview of organic candy in general.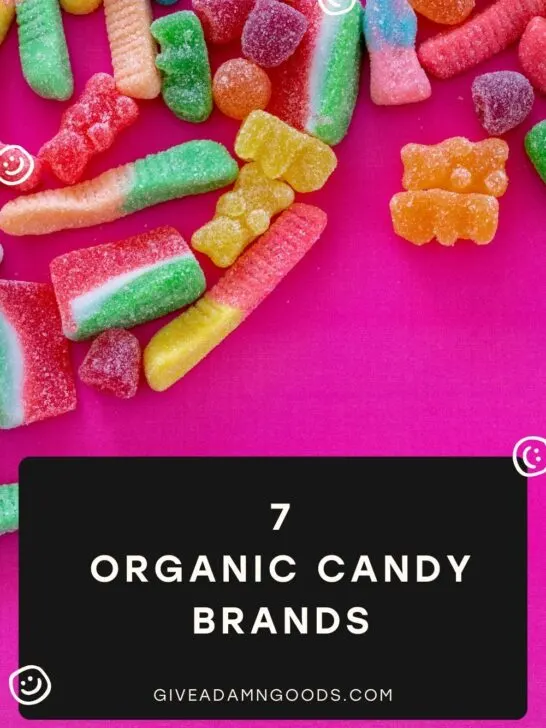 7 Best Organic Candy Brands to Try
Now, let's get into what you really want to know – which organic candy brands are going to be the leaders this holiday season!
YumEarth is an organic candy brand providing everything from hot chili mango lollipops to pomegranate licorice bites. This brand is Top 9 allergen free and select candies are certified USDA organic. They have a fantastic social media following outlines how all their products use only natural ingredients.
Plus, the company was founded by two dads with young children who wanted a healthier alternative to sweet snacks so they could avoid the additives and sweeteners that lead to so many health issues.
I've tried just about all of YumEarth's candy and I have to say the Sour Giggles are my favorite! I love how their candy is similar to some classic candies from my childhood, but feature cleaner ingredients.
You can easily purchase YumEarth candy on Amazon, on Thrive Market, or in select stores.
Justin's is an organic candy brand that is tasty and can easily be found at supermarkets. You can find Justin's nut butter cups in all major stores, including Walmart and Target. These are much like the famous peanut butter cups, but with organic, non-GMO verified ingredients.
This whole company, which is sweeping through the nation, was founded by a guy (you guessed it – Justin) who wanted new varieties of nut butter without sacrificing delicious chocolate and his health. The result is quickly becoming an office candy drawer must-have.
I personally adore the milk chocolate peanut butter cups!
The great thing about Surf Sweets is you get the kick of sugar you want and the flavor of real fruit. Either the Jelly Beans or Gummy Bears are the way to go with this best organic candy brand.
You can expert pure flavor delight, which makes sense, seeing how the company was founded by two surfers who wanted an allergy-free experience after an extended set in Santa Cruz, CA.
The entire company is founded on the idea of mindful eating, which has much more to do with being aware of what you're chewing than not.
In Surf Sweets candy you'll find ingredients like Organic Tapioca Syrup, Organic Cane Sugar, and Organic Grape Juice Concentrate.
For the chocolate lovers I recommend AlterEco. Their chocolate truffles and bars offer guilty pleasure flavors like Burnt Carmel, Dark Mint, and Sea Salt – with USDA-certified ingredients and anywhere from 60-80% cocoa.
This organic candy brand went a step further and ensured all the packaging is biodegradable, so no worries about landfill buildup the next time you want to swap out your evening s'mores for something a bit more eco-friendly.
I sincerely love the Mint Creme truffles. These are my go-to chocolate! I purchase mine on Thrive Market!
Unreal is a fantastic introduction to organic candy snacking. This is a brand doing so well that they're easily found in Walmart, Whole Foods, and your local Kroger.
I am in love with the Dark Chocolate Coconut Bars that only have 3g of sugar and an ingredient list only two lines long with every single thing you can recognize.
Yes, it is still sugar, but in much more manageable (and tasty!) quantities.
In their products you'll find organic ingredients such as organic coconut, organic cassava syrup, and organic cane sugar!
Equal Exchange is a great organic candy brand that has a wide selection of chocolate brands, hot cocoa, and chocolate chips for baking your own delicious cookies.
More importantly, this brand has been offering USDA-certified organic and Fair-Trade products since 1986. That means every bar and morsel you purchase supports a company doing its very best to remain as eco-friendly and socially responsible as possible.
Every bite into the organic Dark Chocolate Sea Salt bar I tried was pure heaven – full of rich and flavorful relaxation.
If you want a bit more variety in your next organic candy brand, you cannot go wrong with Lovely Candy. They feature everything from rich and cream caramels to ginger chews or lollipops that will keep your mouth busy and tastebuds dancing the conga.
There are no artificial colors, flavors, or high fructose corn syrup added to anything, and they are a gluten-free facility. Select products are USDA certified organic.
The founding couple needed a gluten-free snack for the wife, and that kicked off the incredible journey that you can enjoy today. I suggest building a box of treats so you can customize what you receive.
Hopefully this guide helped you learn how to look for the best ingredients to find high quality candy to put under the Christmas tree, in Halloween treat bags, in Easter Baskets, in Valentine's day bags, or just to keep around the house!