We use our hands every day, all day and there are many things that impact them. In particular, cold and dry weather, frequent hand washing, UV damage, and aging affect our hands.
It's good practice to have hand lotion on hand to keep your skin moisturized, leaving it soft and supple.
But could the very creamy lotion you're applying to improve the look and feel of your dry hands be having a negative impact instead?
This blog post will explore ingredients to be wary of in conventional lotions, non-toxic ingredients to look for, and introduce you to some socially responsible lotion brands using organic ingredients.
This post does contain some affiliate links. Give a Damn Goods may receive a commission if you decide to make a purchase. Our commission is at no additional expense to you. We only recommend products and brands we truly believe in.
Quick List of Organic Hand Lotions to Love
If you're looking for some quick go-to hand lotions made with organic ingredients, we've got you covered. If you'd like more detail on reading labels, why we love these brands, and explore more lotion scents, read on!
| Product Name / Price / Description | Product Image | Primary Button |
| --- | --- | --- |
| | Avalon Organics lotions feature certified organic, plant-based formula made with botanicals and essential oils. No GMOs, parabens, harsh preservatives, synthetic colors or fragrances, phthalates or sulfates. Always cruelty-free, never tested on animals; recognized by the Leaping Bunny Program | |
| | Made with certified organic ingredients, this lotion deeply moisturizes skin and absorbs quickly without oily residue making this great for your hands. | |
| | This organic hand & body lotion is certified Fair Trade and certified Organic with a fresh peppermint scent. | |
| | This nourishing body lotion uses certified organic botanicals to provide long-lasting hydration without a sticky or heavy feel. | |
| | High Content Organic (72%) Hand & Body Cream-Creme formulated by Certified Health Educator and Nutritional Consultant MaryRuth Ghiyam. The formula is designed for maximum absorption into dry, damaged, sensitive or normal skin. | |
| | This lotion is USDA Certified Organic, features no petroleum based ingredients, Cruelty-free and vegetarian, and Free from synthetic fragrances or dyes. | |
12/10/2023 02:30 am GMT
Is Conventional Hand Lotion Toxic?
Hand lotion is a combination of water and oils, usually enhanced with fragrances and kept shelf-stable through the use of preservatives. It is thicker than body lotion because the skin on our hands is thicker, thus requiring more lipids and oils to keep skin moisturized.
Generally, non- to minimally toxic, hand lotion usually poses a risk when swallowed or ingested. This may lead to diarrhea, nausea and vomiting, intestinal blockage, stomach pains, or irritation and redness if it gets into your eyes.
Medicinal hand lotions may be more toxic, but even the ingredient labels on conventional varieties should be carefully considered because it is not only through ingestion or swallowing that they can have an effect.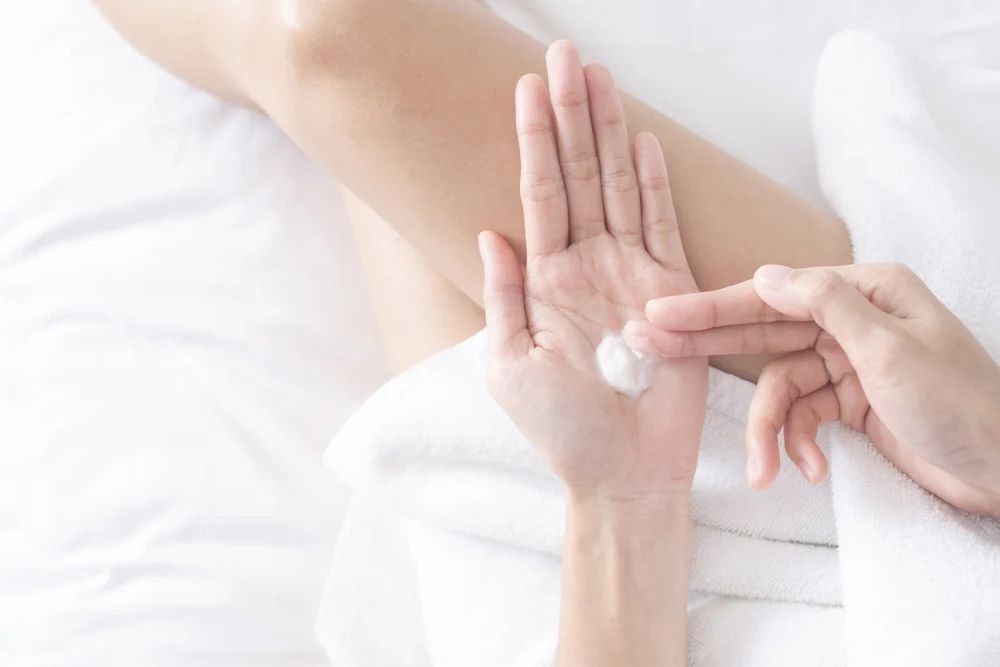 Applied to your skin during your basic, everyday routine, toxic ingredients may enter your bloodstream and have negative health implications.
Ingredients to Avoid in Lotion
There are many key ingredients on product ingredient lists that may make you think twice about choosing a certain hand lotion but one of the most common is parabens, which act as a preservative.
An endocrine disruptor, parabens mimic hormones thereby disrupting your endocrine system, which may impact reproduction, metabolism, and digestion.
Other potentially toxic ingredients used as preservatives include formaldehyde, triclosan, methylisothiazolinone (MIT), and methylchloroisothiazolinone (MCIT).
Another potential endocrine disruptor is a synthetic compound known as phthalates, used as solvents and stabilizers in a range of cosmetics, including hand lotion.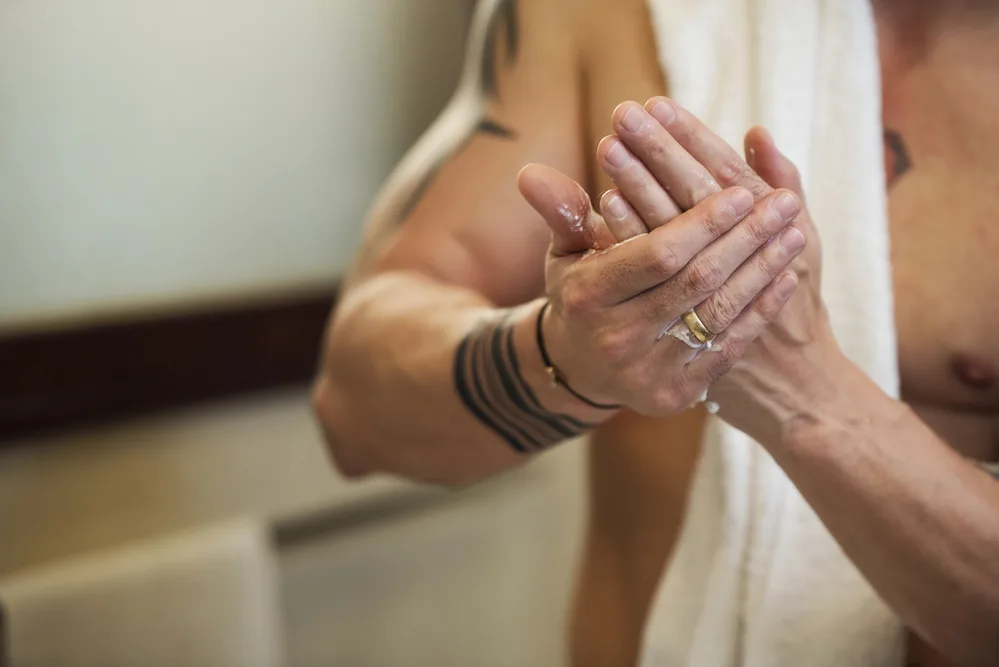 Benzophenone (BP-3) is another disruptor and is used in sunscreen. Since our hands receive a lot of sun exposure and sun damage, some hand lotions may contain sunscreen ingredients.
Another common ingredient are synthetic fragrances, which may cause allergic reactions. "Fragrance" (sometimes labeled as "scent") is an umbrella term for artificial fragrances that allows brands to hide other, potentially toxic ingredients under this label, as its ingredients do not need to be disclosed.
Other harmful ingredients that act as skin irritants include ammonium lauryl sulfate, sodium lauryl sulfate, toluene, and propylene glycol. Be mindful of hand lotions containing petrolatum, including mineral oil and paraffin oils, as it is a potential carcinogen.
Cleaner Non-toxic Ingredients To Look For
When shopping for hand lotion, look for brands using natural ingredients like plant oils and butters. Examples of the latter include avocado, shea, and cocoa butter.
These have beneficial vitamins such as vitamin E, a good antioxidant, in avocado butter, while shea butter has high levels of vitamin A, stimulating cell growth. Vitamin C helps with dark spots and aging. Beneficial oils to look out for include coconut, apricot, grapeseed, jojoba, almond, rose hip, olive oil and sunflower seed oil.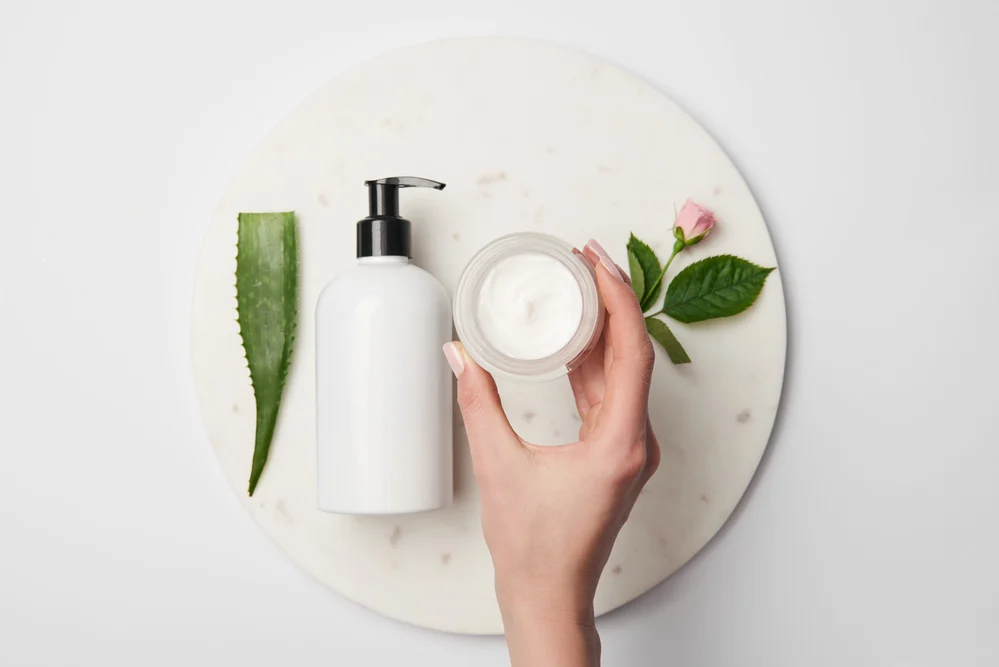 Silicones such as cyclopentasiloxane, cyclotetrasiloxane, cyclomethicone, and dimethicone are deemed safe in the use of skin care products like hand lotion. They are used to promote smoothness, softness, and flexibility, may reduce scarring, and promote hydration. However, they can be irritants.
Similarly, alcohol can be beneficial in skin care products, depending on your skin type. If you have dry skin, cracked skin, or sensitive skin, look for alcohol-free hand lotions.
Alternatively, you may want to try fatty alcohols like cetyl, stearyl, and cetearyl alcohol. These may still be irritants so do a patch test to see how your skin reacts. Patch tests are a good rule of thumb in general when it comes to skin care products.
These kinds of ingredients are not only better for our bodies, but for the environment too. Bonus if they're organic, as organic ingredients will be harvested from fields and farms using organic agricultural practices.
Benefits of Organic Ingredients in Lotion
These include avoiding the use of toxic pesticides, which makes for a healthier end product – as well as decreasing toxic agricultural runoff on farms, resulting in healthier water and soil.
Levels of cadmium, a heavy metal, may be lower in certain organic crops. There is also a potential for higher levels of beneficial nutrients such as antioxidants and flavonoids.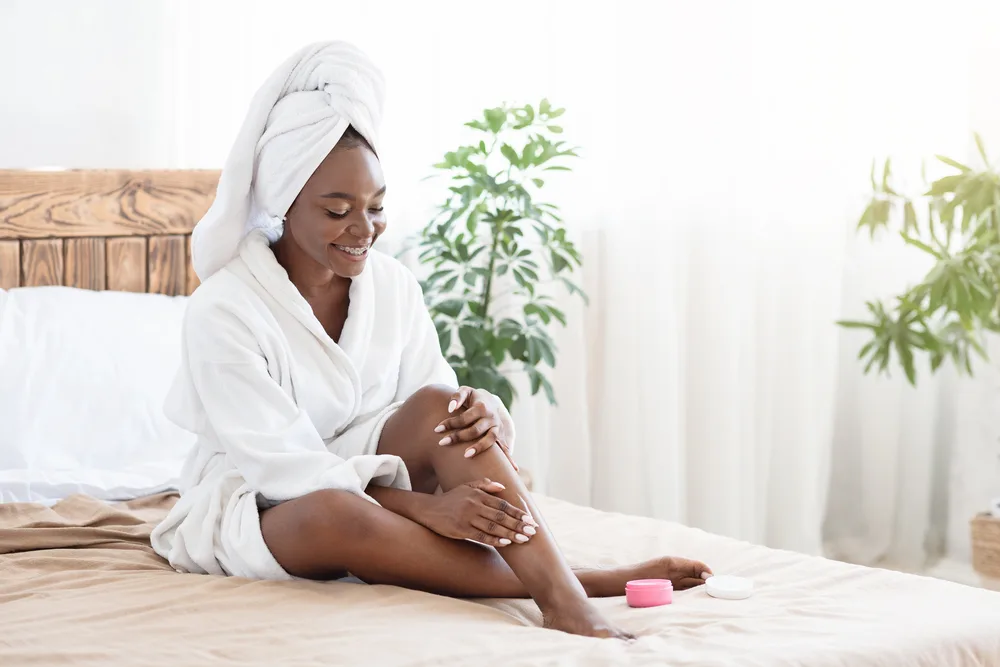 Be mindful of greenwashing. The term "natural" is not regulated and even natural ingredients can have negative effects, such as toxic heavy metals in clay. Be cautious of brands that claim to be "all-natural" or have "natural lotion".
Products without any preservatives will not last long, which can create a lot of waste. Some brands claim to use vitamin E, rosemary extract, or grapefruit seed extract as a preservative, but these are actually antioxidants that may slow down rancidity but will not prevent bacteria, yeast, or mold.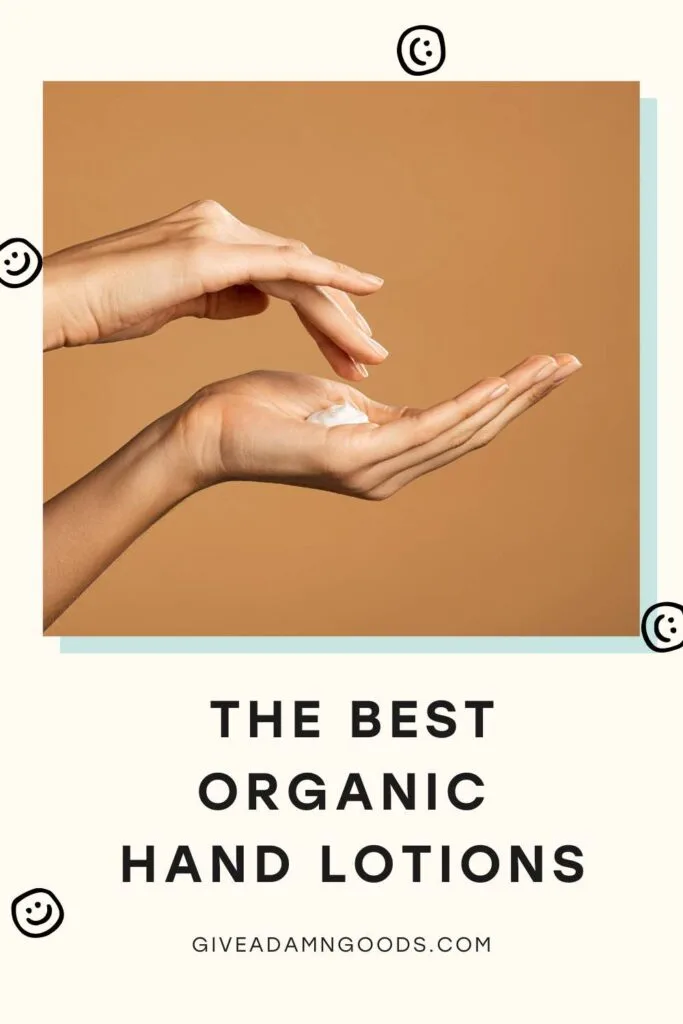 So, be sure to use your natural skincare products within a timely manner.
6 Organic Hand Lotion Brands We Love
Here are 6 organic hand creams to try so you can find the best hand cream for your hands! All of these brands use organic ingredients!
Avalon Organics's skin care, hair care, and bath and body products are rooted in nature. Using certified organic, plant-based ingredients ensures products are safe to use and safe for the Earth. GMO-free and biodegradable, Avalon's products are vegan, except for their lip balms, which are vegetarian.
| Product Image | Product Name / Price | Primary Button |
| --- | --- | --- |
| | | |
| | | |
| | | |
12/10/2023 01:58 am GMT
Packaging is made from post-consumer materials and sustainably sourced, recyclable paperboard. Hand and body lotions are made from essential oils and are available in lemon, lavender, and peppermint scents. They also have an unscented aloe vera lotion and a moisturizing coconut variety.
Inspired by nature, especially the desert and dry climates, Desert Essence's range of body, skin, and hair products uses desert botanicals like tea tree, jojoba, and argan oil.
This brand prioritizes sing responsibly and sustainably sourced ingredients such as ingredients that are certified by USDA Organic, Non-GMO Project, and RSPO.
As a socially responsible brand, Desert Essence is certified by Non-GMO Project, B Corporation, and Leaping Bunny.
| Product Image | Product Name / Price | Primary Button |
| --- | --- | --- |
| | | |
| | | |
| | | |
12/10/2023 02:30 am GMT
Made in the U.S. with globally sourced ingredients, Desert Essence uses natural plant colors and pure essential oils instead of artificial dyes and fragrances.
Their products are vegan or vegetarian, and packaging is BPA-free. Formulated with organic coconut oil, hibiscus flower extract, and jojoba oil, their coconut hand and body lotion is soft, luxurious, and nourishing.
Using suppliers committed to regenerative organic agricultural practices and responsible packaging, Dr. Bronners is committed to finding sustainable solutions for their wide range of products, including personal care products.
Their hand and body lotion is made from organic jojoba oil, organic coconut oil, organic U.S.-grown hemp, and avocado oils, and is good for most skin types.
| Product Image | Product Name / Price | Primary Button |
| --- | --- | --- |
| | | |
| | | |
| | | |
12/10/2023 02:53 am GMT
To fragrance the lotion, they use organic essential oils. Available scents are lavender coconut, peppermint, orange lavender, and patchouli lime. The lotion is also vegan, cruelty-free, biodegradable, and non-GMO.
Started by model Miranda Kerr, Kora Organics follows the strictest global safety standards and the highest levels of clinical performance for healthy skin. Kora uses certified organic ingredients and their beauty products are not tested on animals.
Using organic farming techniques to harvest the ingredients used in their products also means they are free of pesticides and cadmium. Essential oils are used to scent products and packaging is recyclable and free of BPA.
Kora's hand and body lotion is formulated with microalgae that hydrates and strengthens skin, antioxidant-rich noni, and ceramides to offer protection while the infusion of rose, geranium, and basil will soothe you, body and soul.
This brand takes its name from founder MaryRuth Ghiyam. A health educator, nutritional consultant, and chef, she started MaryRuth as a way of formulating and offering a superior liquid multivitamin. Since starting in 2014, her product range has expanded to more than 160 products.
These include hand cream, skin scrubs, and moisturizing oil. MaryRuth's plant-based hand cream is 72% organic, vegan, unscented, and GMO-free.
It's in the name: a brand all about nature. Nature's Brands means their products – a range of skin care, mineral makeup, herbal remedies, and multivitamin supplements – are natural and free of chemicals and additives.
They use USDA-certified organic ingredients, offering products that are vegan or vegetarian.
Nature's hand and body lotion contains no petroleum-based ingredients and is made in the U.S.A. using oils that are cold pressed, non-refined, and non-deodorized giving you an unscented lotion. It is also free from propylene glycol, phthalates, and parabens.
Hopefully this is a great starting point for you to find the right organic lotion for your needs.