When it comes to skincare, sunscreen is a must for your daily routine. It helps protect the skin from the harmful effects of the sun's ultraviolet (UV) rays, including sunburn, premature aging, and an increased risk of skin cancer.
However, not all sunscreen is created equal. In fact, many conventional sunscreens contain potentially harmful chemicals that do more harm than good.
This guide will give you a list of mineral sunscreens made with organic ingredients, educate you on the harmful ingredients in conventional sunscreen, and further your knowledge on popular terms.
This post does contain some affiliate links. Give a Damn Goods may receive a commission if you decide to make a purchase. Our commission is at no additional expense to you. We only recommend products and brands we truly believe in.
Quick List of Mineral Sunscreens Made with Organic Ingredients
If you're looking for a quick list of organic mineral based sunscreens we've made it easy for you!
Or read on to further your knowledge on mineral sunscreen, potentially toxic ingredients in conventional sunscreen, and to learn why we love these brands.
| Product Image | Product Name / Price / Description | Primary Button |
| --- | --- | --- |
| | All Good products are free from harmful ingredients. Clean non-nano zinc oxide is the active ingredient — a topical mineral that doesn't absorb into skin. Good for your body, your kids, and our reef...it's All Good. | |
| | Made with just 4 simple ingredients (zinc oxide, sunflower oil, beeswax & vitamin E) that moisturize, nourish & protect. | |
| | Specially formulated with skin-soothing organic oils like avocado & jojoba. Oxybenzone and Octinoxate free. Enriched with Babo's Organic Nutri-Soothe Complex. | |
| | This non-greasy and non-comedogenic formula is enriched with proprietary antioxidant blend and turmeric to protect, nourish, and restore even the most sensitive skin daily. | |
| | UV Chemical Free Sunscreen Made with 20% Zinc Oxide and certified organic ingredients. | |
12/10/2023 07:34 am GMT
Are There Certain Chemicals In Sunscreen That People Should Avoid?
There are two types of sunscreens; chemical and mineral. Each type uses a different mechanism for filtering UV rays depending on the active ingredients.
Chemical sunscreen uses active ingredients like avobenzone, homosalate, octisalate, and octocrylene which absorbs and neutralizes the heat generated by ultraviolet rays from the skin.
Mineral sunscreen contains either titanium dioxide or zinc oxide to protect from ultraviolet radiation. These active ingredients act as physical blockers on top of your skin, deflecting and scattering UV rays like tiny mirrors.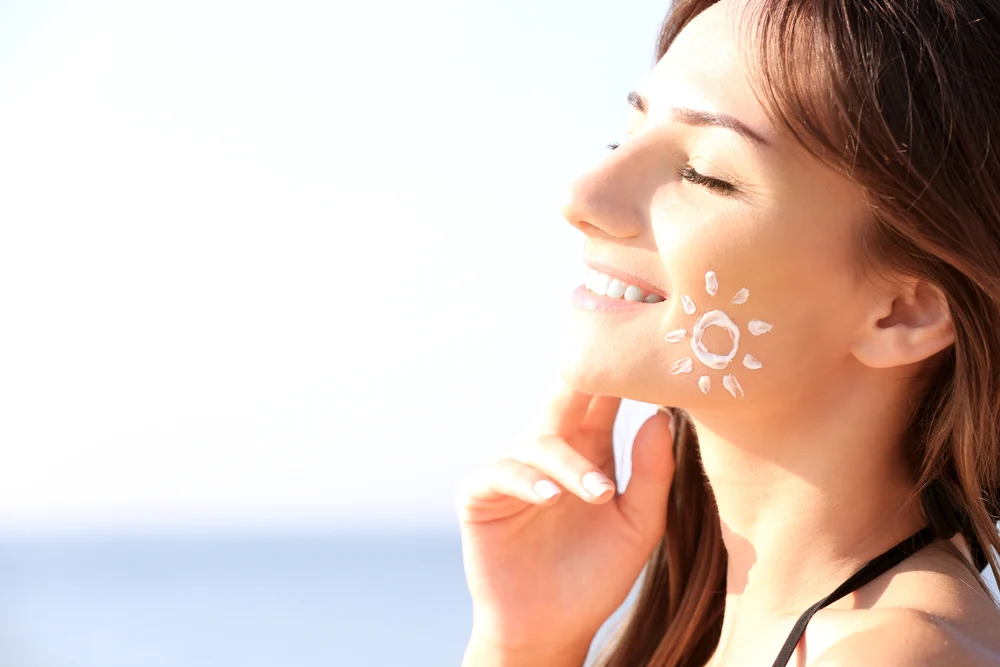 The Problem with Chemical Sunscreens
In 2019 the Food and Drug Administration published a review after performing a randomized clinical trial to find out how much of active ingredients in sunscreen are being absorbed during daily applications.
The chemical sunscreen ingredients under scrutiny were:
Cinoxate
Dioxybenzone
Ensulizole
Homosalate
Meradimate
Octinoxate
Octisalate
Octocrylene
Padimate O
Sulisobenzone
Oxybenzone
Avobenzone
The agency found that six of these ingredients can enter the body after only one use and could be detected on the skin and in the blood weeks after they had last been used. These six ingredients are:
Homosalate
Octinoxate
Octisalate
Octocrylene
Oxybenzone
Avobenzone
Oxybenzone seems to be the most problematic of these ingredients. Studies have shown that it can upset the balance of hormones in ways that may increase cancer risk and interfere with reproduction in women and men.
But it's not only human health that has experts nervous. There are possible environmental issues linked to these ingredients.
According to the National Park Service, it's estimated that every year, 4,000 to 6,000 tons of sunscreen washes off swimmers' bodies into oceans, threatening coral reefs and marine life.
This has prompted coastal regions such as Hawaii, Aruba and Cancun to pass a ban on sunscreens containing the chemicals oxybenzone and octinoxate, for fear they could damage coral reefs.
Mineral Vs. Chemical Sunscreen: Which Is Better?
Mineral sunscreen is typically considered the healthier option. Mineral based sunscreens contain Titanium dioxide and Zinc oxide; the 2 active ingredients recognized as safe and effective (GRASE) by the FDA.
Popular chemical sunscreen brans such as Banana Boat, Neutrogena, Coppertone and others are known for recent recalls for benzene.
The National Cancer Institute reports:
"Benzene is a colorless or light-yellow liquid chemical at room temperature. It is used primarily as a solvent in the chemical and pharmaceutical industries, as a starting material and an intermediate in the synthesis of numerous chemicals, and in gasoline. Benzene is produced by both natural and man-made processes. It is a natural component of crude oil, which is the main source of benzene produced today."
Not really something you want on your skin.
On top of choosing cleaner materials for health reasons, mineral sunscreen tends to be a safe choice for those with more acne-prone skin or people who are sensitive to synthetic fragrances.
The more natural sunscreen products typically a bit gentler on your skin.
However, mineral-based sunscreen is a bit more likely to leave a white residue as the titanium dioxide and zinc oxide can remain on the top of the skin.
Can Sunscreens Be Certified Organic?
While researching we were unable to find any sunscreen brands that were certified USDA organic. However, there were plenty of brands using organic ingredients.
It's worth noting that active ingredients in sunscreen cannot be organic themselves because they are produced synthetically.
For example Badger Balm reports "since all of our sunscreens contain at least 10% of the mineral zinc oxide, the products cannot be certified organic by the National Organic Program."
However, this brand does still use USDA certified ingredients.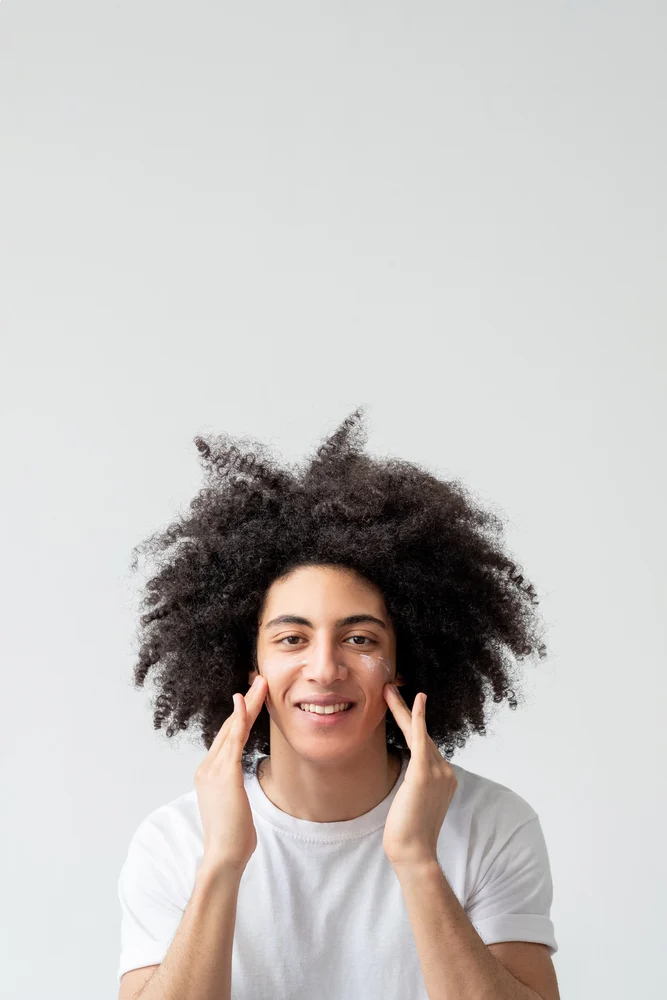 Are Sunscreen Made with Organic Ingredients Better Than Non-Organic Sunscreens?
In theory, organic sunscreens are better as they have fewer and healthier ingredients than their non-organic counterparts.
5 Eco-friendly Mineral Sunscreens Made with Organic Ingredients
There are many brands on the market that claim to have organic, reef safe, biodegradable sunscreens, yet not all of them meet the standard.
Luckily, we've taken the guesswork out of finding the perfect organic sunscreen for you with these top 5 picks!
SPF Level: SPF 30
Active Ingredients: Zinc oxide 14%
Price: $16-$80 depending on product and bottle size
If you're looking for a non-greasy sunscreen lotion to wear for your outdoor workouts and swims, All Good Sport Mineral Sunscreen – SPF 30 is worth a try. This sunscreen will hydrate and nourish your skin like your daily moisturizer while offering maximum protection when you're out there breaking a sweat.
It contains Zinc Oxide and a blend of organic botanicals such as coconut oil, jojoba oil, shea butter, and green tea which help to soothe and repair damaged skin from sunburn and windburn.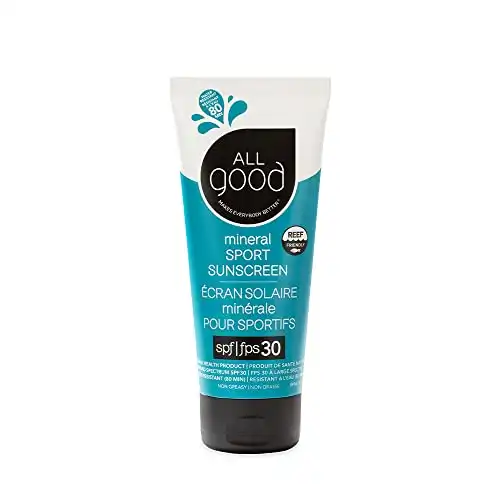 The fact that it's easy to spread and doesn't live a white cast or chalky after sweating makes it more impressive.
Plus, they offer the convenience of a spray application with an eco-friendly air powered spray which makes for easy application on kids or when you're on the go. Truly, this sunscreen lives up to its name!
SPF Level: SPF 40
Active Ingredients: Zinc oxide 22.5%
Price: $10-$30 depending on product and bottle size
If you love minimalist skincare, Badger Clear Zinc Sunscreen Cream SPF 40 is as simple as it gets. This sunscreen contains only 4 ingredients (yes, you read that right.)
The active ingredient is Zinc oxide which provides more protection than other Badger sunscreens, combined with inactive ingredients derived from nature: organic Sunflower Oil, Organic Beeswax and Vitamin E.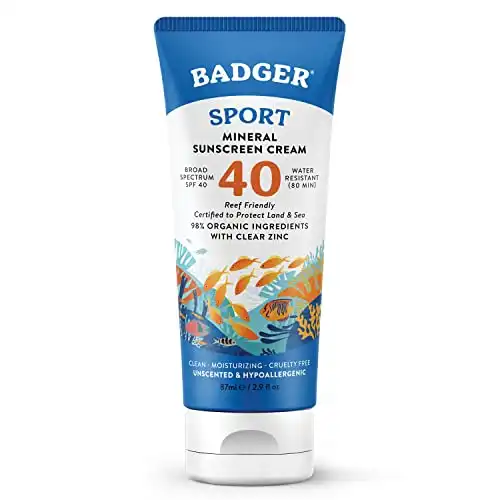 Worried about preservatives? This product is preservative-free since it uses a combination of oils and wax as a base, rather than water.
Furthermore, the sunscreen has a butter-like texture that's super hydrating and easy to blend. It might leave a white/blue tint on the skin, which is common for un-tinted mineral sunscreens.
As a bonus, this Badger sunscreen is packaged in a handy tin instead of plastic so you can recycle it when you're done.
They even have a sunscreen stick option!
SPF Level: SPF 30-50
Active Ingredients: Titanium Dioxide 5.9% Zinc Oxide 3.3%
Price: $11-40 depending on product and bottle size
Say hello to your new everyday sunscreen brand: Babo Botanicals. Their face sunscreen is a great choice for those looking for a non-greasy lotion that does double duty as a sunscreen and a skin enhancer.
Expect broad-spectrum mineral UVA and UVB protection thanks to its hybrid mineral formula with titanium oxide and oxide, as well as nourishment from its rich, hydrating organic oil infusion of anti-oxidants such as aloe vera, avocado and jojoba oil, rose hip, and green tea.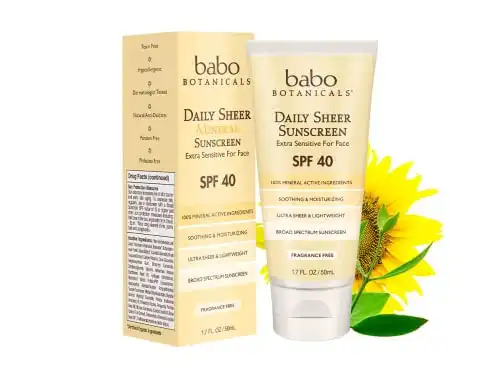 Another reason to enjoy this Babo Botanicals products is the ease of use and coverage. It's quickly absorbed and doesn't leave a sticky texture behind.
Many users say it sits well underneath make-up, making it a great everyday base as well as one to pack for the beach.
Noncomedogenic and free of fragrance, this sunscreen is also ideal for acne-prone and sensitive skin. What more could you ask for?
SPF Level: SPF 20-45
Active Ingredients: Zinc Oxide 19%
Price Range: $19-$29 depending on product and bottle size
Stream2Sea offers a wide range of high-performance and mineral-based sunscreens that have been rigorously tested for biodegradability and aquatic toxicity.
Their Every Day Active Mineral Sunscreen SPF 45 is a cult favorite for good reason.
Not only for how easy it is to blend, which leaves a sheer finish without any chalkiness, but also for how silky soft it feels on the skin thanks to its botanical ingredients including turmeric, sea weed and tulsi.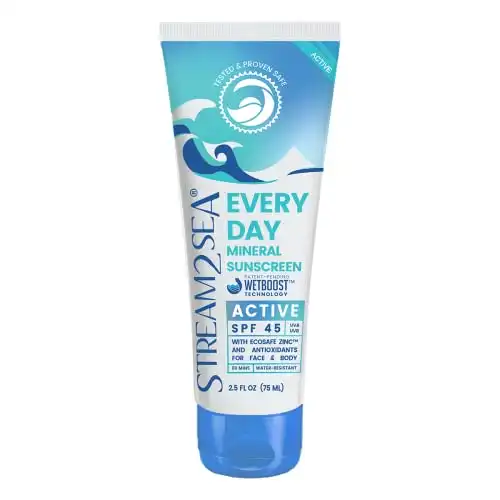 Their formula includes a range of organic ingredients including organic green tea leaf, olive leaf, turmeric root, aloe leaf juice, and more.
This sunscreen provides a powerful shield against UV rays, and is water-resistant so it's ideal for wearing in the city on humid days or on vacation.
And, as is the standard for Steam2Sea sunscreens, this is oxybenzone free, which helps protect coral reefs from related environmental damage.
SPF Level: SPF 30
Active Ingredients: Zinc Oxide 19%
Price: $24-$55 depending on product and size
Suntegrity is an award-winning sunscreen brands with a dedicated following. Their Unscented Mineral Body Sunscreen SPF 30 made it on EWG's 2019 "Best Beach and Sport Sunscreens" list and received a #1 Rating in the Skin Deep Cosmetic Safety Database.
This sunscreen offers high broad spectrum protection plus powerful antioxidants to nourish skin.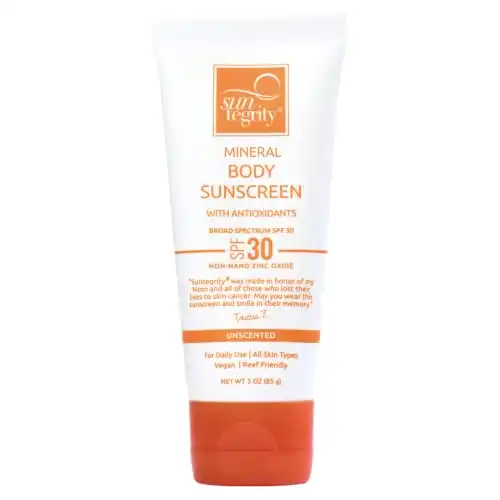 It's free of harsh chemicals like fragrance, parabens, phthalates, propylene glycol, mineral oil, synthetic dyes, sulfates, nanoparticles and chemical UV absorbers.
Suntegrity's formula features certified organic ingredients including aloe, jojoba seed oil, sunflower seed oil, and more.
The consistency of the sunscreen is slightly thick but leaves a light, dewy finish after rubbing, perfect to wear under makeup or bare-faced days.
It's gentle enough for the whole family so you can relax on vacation knowing you're protect your kids as well as reefs and wildlife, too.
Additional Sustainable Sunscreen Tips
Along with organic and natural ingredients, we often see terms such as reef safe and biodegradable associated with sunscreen formulas.
What Does Reef Safe and Sunscreen Mean?
The term reef safe is used to for sunscreens that do not contain oxybenzone and octinoxate, two common UV-blocking chemicals that studies have shown can cause coral bleaching.
There are a few third party certifications that you can look for to easily identify reef-safe sunscreens. A few of these include Reef Friendly by BIORIUS, Friend of the Sea Reef Safe, and more. The Environmental Working Group is also a great resource to further your knowledge on safer sunscreen options.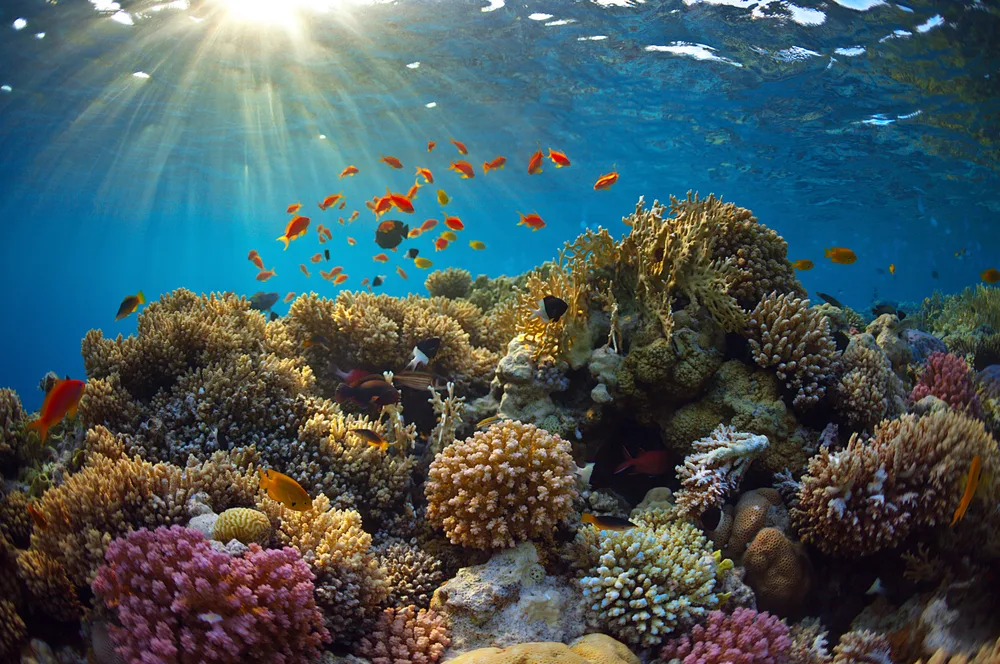 What Does Biodegradable Sunscreen Mean?
A biodegradable sunscreen is one that contains ingredients that don't harm the environment, including both plant and animal life.
It's easy to tell if your favorite sunscreen brand is biodegradable or reef safe, just look for zinc oxide and titanium dioxide as active ingredients on the label.
Things to Consider When Purchasing a New Sunscreen
When switching to a new sunscreen it's important to keep the following in mind.
Read the ingredient list and be aware of what you are putting on your body.
If you're planning to go swimming be sure to choose a water resistant option.
If you're able to purchase a small or mini size that's a good way to test out the new sunscreen for your specific skin type.
Monitor your skin for any allergic reactions.
Consider the Sun protection factor (SPF) as some people need a higher SPF.
Reapply depending on how much time you're spending getting sun exposure.
Consider looking for a fragrance free formula if you have sensitive skin.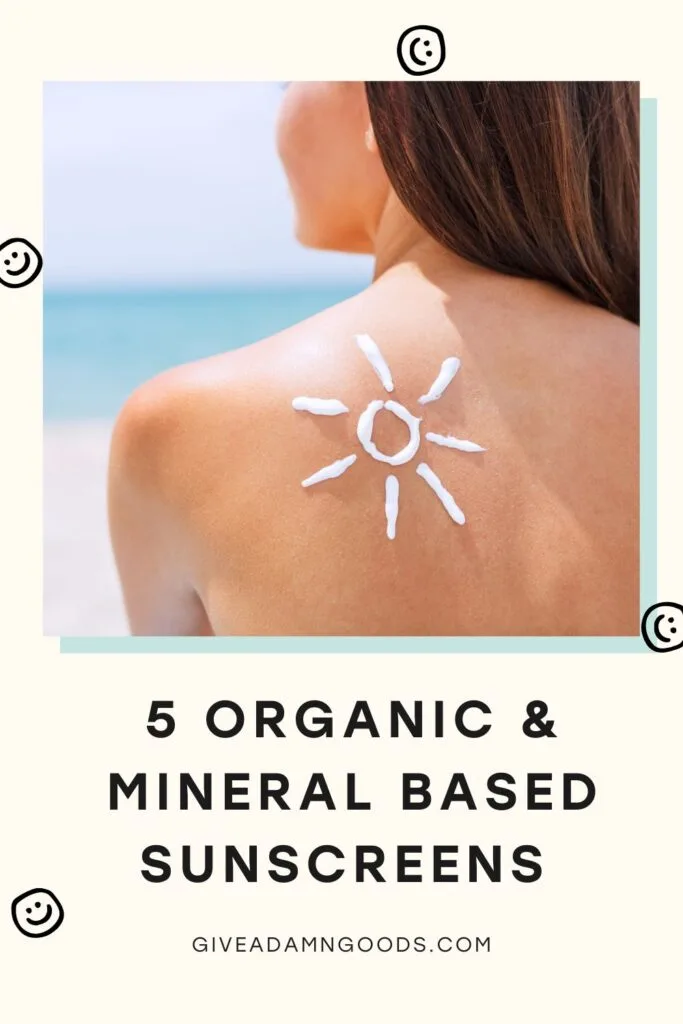 Hopefully this guide helped you find the best organic sunscreen for your body!