One of the biggest challenges to sustainability is our obsession with plastic bags. Not only are they bad for the environment, they can also be bad for our health, particularly when food is stored in them.
Yet there are great substitutes out there, which is why we have put together this handy guide to show you the materials you should look for, why exactly plastic is so bad for us, and what brands are already making great alternatives to the plastic bag.
This post does contain affiliate links. Give a Damn Goods will receive a commission if you decide to make a purchase. Our commission is at no additional cost to you.
Quick List of Plastic Free Food Storage Swaps
If you're just looking for a quick and easy way to swap out plastic check out this list! If you're hoping to further your knowledge on why plastic is problematic and why we love these alternatives, read on!
| Product Name / Price / Description | Product Image | Primary Button |
| --- | --- | --- |
| | These bags are endlessly reusable, food-grade platinum silicone. With no BPA, BPS, lead, latex, or phthalates they're a safer choice. Plus, leak free patented Pinch-Loc™ seal & dishwasher safe. | |
| | Round silicone sleeves stretch to fit common fruit and vegetable halves large, medium and small. | |
| | Made in America with USDA-approved and toxin-free soda-lime glass of food-grade quality. | |
| | Made in the USA: with certified organic cotton, responsibly-sourced beeswax, certified organic plant oils, and tree resin. This combination creates a durable, yet pliable plastic wrap alternative that can be used again and again and again. | |
| | Hold On uses a unique combination of non-toxic plant based ingredients to create a strong sustainable material. | |
| | These stainless steel containers with lids have a smooth surface and are easy to clean, hand and machine washable. | |
| | No need to worry about food, odor, or irritants seeping into these nonporous 36oz glass containers. Designed to safeguard your health, they are non-toxic and BPA-free. | |
09/30/2023 01:32 am GMT
What's the Problem with Plastic?
Let's explore some of the negative impacts from plastic!
Environmental Problems with Plastic Bags
The environmental problems with plastic bags are well documented. The main one being the rise of single use plastic in our lives.
From sandwich bags to plastic containers to plastic wrap, most households use a lot of single use plastic. The majority of our food also comes wrapped in it, making it hard to avoid no matter how diligent you are.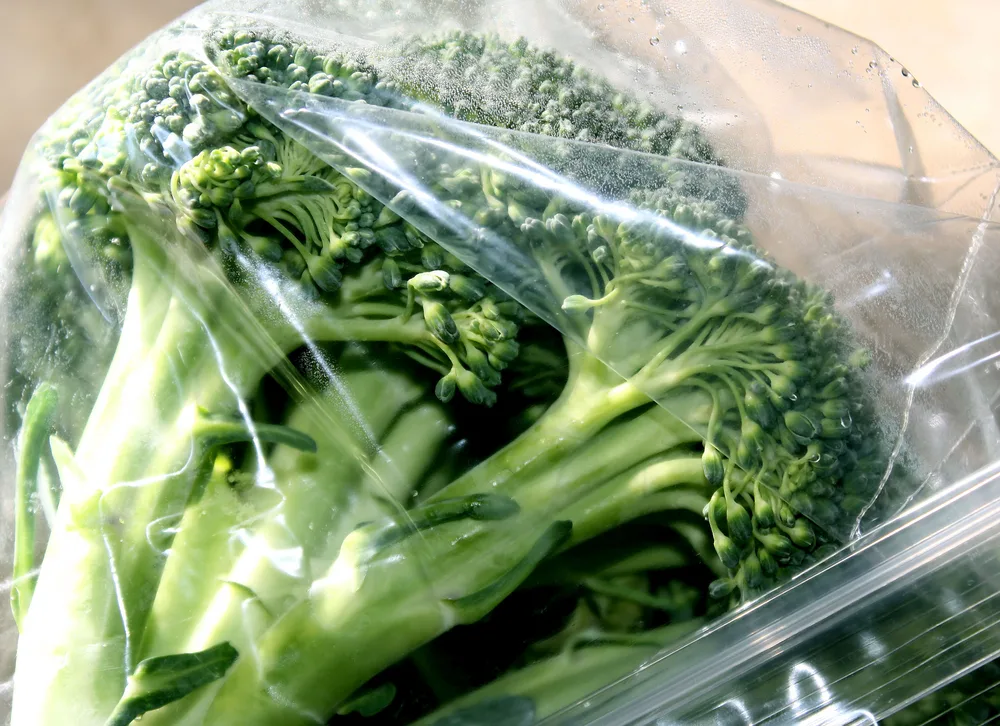 Single use plastic has a massive impact on the environment and on our wildlife. Plastic bags easily get stuck in the digestive tracts of animals when they are eaten.
Not only this, when they do eventually start to break down they create an even bigger problem, microplastics.
On some beaches on the Big Island of Hawaii, as much as 15 percent of the sand is made up of grains of microplastic.
Health Impacts from Storing Food in Plastic
While we may be more familiar with the environmental impacts of plastic, what about the health impacts?
They are very real, and the simple truth is, most plastic simply isn't suitable for food storage, even if it claims to be.
For example, some of the components in plastic food storage containers are soluble in fat, meaning that if you store oily food in them, plastic can leak into your food.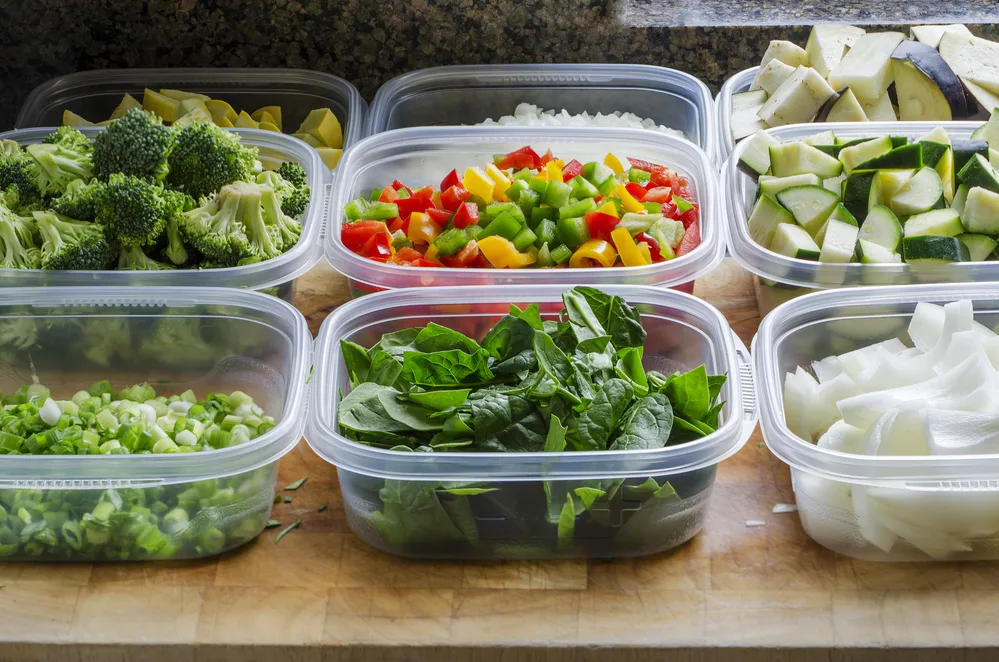 Have you ever put plastic food containers in the microwave to reheat leftovers, only for it to taste strange and then stain the plastic?
This is another sign that plastic has leached into your food, and that's simply not good for you.
Plastic, due to its very nature, commonly has a host of chemicals within it that are dangerous to human health, including BPA and phthalates.
BPA
While many plastics are now 'BPA-free' it's still a common substance, but there's a reason that it got so much attention for its use in children's toys. Not only does BPA affect the brain, it also disrupts hormones and can cause reproductive issues.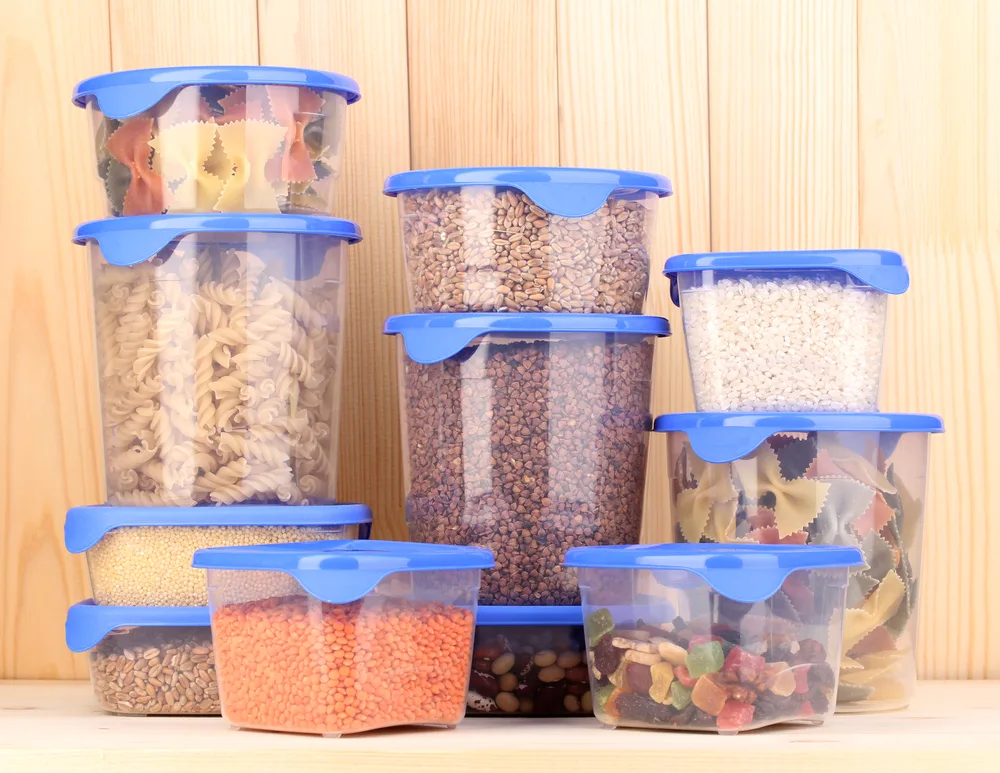 Phthalates
Phthalates are the very reason why plastic bags are so popular, as it's what gives them their flexibility. Yet phthalates are also known to be endocrine disruptors, and so having them near your food can have adverse effects without you even realizing it.
Non-toxic & Non-Plastic Materials for Safer Food Storage
While plastic is still dominant in supermarkets, there are non-toxic materials out there that are perfect for food storage in our own kitchens. They can even keep your food fresher for longer.
Silicone
Silicone is a great reusable alternative to plastic storage. Non-toxic, it's BPA and phthalate free, meaning nothing bad will leach into your food. It's a versatile material that can be made very sustainably.
Not only this, it can also withstand extremes of cold and heat, so it's perfect to store leftovers in and you can pop it in the microwave without compromising on taste.
Silicone lids and containers are great options for plastic-free food containers.
Cloth
If you're already buying your fruit and veg loose without plastic wrapping, it can be hard to know what to store it in once you get home.
A fruit bowl is always a great option, to keep it visible in the home, but many times the heat means that you need to store your veggies away.
Cloth bags are a great alternative to plastic bags or plastic wrap. Mesh produce bags are a great alternative to plastic here.
They let food breathe more and this can actually keep food fresher for longer than plastic bags will, as plastic can cause your fresh fruit and veg to sweat and spoil.
Natural fibers such as cotton are best for this, these reusable bags can be easily washed, plus they can eventually be composted.
Paper
Another surprising alternative to the plastic bag is simple paper. You may already notice that it's common for mushrooms to be stored in paper — this is because plastic can make fungi spoil much faster. It's best for dry goods and non-porous fruits and veggies.
For uncut fruit and veg, a paper bag is great storage. It can help keep them cool while still separating them from other food. Plus, paper will biodegrade after use!
Glass
Glass is non-reactive, non-toxic and a great heat conductor, which is why using it for food storage just makes sense.
Perfect for both wet or dry foods, it never changes the taste of the food but keeps it as airtight as the best plastic container.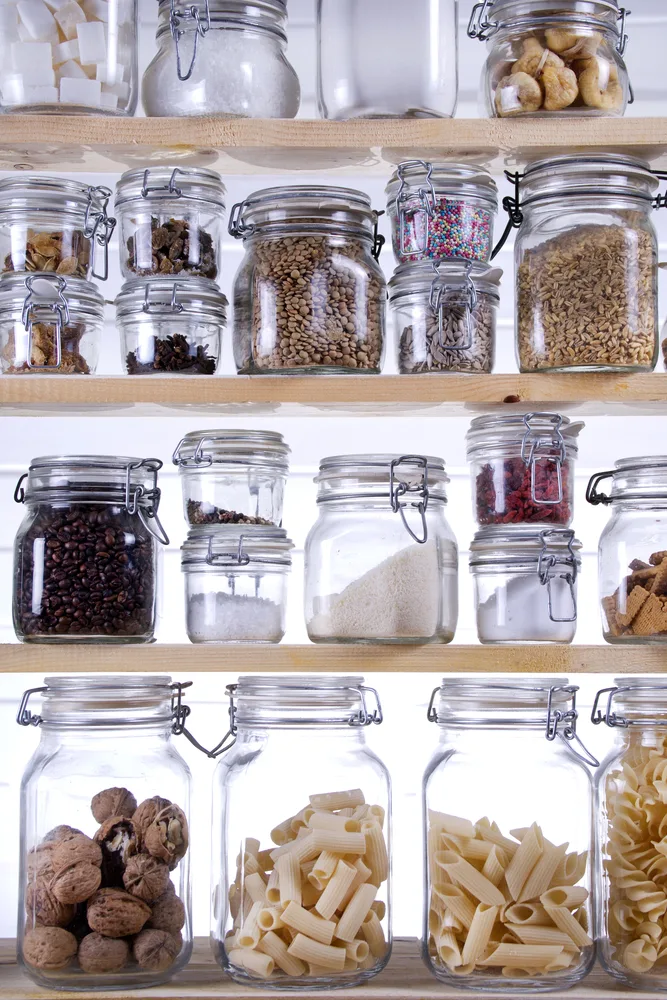 If you want to be able to store food and re-heat it in the same plastic-free storage containers, look for borosilicate glass which can withstand higher temperatures without breaking.
There's no danger of toxic chemicals with glass containers, plus, it can be recycled again and again. If you have glass storage containers, make sure you get ones that don't come with plastic lids.
Find ones with a bamboo lid or other sustainable options.
7 Plastic Free Food Storage Ideas
We've already looked at what materials are non-toxic, now let's look at how these materials are used to store food in the home in a sustainable way.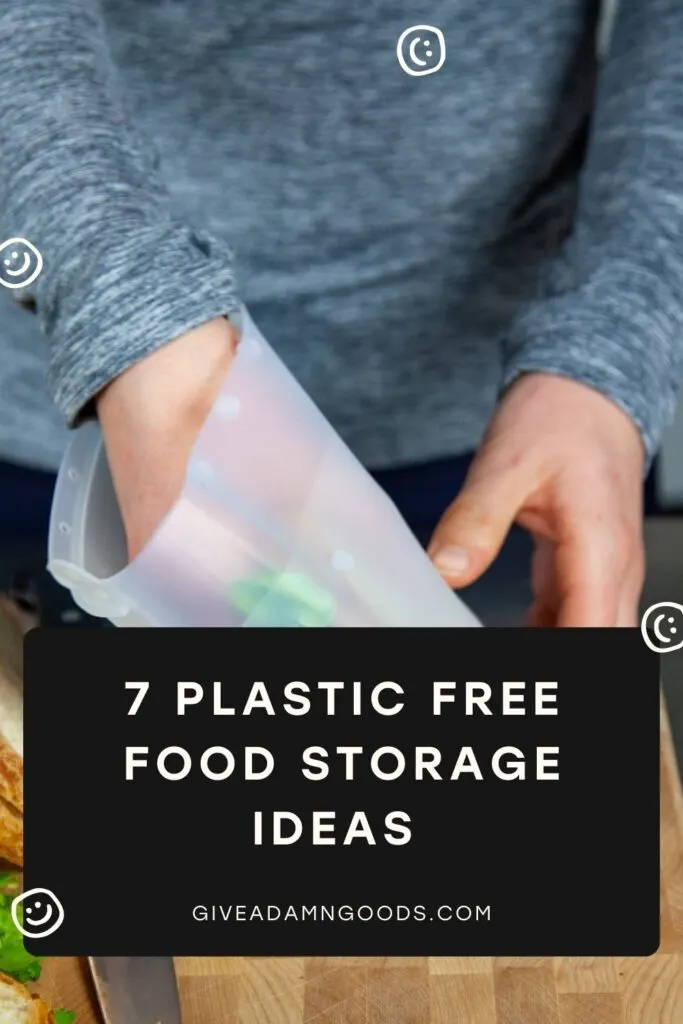 Plus, I've mentioned some of my favorite high quality eco-friendly brands for a great place to start on your zero waste kitchen journey or even if you're just looking for the best food storage containers!
The great news is you don't necessarily have to spend money to get started. Chances are you already have a few of these items in your home such as mason jars or glass storage containers.
Silicone Bags featuring Stasher
Silicone is a great way to avoid plastic for food storage, and Stasher has proved this with their fantastic range of platinum silicone bags.
The reusable silicone bags can be put into the dishwasher, microwave, and even the freezer, plus it is endlessly reusable, making it a much safer alternative to plastic.
Reusable Silicone Bags – Stasher
These bags are endlessly reusable, food-grade platinum silicone. With no BPA, BPS, lead, latex, or phthalates they're a safer choice. Plus, leak free patented Pinch-Loc™ seal & dishwasher safe.
Shop Now
One Stasher bag can prevent the use of 260 plastic bags per year, so it's a great environmentally-friendly alternative to single-use plastic.
Stasher bags have played a big role in reducing my single use plastic over the years, and for good reason. I love how easy it is to save food and clean them!
Food Huggers
Another great silicone product, Food Huggers are a fantastic substitute to plastic as they help you to keep cut food fresh and reduce food waste.
When fruit and vegetables have been cut, wrapping them in plastic doesn't keep them as well as you think, and the plastic bag or wrap then needs to be thrown away after use.
Food Huggers can be reused and are designed to fit snugly around your food. They have different sizes to fit different produce items.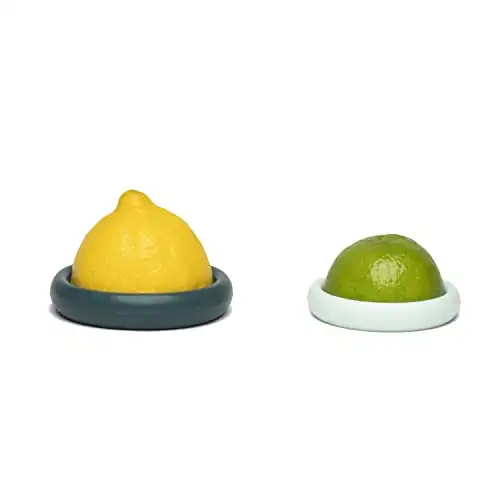 We use Food Huggers almost everyday in our house! We use them on produce and to cover cans once we open them. I think that these are such a practical thing to have in your kitchen.
They're incredibly easy to clean too since they're dishwasher safe!
Mason Jars
We've already seen how great glass can be, and what can be better than the ever reliable mason jar? Eco-friendly and non-toxic, the glass in mason jars can be recycled many times.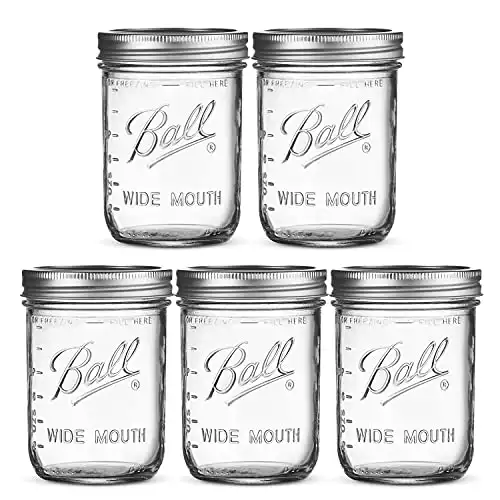 Current trends have also moved towards much more sustainable lids, such as bamboo, glass with a rubber seal, and even stainless steel.
Whether you're shopping for rice by the pound, or you need a jar for kimchi, mason jars never disappoint. You can reuse glass jars over and over again.
Beeswax Wrap
Beeswax wraps are a great alternative to single-use plastics when it comes to food storage. As they are made from cotton and beeswax, and can last up to a year with the proper care.
The cotton allows food to breathe while beeswax allows the wrap to adhere to itself, meaning you can seal your food away safely. There are lot of guides and videos to learn how to use beeswax wrap!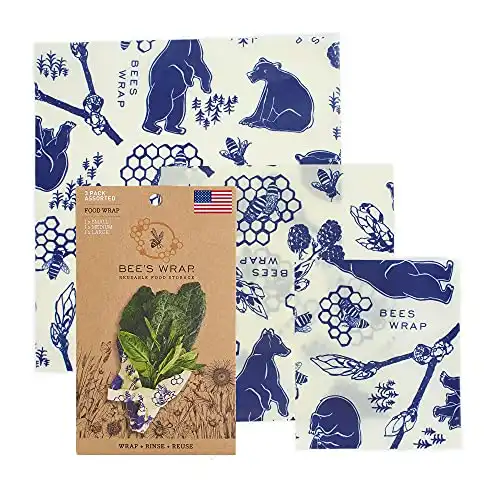 Bee's Wrap - Beeswax Food Wraps
Made in the USA: with certified organic cotton, responsibly-sourced beeswax, certified organic plant oils, and tree resin. This combination creates a durable, yet pliable plastic wrap alternative that can be used again and again and again.
Shop Now
When these reusable food wraps get past their best, they can then be composted or tossed – as they're biodegradable!
Hold On Compostable Food Storage Bags
One of the reasons that plastic bags are still used so regularly to store food is due to their convenience. There's no need to wash anything, you just throw old bags away and grab a new one.
With Hold On, they've kept single-use items, just without the plastic.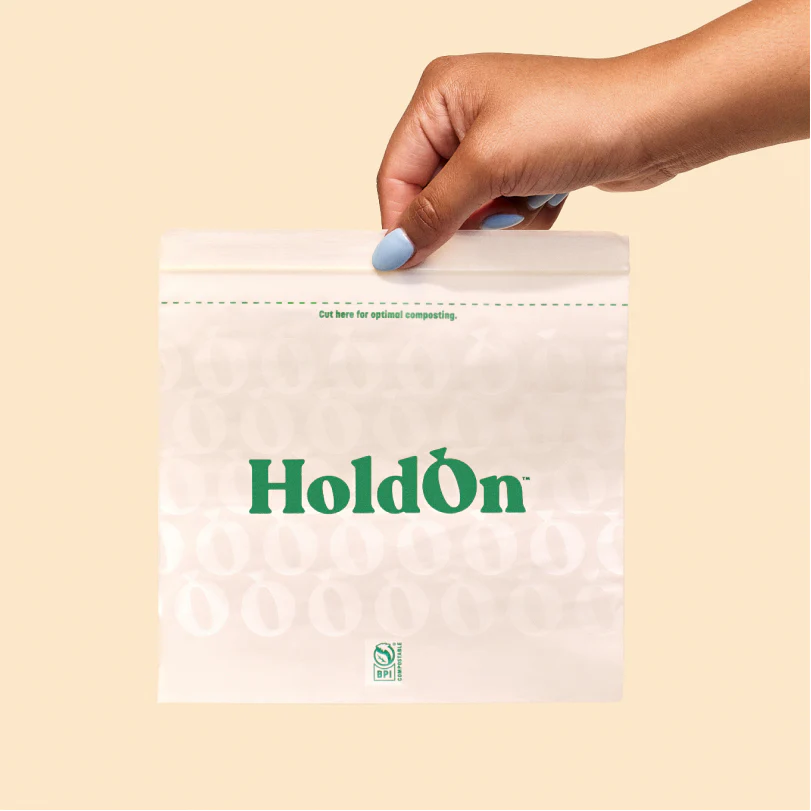 Their compostable food storage bags are used once and then composted, without the environmental impact and without the plastic waste.
I enjoy using Hold On compostable bags for carrying snacks on the go! I don't recommend them for storing cheese and foods that may dry out as I learned the hard way.
Glass Containers
Similar to the mason jars, glass containers are a great way to store food.
This is a sustainable swap that is easy to find too! Many stores carry glass container or you may already have some in your house.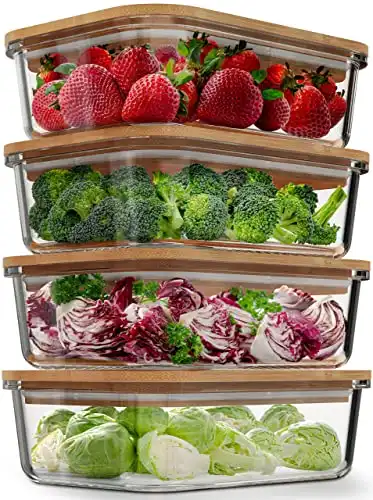 Try to choose glass containers that have glass or bamboo lids. Unfortunately, it is common for glass containers to come with plastic lids.
Along with glass containers you can find glass spice jars, bottles, and tins to help organize your pantry and store your food in a plastic free way!
Stainless Steel Canisters
Stainless steel can be a great option for keeping coffee, tea, flour, or sugar fresh!
When shopping for stainless steel food storage be sure to try to find options with lids that are also made of stainless steel. A lot of times they'll come with plastic or acrylic lids which is less sustainable.
6 Additional Ways to Ditch Plastic Food Storage at the Grocery Store
When we're shopping at the grocery store it can be really difficult to find produce and pantry staples that aren't wrapped in plastic.
Here are a few tips on how to avoid food wrapped in plastic at the grocery store!
Shop Local
Shop at your local farmers market as they are less likely to use plastic containers and packaging for produce. Their food is also usually fresher which is an added bonus.
Take Your Own Produce Bags
If you're unable to shop at the farmer's market then take your own reusable produce bags to the grocery store! These are typically made from organic cotton cloth or regular cotton.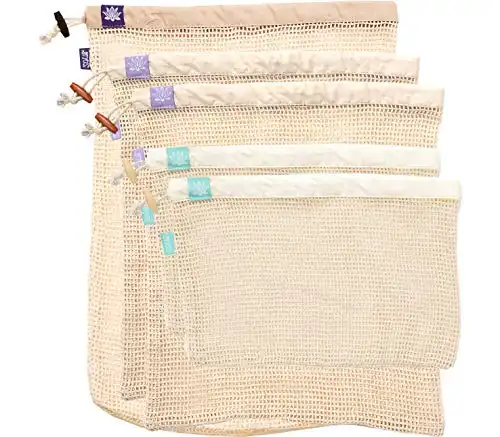 This way you can avoid the plastic produce bags and fruit stored in plastic containers.
Cut Your Own Fruit
Ditch the pre-cut fruit! A lot of pre-cut fruit comes in plastic containers. Instead of buying this purchase the fruit as a whole, cut it up, and store it in your own glass container.
This is also usually more affordable as pre-cut fruit tends to be marked up in price.
Find a Bulk or Zero Waste Shop
Look up bulk and zero waste stores in your area. These stores are great because you can bring your own containers, fill them up, and refill them!
This eliminates a lot of plastic packaging over time. This is great for spices, flour, sugar, and other pantry staples.
Choose Glass Jars
When shopping for spices opt for the glass jars instead of plastic. The glass jars might be a bit more expensive, but it is a more sustainable option and can be reused or refilled.
Remove Plastic When You Get Home
If you purchase something that is stored in plastic, consider removing that packaging when you get home. The less time your food spends in plastic the better.
You can wash your produce and move it to glass containers. Similarly, remove things like sugar or flour from their plastic bags and put them in glass containers too.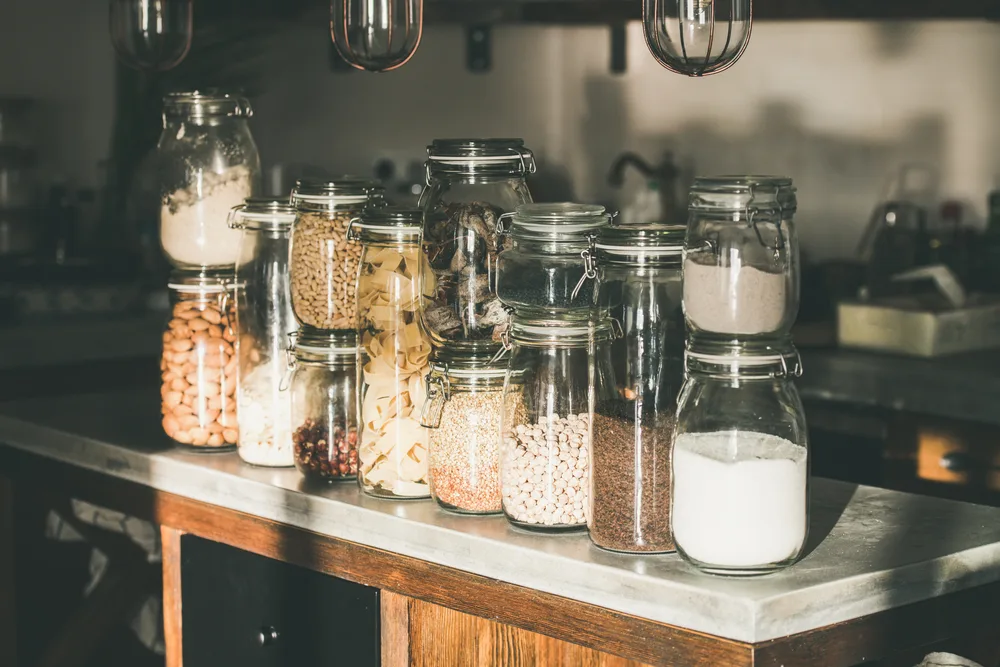 This can also make your pantry look more organized and give it a minimalist feel.
Don't feel discouraged if you can't fully avoid plastic. I know I can't full ditch plastic, but I have dramatically reduced the amount of plastic in our regular routines by purchasing more consciously.
Hopefully, you've learned a little about the dangers of plastic bags for food storage in terms of the environment and your own health.
Luckily, there are plastic-free food storage containers out there, so you're sure to find something that's non-toxic, and good for the planet.
And before you stress about starting over when it comes to your food storage — the easiest way is to use what you have an adjust slowly.