An item you're likely to find in almost any pocket or purse is a tube of lip balm, whether it's to protect lips from a chilly winter breeze or a blistering summer sun.
Our lips are thin and don't have the sweat or sebaceous glands needed to produce the sweat or oil that normally keep skin smooth and moisturized.
They also don't produce melanin to protect them from the sun – which is why a tube of lip balm can provide welcome relief to chapped lips as it soothes, nourishes, and moisturizes.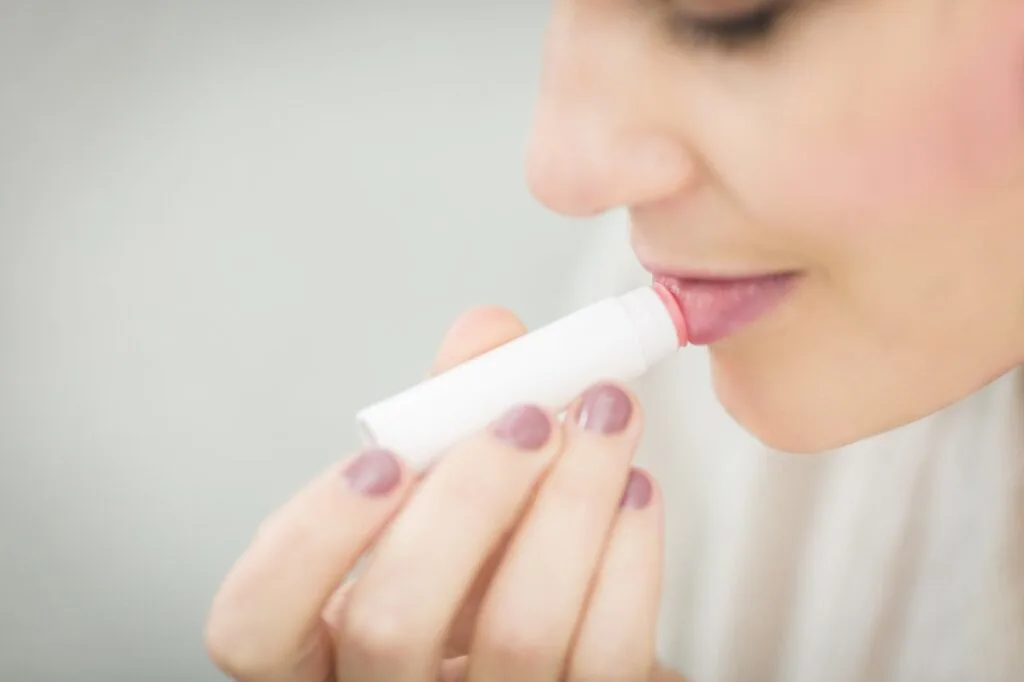 However, lip balms are usually sold in small, plastic tubes that are easy to lose and just as easy to replace, adding up to a whole lot of plastic waste – which is just one of this product's problems.
This post does contain some affiliate links. If you decide to make a purchase Give a Damn Goods may receive a commission at no additional cost to you.
Quick List of Sustainable Lip Balms to Love
This guide features the best eco-friendly lip balms that prioritize natural, clean ingredients and low waste packaging. If you're looking for a quick buying guide, look no further than the list below!
If you'd like to learn more in depth about why we love these lip balm brands, what to look for when shopping for lip balms, and what to avoid when purchasing lip balms, then read on!
| Product Image | Product Name / Price / Description | Primary Button |
| --- | --- | --- |
| | This ultra-hydrating zero waste lip balm is handmade with vegan, organic ingredients to protect, nourish and moisturize lips. | |
| | ECLIPSE Lip Balm is made with local beeswax and unrefined, organic, fair trade certified Shea butter to condition & moisturize your lips. | |
| | Pay your kisser the proper lip service with an organic infusion of skin-soothing vitamins & nutrients from a curative array of Mother Nature's most therapeutic plants. | |
| | Ultra-hydrating sheer tinted lip balms that gives you a naturally moisturized "sun kissed" look. All of the ingredients are plant-based. River Organics uses cacao and mango butters which makes the lip balm smoother, thicker and longer lasting. | |
| | Not just for lips, this vegan "chapstick" can be used on hands and other areas of skin to prevent and repair dryness. This lip balm is sustainably packaged in a compostable tube. | |
What's the Problem with Regular Lip Balm?
Regular lip balm is made from petroleum-derived ingredients like petrolatum (a by-product of the crude oil extraction process). While petroleum is not extracted for the express purpose of making lip balm, it is still a by-product of an industry that needs to drastically reduce its impact on the environment.
Petrolatum allows chapped skin to heal, but it does not actually add any moisture to the skin. It is merely layered on top of your lips and eventually rubbed (or licked) off, compelling you to reapply.
Lip balms also contain several other ingredients that provide temporary relief but ultimately have the opposite effect and force you to reapply.
These ingredients are often allergens that can lead to a lip rash that mimics chapping, known as allergic cheilitis.
Then of course there are the plastic tubes already mentioned. Not only are these single-use, but they typically cannot be recycled because they are too small and can clog machinery.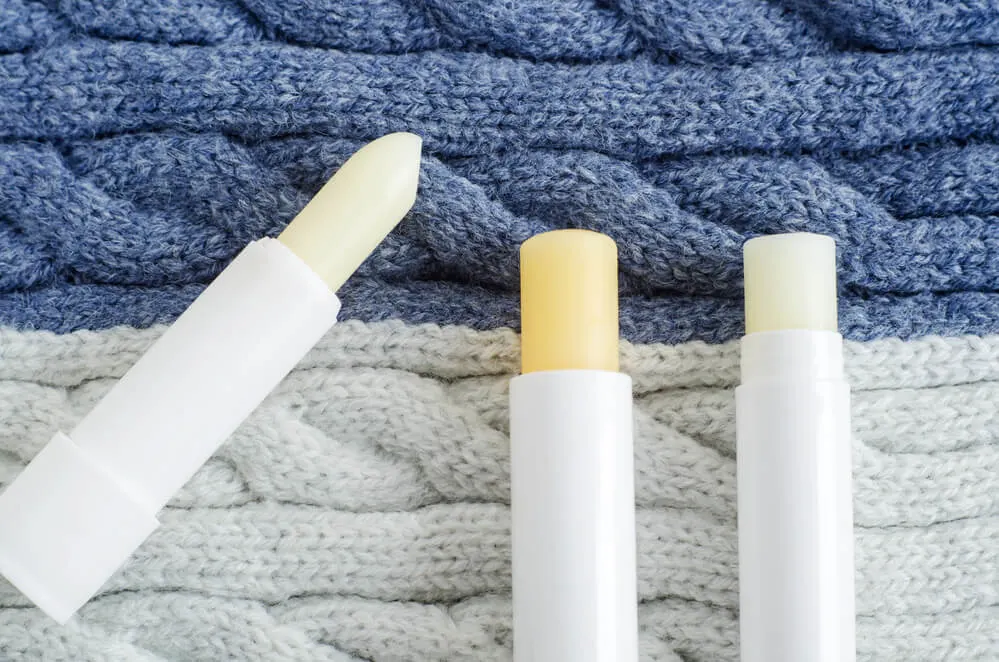 Exacerbating the problem is the issue that the tubes are usually made from mixed plastics that are difficult and energy-intensive to recycle. Constant reapplication also means you are constantly using up your lip balm and constantly having to buy more, adding up to plenty more plastic tubes.
Consider the end of life impact of the plastic container next time you make it to the bottom of the tube. Sustainable brands using compostable cardboard tubes are a game changer for conscious consumers!
Ingredients Consumers Should Avoid
If you want smooth, healthy lips from an effective, eco-friendly lip balm, here are a few ingredients to avoid.
Mineral oils such as petrolatum, paraffinum liquidum, paraffin, and microcrystalline wax lock in moisture but don't penetrate the skin. While it is safe to use if fully refined, this is usually not the case in the US. When it is not as highly refined, its use may increase your risk of cancer. It's also not an eco-friendly ingredient, as it is derived from petrochemicals.
Synthetic vitamin E is also made from petrochemical derivatives. These include hydroquinone and toluene, which are known to be carcinogenic.
Fragrances. Ingredients used to fragrance (or flavor) your lip balm can dry out or irritate your lips.
Camphor, menthol, and phenol are often added to lip balm for their soothing effect, but they evaporate quickly, forcing you to reapply. They can also lead to contact dermatitis.
Be cautious of overusing essential oils, which are added to lip balms for their tingling and cooling effect, such as peppermint and eucalyptus oil, as well as for their scent. Although essential oils have many benefits, including healing properties, too much of certain oils can lead to irritation.
Alcohol, which can have a drying effect.
Avoid benzophenone in lip balms that double as a sunscreen.
Parabens and phthalates, which are known endocrine disruptors.
Butylated hydroxyanisole (BHA), used as a preservative, has been linked to cancer.
Salicylic acid. This is used as an exfoliant, but can dry out and irritate your lips if used too much.
Packaging. Avoid excess packaging (such as tubes packaged in layers of plastic) and plastic, single-use tubes.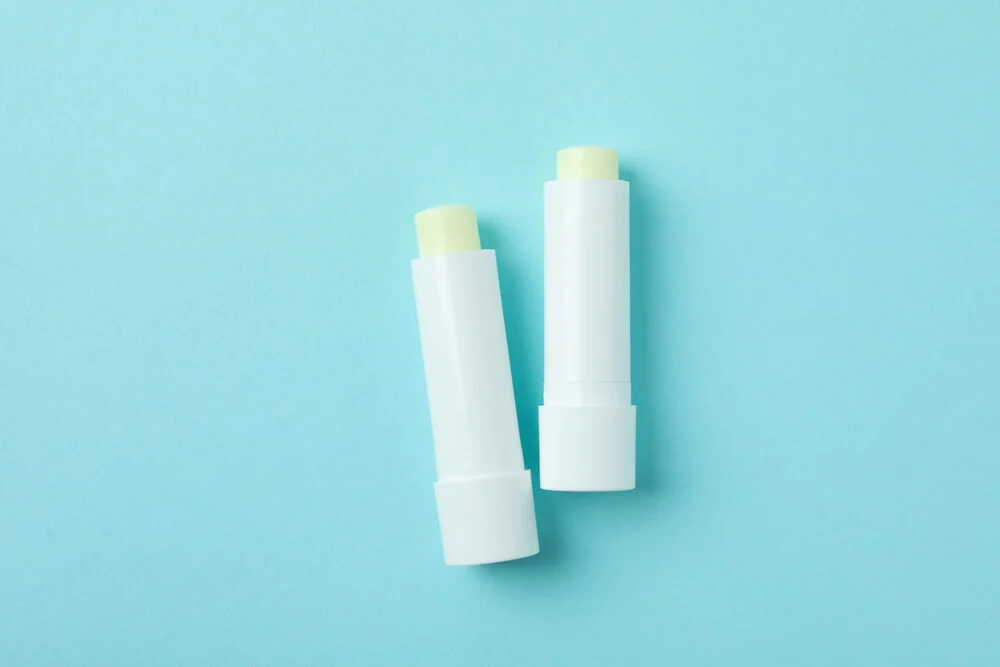 What are More Eco-Friendly Ingredients Consumers Should Choose?
Let's start with the packaging. Several alternatives to plastic tubes have come to the fore such as reusable aluminum or glass pots, as well as refillable lip balms and cardboard push tubes that are biodegradable.
If you're looking for healthier ingredients that are better for your lips, the environment, and won't have you reapplying all the time, there are plenty to choose from.
A variety of alternative fats, oils, and waxes that are more sustainable are being used in lip balms. These include:
avocado oil
castor seed oil
olive oil
grape seed oil
coconut oil
jojoba oil
hemp seed oil
moringa seed oil
sunflower oil
shea butter
cocoa butter
mango butter
sunflower wax
candelilla wax
beeswax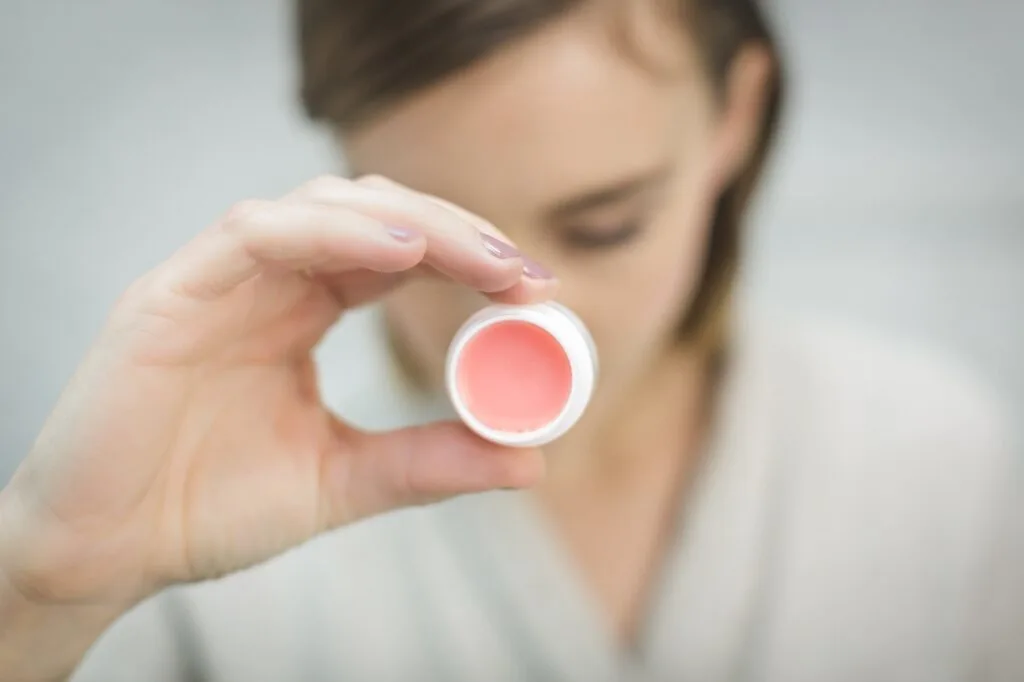 For a moisturizing effect, look out for Vitamin E which is derived from sunflower oil (sometimes listed as tocopherol or tocopherol acetate). Palm oil is also a good source of Vitamin E, just ensure it is sustainably sourced. Glycerin and aloe also work as good moisturizers.
5 Eco-Friendly Lip Balm Brands
If you're ready to try out some sustainable lip balms, these small businesses are prioritizing the planet & people! These brands focus on clean ingredients and avoid plastic packaging. Ditch the single-use plastics from conventional lip balms and nourish those dry lips with better ingredients!
Ecoroots Lip Balm Made with Natural Ingredients and Sustainable Packaging
If you're looking for a vegan lip balm, Ecoroots has one made from organic, plant-based ingredients such as shea butter and coconut oil. The paper tube it comes in is compostable and recyclable and is three times the size of a conventional plastic lipstick, so it will last longer.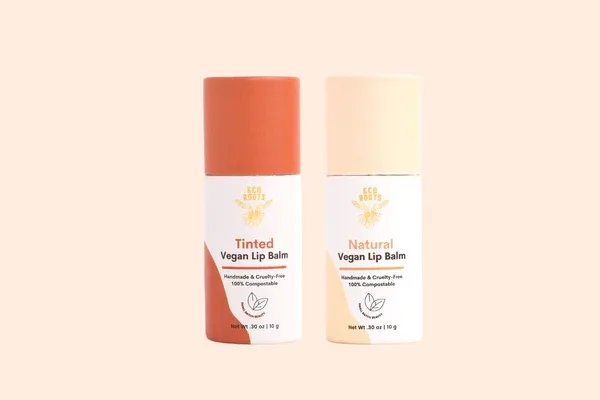 EcoRoots vegan lip balm is available in a few different scents including natural, strawberry, mint, and more. Handmade in small batches in the USA, it is free from parabens and phthalates. Their lip balm can be purchased for around $9.
Lip Therapy's Zero-Waste Lip Balm
Available on the Zero Waste Store platform – a platform connecting you to a variety of zero-waste products – Lip Therapy's balms are available in six options made from plant-based oils and butters.
These are vegan coastal berry, vegan lip Pacific peppermint, organic lip cali orange, organic lip Pacific mint, tinted lip ruby red grapefruit, and healing lip lavender lemon. If you have sensitive skin, you may want to avoid the mint options.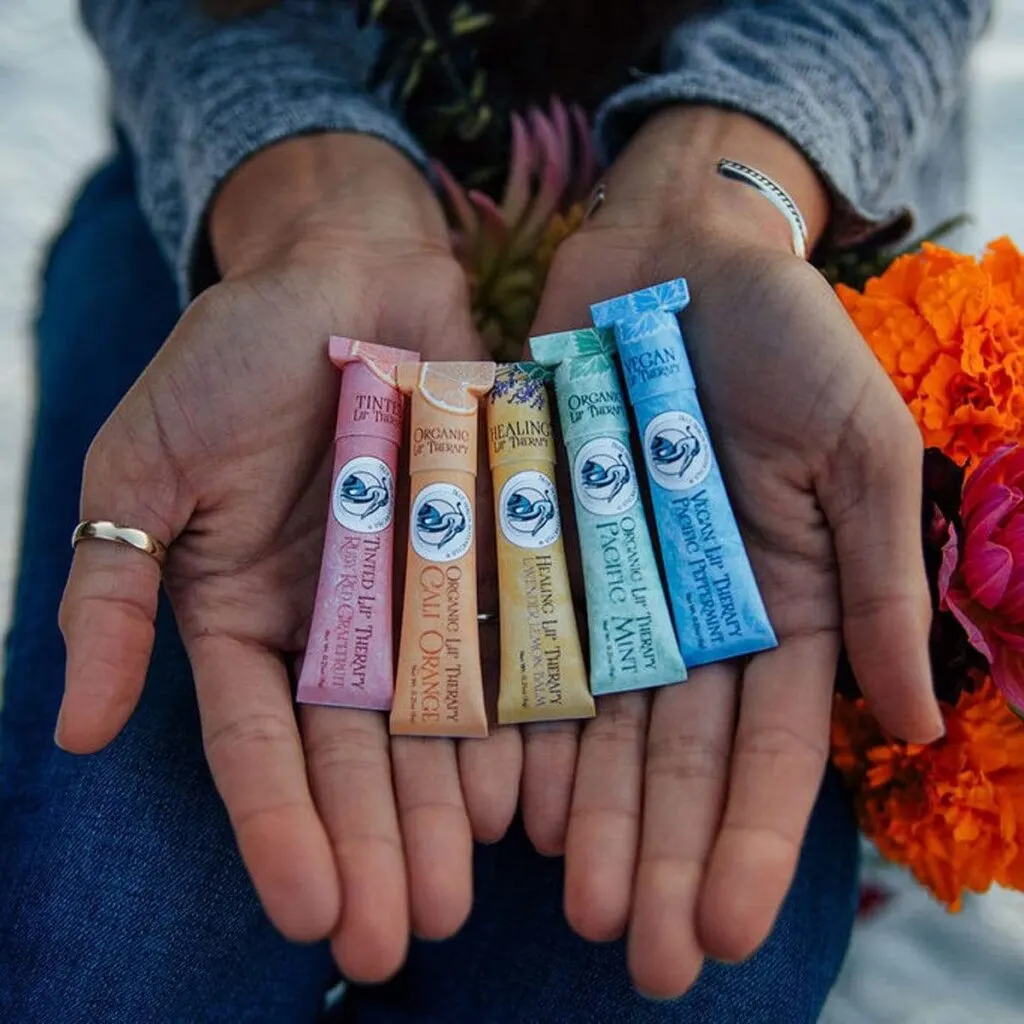 The balms are packaged in compostable recycled cardboard. Lip Therapy's eco-friendly lip balms can be purchased for around $8.
Meow Meow Tweets Small Batch Vegan Lip Balm
Offering sustainable bath and body products, Meow Meow Tweet is vegan, cruelty-free, and 100% palm oil-free. They produce small batches in order to control their waste and the ingredients used support regenerative farming practices.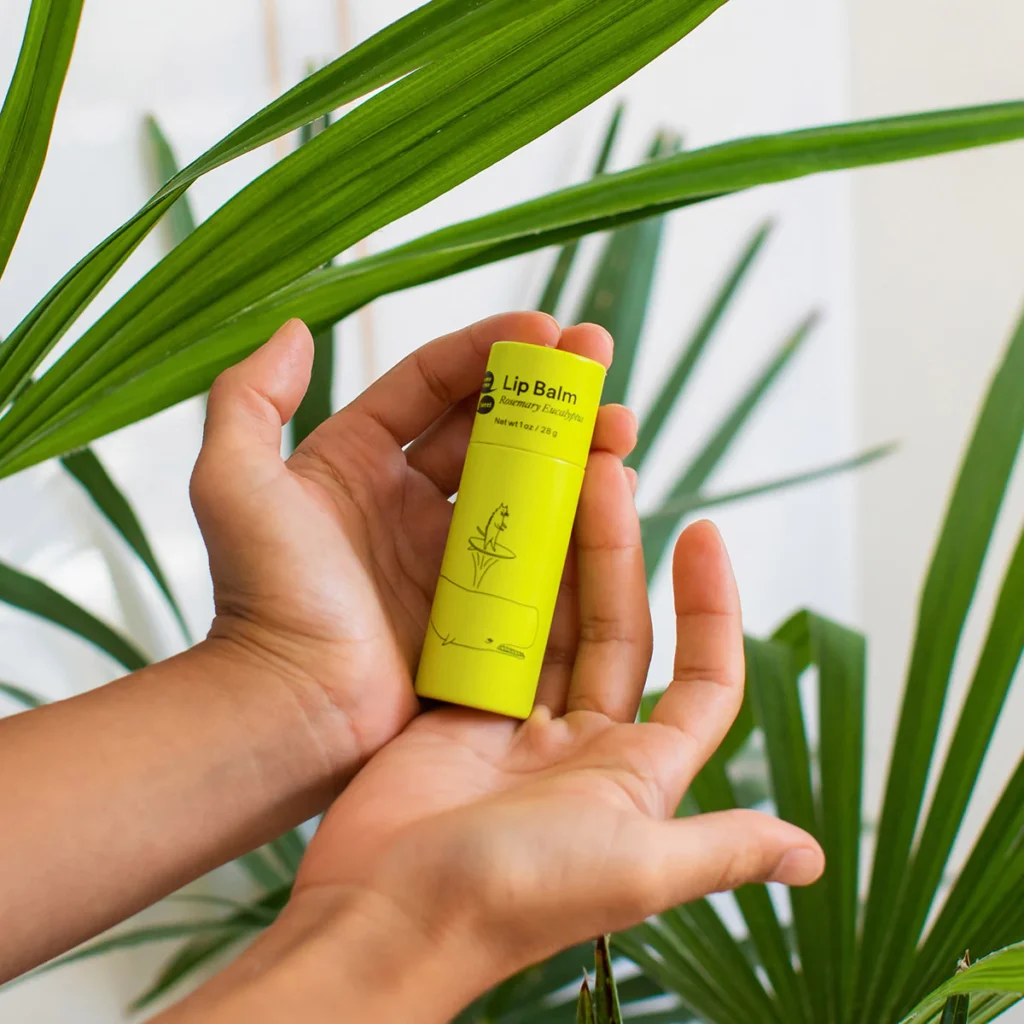 The four lip balms on offer (chamomile myrrh, sweet orange tangerine, coconut cacao, and rosemary eucalyptus) are packaged in jumbo compostable paper tubes and are made with organic, fair trade ingredients. Meow Meow Tweet's sustainable lip balm can be purchased for $14.
River Organics Natural Lip Balm
Started by a husband and wife team with backgrounds as a natural product chemist and an art historian, River Organics is committed to using organic ingredients and eco-friendly packaging. Orders are plastic-free and shipped in recycled envelopes.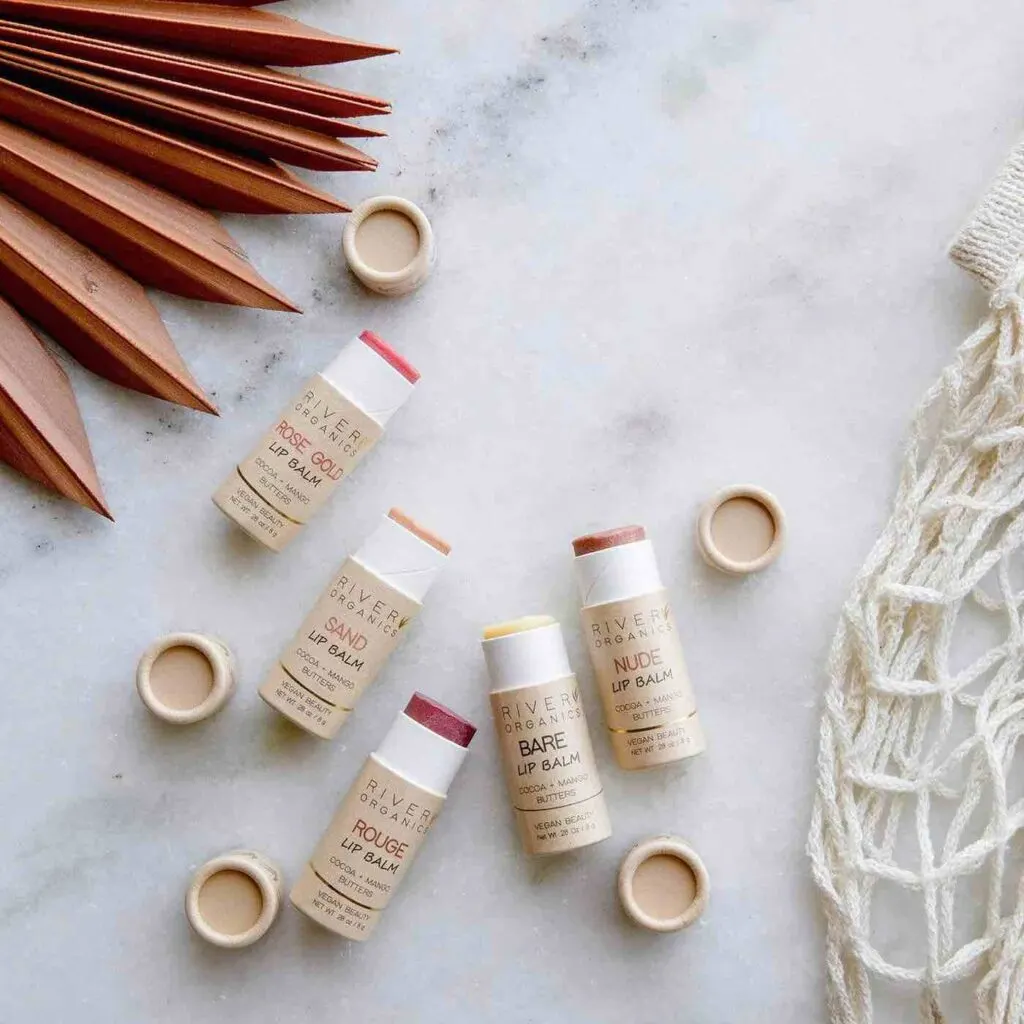 They have several lip balms available that are all vegan and certified cruelty-free and are packaged in compostable paper tubes. River Organics natural lip balm can be purchased for $10-$15.
Corvus Botanicals Ethical & Sustainable Skin & Lips
Corvus Botanicals was started by Stacia Thompson-Wrench in an effort to create a skincare and beauty brand that is sustainable and ethical. And so Corvus Botanicals was started and grew into a brand committed to zero-waste packaging, the use of responsible ingredients, and an ethical supply chain. Plus, a tree is planted with every order.
Her ECLIPSE lip balm is made with beeswax and unrefined, organic shea butter, as well as virgin coconut oil and cold-pressed sunflower oil. Untinted and unscented, it comes packaged in a compostable tube. Corvus Botanicals natural zero waste lip balms can be purchased for $5+.
Tips for Picking Eco-Friendly Lip Balm
Once you have found a lip balm made with mindful ingredients, you will find less need to reapply, saving plenty of little plastic tubes from ending up in the trash – and, easier said than done, but try not to lose them!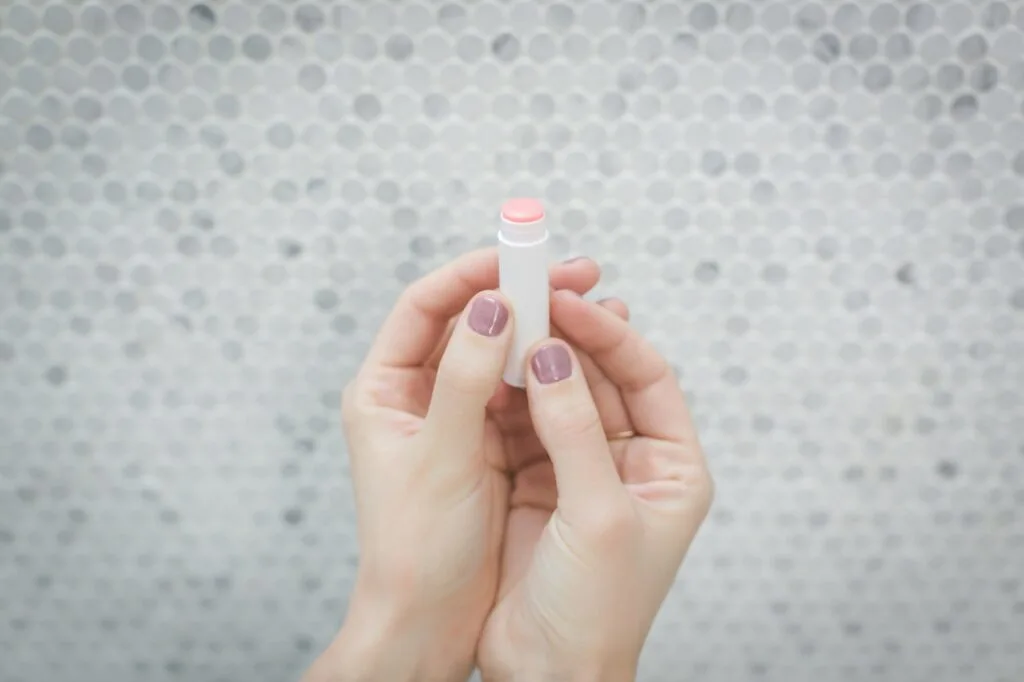 You can also make your own lip balm, using reusable containers. If you want to buy a balm, keep the following in mind:
Avoid fragranced and flavored varieties. The FDA requires that all fragranced products be labeled accordingly, but it does not require brands to list what is in the fragrance. If you want a fragranced option, rather opt for brands fragranced with essential oils but be mindful that overuse can irritate your skin.
If you are constantly reapplying, choose another brand in future.
Look for SPF lip products with mineral zinc oxide and titanium dioxide.
Support fair trade and organic options.
Search for brands with takeback recycling programs.
Reuse your tins and jars.
Or look for brands that use paper push-up tubes or other forms of reusable and compostable packaging.
Hopefully this guide helped you discover some of the best zero waste lip balms and learn what ingredients are worth avoiding!