We all have our own preferences when it comes to the type of cookware we use. Whether you're looking for something that's lightweight and non-stick or something more heavy duty — there's an option out there for everyone.
The one thing you don't want to have to consider when making a purchase is whether your new cookware is toxic. This cookware guide will feature non-toxic pots & pans made in America, what to know when shopping for new cookware, and more!
This post does contain some affiliate links. If you decide to make a purchase Give a Damn Goods may receive a commission at no additional cost to you.
Quick List of Non-Toxic American Made Cookware Sets
If you're looking for a quick solution check out the USA made cookware sets below! If you're interested in learning then read on!
This cookware guide will take you through the potential dangers certain materials cause, both to the environment and to our health, the benefits of American made, plus I'll share more in depth why we love the listed non-toxic cookware brands listed below!
Environmental Impacts of Conventional Cookware
While many of the health impacts of conventional cookware have decreased over the years as we have grown to understand the effects that certain heavy metals and chemicals have on our bodies, the environmental impact of our cookware is still enormous.
Some companies are engaging with ways to reduce this, particularly in California, where the California Prop 65 test has been introduced to control 900 chemicals which includes any products to be distributed in the state.
Yet still, many of our everyday cookware items have a high carbon footprint, and are the reason that dangerous gasses are released into the atmosphere.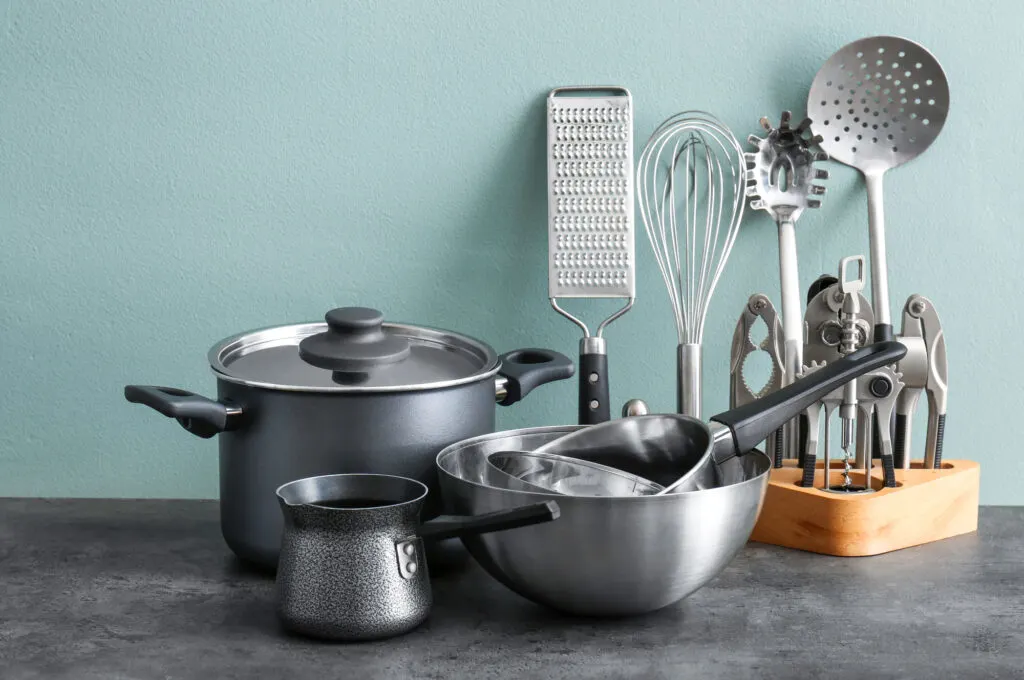 Teflon is one of the worst offenders for this. Resource intensive, it releases large amounts of greenhouse gasses during its production.
The manufacture of teflon produces toxic byproducts that include hydrofluoric acid and carbon dioxide. Any waste teflon that can't be used needs to be buried in landfills, as incineration can cause further release of these gasses.
As it's non-biodegradable, teflon will persist for a very long time, plus it also eventually ends up in the environment, being ingested by animals, and even appearing in our waterways.
Bird owners are already being warned to not cook with teflon-coated items, due to how deadly it is to our feathered friends in the minutest amounts.
On top of the materials cookware is made with, it's important to think of the lifespan of these pots and pans.
Mass produced cookware is typically made with low quality materials that are not made to last. These items will likely end up in the landfill at some point, making them unsustainable and an environmental hazard.
Health Impacts of Conventional Cookware
We've already explored how Teflon can be damaging to the environment and to pet birds – it therefore stands to reason that it can also be dangerous to us.
While the vast majority of nonstick pans are well made and pass all safety regulations, there are still dangers associated with the nonstick coating and toxic chemicals.
Perfluorooctanoic Acid (PFOA)
There are two chemicals that are in teflon that you need to be aware of. The first is Perfluorooctanoic acid or PFOA which has been linked in studies to numerous types of cancers.
While used in the manufacturing of teflon, it should only appear in very small doses in the final product, but should still be avoided where possible. Using your non-stick pan at a high heat can release these fumes and if you scratch your pan you will also be ingesting the teflon coating.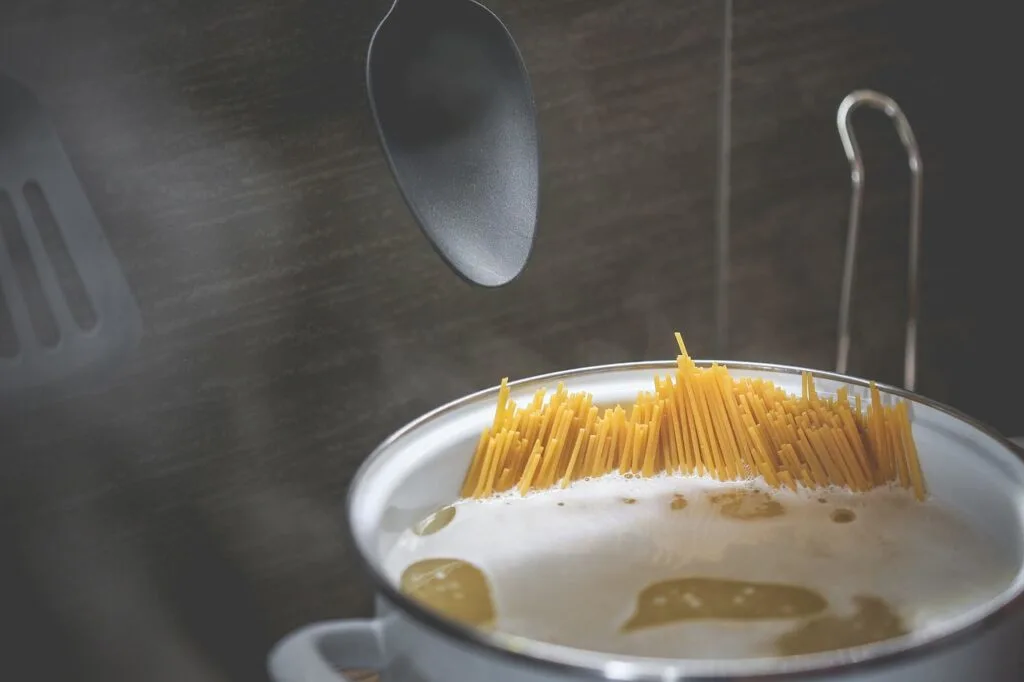 It's becoming more common for companies to now make their non stick coatings without PFOA but there is another chemical involved in the process that is potentially hazardous.
Polytetrafluoroethylene (PTFE)
This is Polytetrafluoroethylene or PTFE. It is this chemical that can be released when heated to high temperatures, and is dangerous to birds. It has also been shown to have harmful effects on humans when it starts to break down and release toxic fumes, causing what's known as the 'teflon flu'.
Other Potentially Toxic Materials to Avoid & Why
While companies are becoming more and more aware of the environmental impact of their products, there are those that are still only concerned about profits, even if it could potentially make their customers sick.
Laws such as the California 65 test have paved the way for non-toxic cookware, but there are still materials that it's better to avoid if possible – not just teflon.
Non-coated Aluminum
Only rarely do you find aluminum non-coated cookware in the stores, usually an aluminum pan will be made up of an aluminum core.
However, the uncoated aluminum pan was hailed for years as a revolution in cooking due to its lightweight, low cost and good heat conduction.
Yet now it's seldom seen due to its reactivity and potential toxicity. When acidic foods are kept or stored in aluminum, the metal can leach into the food, giving it a metallic taste and leaving the cookware pitted.
Aluminum has been linked as a health risk for Alzheimers, which is what is now much more popular to have aluminum cookware that is either stainless steel coated or anodized, a process where a coating is created using an acid solution and electric current.
Cadmium and Lead
We've all heard of lead poisoning, but did you know that it's one of the ingredients that can be found in enamel-coated cookware?
Both lead and cadmium are harmful chemicals that can leach into foods, and if the coating chips, you may end up ingesting more of it than is safe.
Lead can affect your brain and kidneys, while cadmium is a carcinogen metal that can also affect the kidneys, as well as the liver.
This is where the California 65 test comes in. It asks that cadmium and lead is ten times lower than is standard in America which is why many brands are adopting it as standard.
Safe Materials to Cook With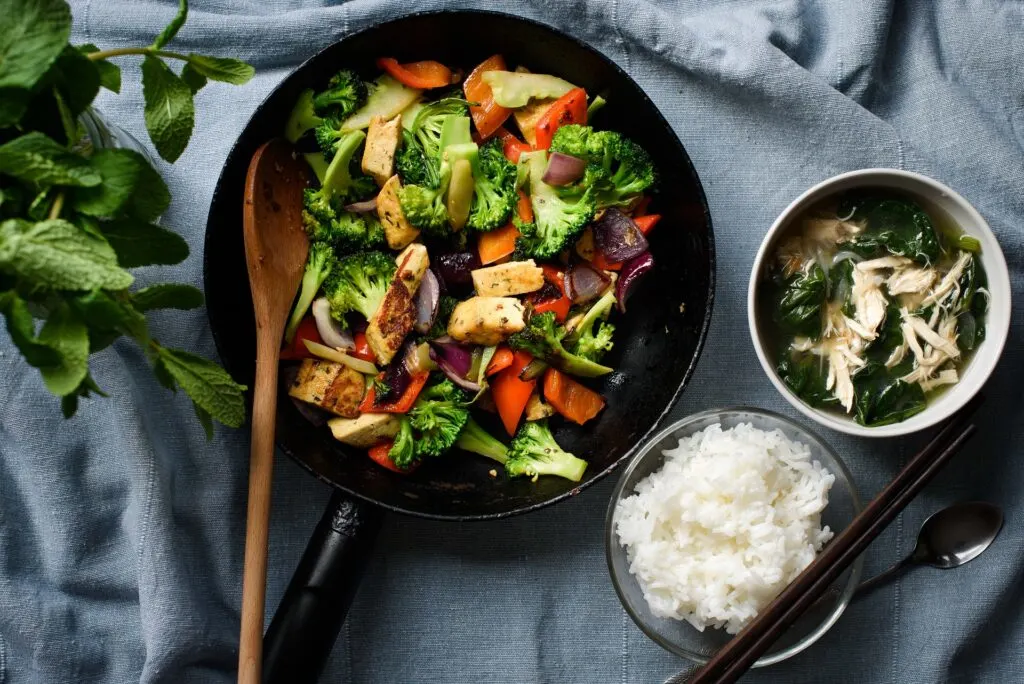 When you hear so much about toxins in everything we buy, it can be difficult to know what to trust. The good news is that there are cookware materials that are safe to use.
Here are just some of them that I love to cook with.
Stainless Steel
Stainless steel cookware has long been seen as a good all-purpose pan that is a popular choice. While the quality can vary quite a bit between brands, it is generally seen as a staple part of any kitchen. Scratch resistant and non-reactive, the stainless steel pans are durable and resilient.
Some items can have issues with the evenness of the heat, meaning you can accidentally burn the pan on one side, and it can be difficult to clean.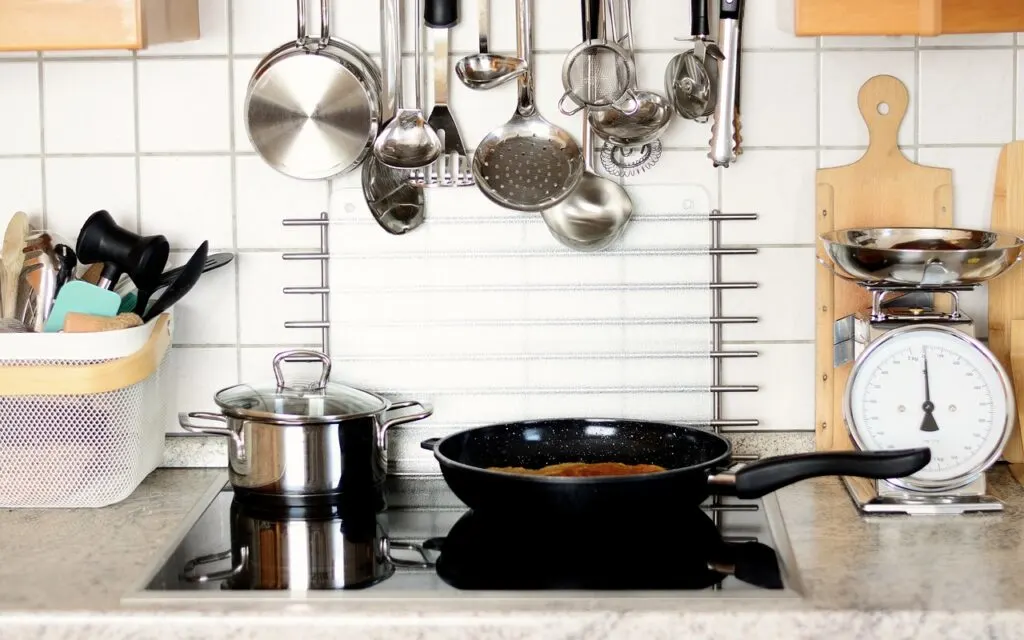 Sometimes the stainless steel handles can get hot, which is why you want to practice safe kitchen etiquette. Yet Stainless Steel is non-toxic, inexpensive and even dishwasher safe!
Glass
Cooking with a glass dish can have a lot of benefits. Not only is it non-toxic, glass is really easy to clean and is both oven and even microwave safe!
While it can break at high temperatures, and it's difficult to find items suitable for stovetop cooking, it doesn't change the taste of your food, is inexpensive, and an overall great heat conductor.
Ceramic
Good ceramic cookware is hard to beat. While some might find that food sticks a lok more, it heats slowly and evenly — making it perfect for casserole dishes and saute pans alike.
It is non-reactive to acid so all of your slow cooked tomato sauces will feel at home. It can even double as a serving dish.
Ceramic does need to be handled carefully, however, as the ceramic coating can be prone to chipping. It can also be coated with enamel that has lead and cadmium, but there are many brands that don't have this.
Cast Iron
Cast iron cookware can come with a bit of extra work, but if you look after it correctly, there's nothing like it for durability and longevity.
Many cast iron pans need to be seasoned to keep them in good condition and to prevent them reacting to acidic foods.
You can however, get coated cast iron, which can make it non-stick while still being non-toxic. It's also important to pay attention to the cleaning instructions on a cast iron pan to protect the seasoning or coating.
Is American Made Cookware More Sustainable?
There are many reasons why buying American made products is recommended.
The first, and one of the most important, is the need to adhere to American safety regulations. This means that not only is it safer for the workers, but the cookware that they produce will be well-made and resilient.
Companies following strict regulations use much less harmful substances when producing cookware, which has benefits both for our health and for the environment.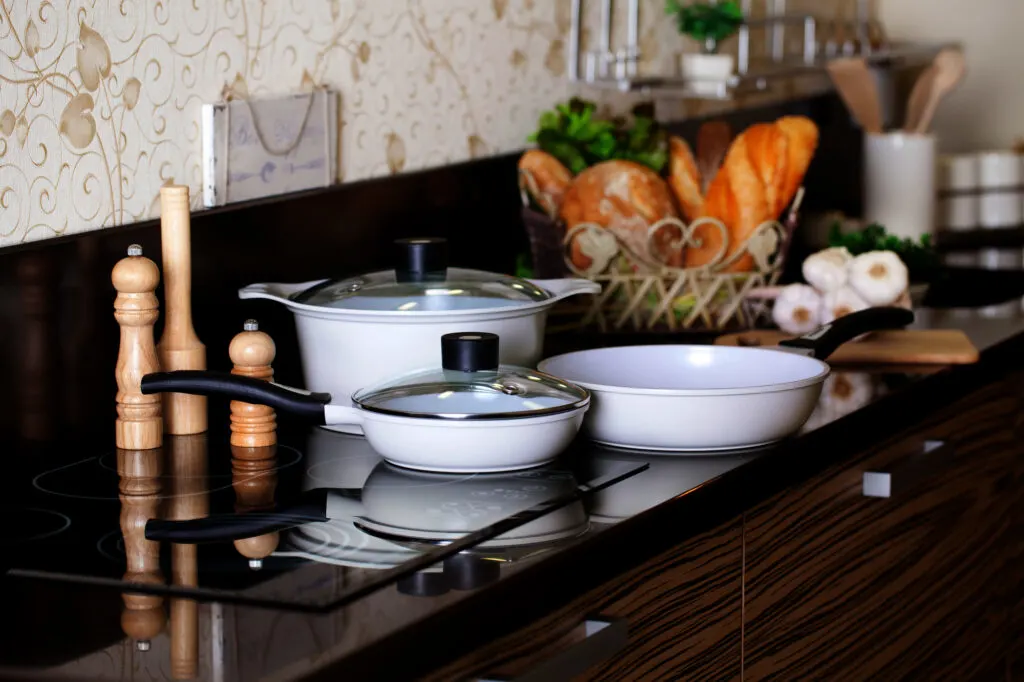 As far as sustainability, transport is also a consideration. When anything is made close to home it not only boosts the economy of the area, but it cuts down on transport costs significantly, which in turn reduces the carbon footprint of that item.
Being able to make cookware in the USA, from steel or other metal that is also produced nearby, will always be better for the environment.
Plus, companies can take a good look at their processes and reduce waste at every stage of manufacturing with much more ease than if the items were made overseas. American manufacturing can result in a more transparent and supply chain.
6 USA Made Non-toxic Cookware Brands
Even with all of this information, knowing which brand of cookware to go for isn't an easy decision. This is why we've put together this list of 6 USA made brands to showcase to you some of the safest cookware in America.
All Clad's Cookware Made in Pennsylvania
Still being made close to the founders' home town in Pennsylvania, All Clad has a great range of cookware that fits everyone's preferences. My personal favorite is their stainless steel range. Study and shiny, their metal crafters are still very hands-on with each of their products.
This means that every piece of cookware will have had over a dozen people working on it before it's ready for sale. On top of their stainless steel cookware, they also have ceramic and nonstick cookware that are American made.
Conscious consumers can shop for All Clad's pots and pans ranging from around $99-$900 and feel confident in their choice thanks to All Clad's lifetime warranty.
Lodge's American Made Cast Iron Cookware
Lodge are pros when it comes to cast iron cookware. They really know everything about this material and have lots of well-written guides to ensure you get the most out of your product — so it can last for generations.
Made in Pittsburg, Tennessee, they've been around since 1896, and have been working with cast iron from the beginning. All of their cookware comes pre-seasoned and ready to cook on, which really enhances the experience you'll have using cast-iron cookware.
Lodge's cast iron products include grill pans, griddles, cast iron skillets, deep skillets, dutch ovens, and more. Lodge's cast iron pans range in price from around $8-$180 depending on the size and product.
We've had a Lodge cast iron skillet pan for about four years now and have truly been impressed with the quality. These pans are clearly built to last. We use our American made cast iron skillet for searing steak!
Made In's Carbon Steel Cookware
Born out of a family-owned restaurant supply business, Made In cookware really is restaurant standard. Used regularly by chefs, they have top-grade cookware available, and are most known for their carbon steel range – the perfect balance between stainless steel and cast iron.
Made In partners with multi-generational, family- owned manufacturers in the U.S. and Western Europe. So, select pots and pans are made in the USA.
It prevents hot-spots and makes for easy cleaning while still being able to cope with high temperatures. On top of their carbon steel cookware, Made In also offers non-stick, stainless steel, cast iron, copper, and more. Made In's cookware ranges from around $100-$3600 depending on the material and set.
360 Cookware's American Made Stainless Steel Cookware
360 Cookware is committed to non-toxic cookware. Made in West Bend, Wisconsin, this American-made brand uses survival grade stainless steel to make its cookware. This cookware brand guarantees that its products are always PFOA and PTFE free.
360 Cookware has even come up with a great way to create a non-stick surface without the use of teflon by sanding the it's cookware to make it non-porous – plus it makes cleaning easy.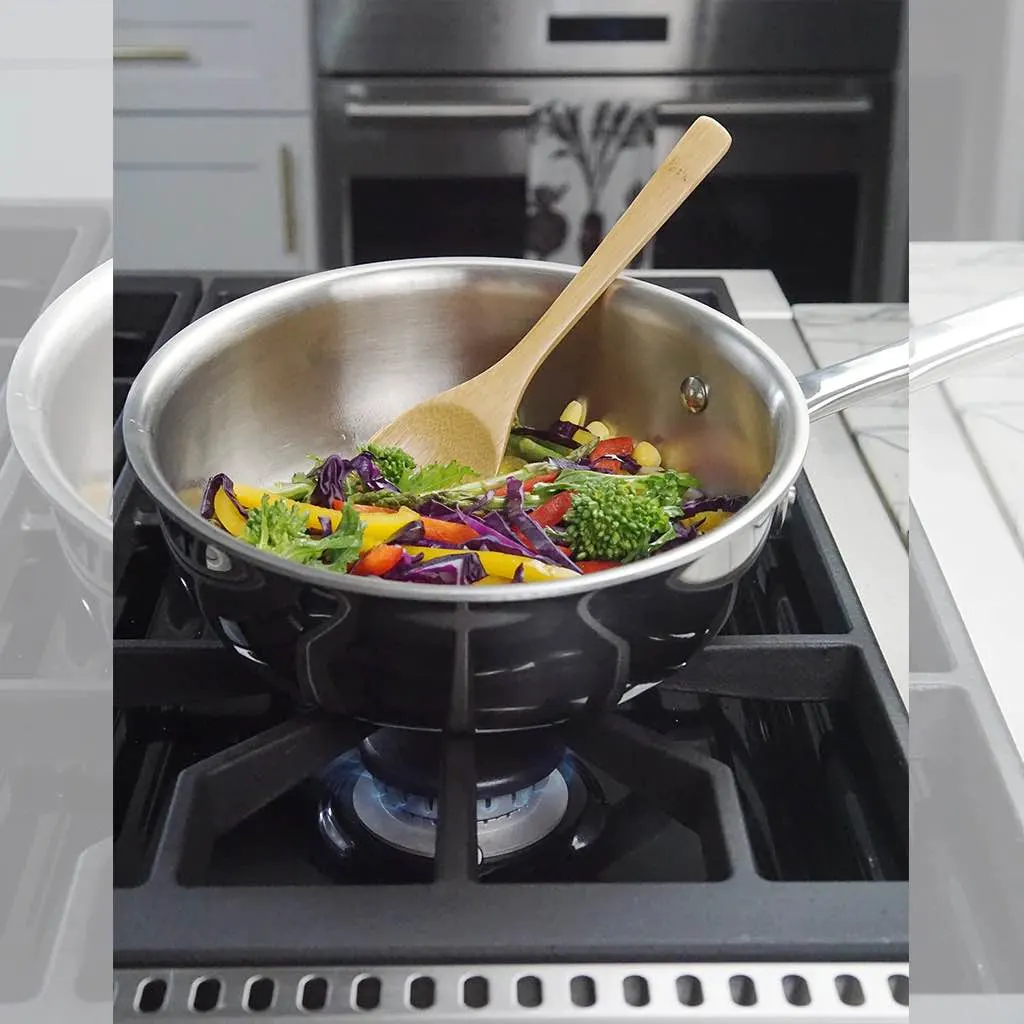 Conscious consumers can shop for a stock pot, fry pan, slow cooker, sauté pans, saucepans, cookware sets, and more kitchen items. 360 Cookware's pots and pans range from around $119 to $2200 depending on the set or pan.
I've been using 360 Cookware and bakeware for a few years now and have really enjoyed the quality. My 360 Cookware stainless steel products are dishwasher safe which has been great option for easy cleaning and up keep.
Finex Cast Iron Cookware
Finex is an American made cookware brand based in Portland, Oregon. They produce some of the most unique and beautiful cookware. Still hand-crafted, each piece has its own specialities, with craftsmanship that will last for generations.
Not only do their cast iron pieces look great but they are also pre-seasoned, making them non-stick and ready to cook on. Plus they are naturally PFOA and PTFE free!
Finex makes skillets, grills, Dutch ovens and grill pans. Prices for their cookware ranges from around $200-$400 depending on the size of the pan.
Proclamation Goods Co. Stainless Steel Pots & Pans
Proclamation Goods Co. is a non-toxic cookware brand that partners with a multi-generation, family-owned manufacturer in Wisconsin. Their cookware is crafted at this American factory to ensure high quality products.
This cookware brand states that they reject all coatings because they care about the planet and the people living on it. Proclamation Goods Co.'s cookware is designed to last a lifetime.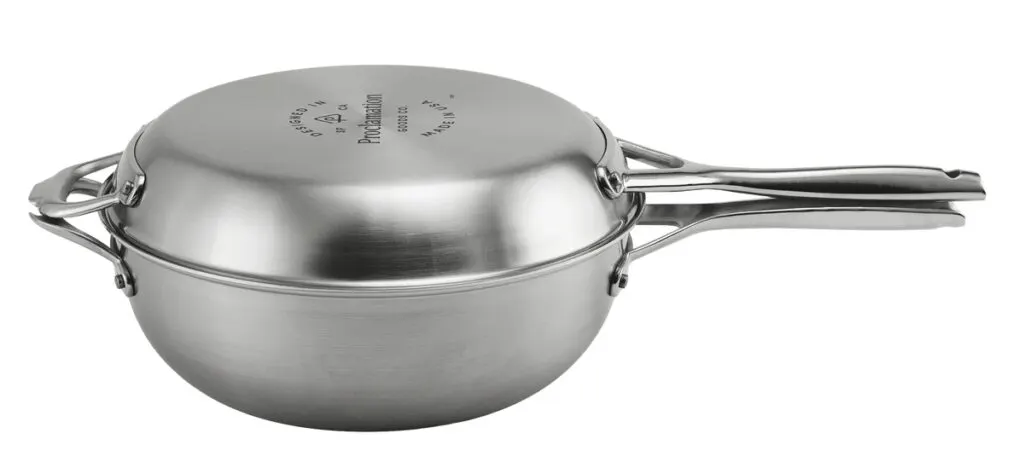 Proclamation Goods Co. is also a socially responsible brand.
They are proud members of 1% For the Planet and are always on the lookout for new ways to give back to our community and food systems by donating to nonprofits, organizations, and individuals who support Good Food movement efforts including sustainable agriculture, farm workers rights, and access to nutritious food for all.
The Proclamation Duo is a set of two pans that sells for $379. On top of being made in the USA, these pans come with a life time warranty, are induction compatible, and are over + dishwasher safe.
Tips for Shopping for Non-toxic Cookware
If you're ready to shop for some non-toxic cookware that is made in America, here are a few tips!
Choose cookware that is made in the USA and has been tested to meet safety standards.
Opt for stainless steel, carbon steel or cast iron as they are non-toxic materials.
Look at how a company manufactures its cookware — do they use environmentally friendly practices and materials?
Check to see if the cookware is pre-seasoned as this will make it easier to use.
Be aware of the materials used in the cookware you purchase. Select materials cook better on certain types of heat such as lower heat while others can handle the extreme temperatures.
Look for brands that guarantee their product is free of PFOA and PTFE — two chemicals used in the manufacture of non-stick surfaces.
Read reviews to get an idea of how reliable a brand's cookware is. Make sure the brand is high quality and will last for years to come. This will save you money as a consumer and is more sustainable since you won't have to be replacing your cookware.
Make sure the cookware has a good warranty so that you know you can get it replaced if something goes wrong.
Once you have purchased your non-toxic cookware be sure to read the care instructions. Different brands use different materials that might have special cleaning requirements. For example, select pots and pans will become damaged if they go through the dishwasher. In order to make sure your cookware lasts it's important to follow the manufacturer's cleaning and care instructions.
Doing a little research before you buy non-toxic cookware will help ensure that you get the best product for your needs. Investing in high quality cookware made in America is not only good for your health but also helps support local businesses and communities. Plus, when you purchase from brands that are focused on sustainability, you can rest assured that you are doing your part to help make the world a better place. With so many great options, you won't have trouble finding cookware that fits your needs and preferences!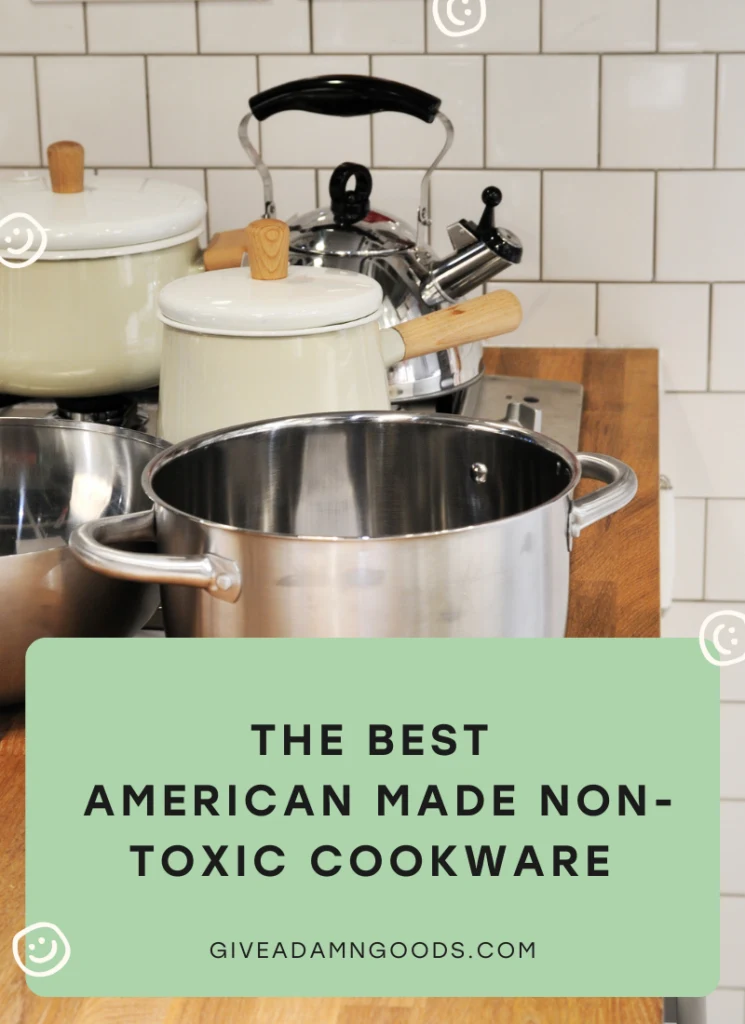 When shopping for non-toxic cookware, it's important to remember that there are lots of great American made brands out there who are committed to providing safe and quality products.
With a bit of research, you can make sure that the cookware you choose is not only safe but also fits your budget and lifestyle.
It's worth taking the time to look around for the best option before making a purchase.
Hopefully this has taught you a little bit more about the cookware options available to you – as well as the potentially toxic materials that some companies still use.
With so many great American-made options out there, you can feel confident that your cookware is safe and of the highest quality. Happy shopping and happy cooking!