A delicate necklace or a sparkling set of earrings can sometimes be more than just the finishing touch to an outfit. Jewelry may also have sentimental value, becoming family heirlooms and treasured gifts.
Unfortunately, the precious metals and gemstones mined to make jewelry have a dark history involving myriad human rights' abuses and environmental destruction.
As such, the demand for ethical and sustainable jewelry is growing. This guide will explore ethical and eco-conscious practices to consider when shopping for jewelry and provide a list of affordable sustainable jewelry brands.
This post does contain some affiliate links. If you choose to make a purchase Give a Damn Goods may receive a commission. Our commission is at no additional cost to you. Give a Damn Goods only recommend products and brands we truly believe in.
Quick List of Ethical & Sustainable Jewelry Brands
Here is a quick list of ethical jewelry brands that prioritize sustainable practices. If you'd like to further your knowledge on what to look for when shopping for socially responsible jewelry, read on!
| Product Image | Product Name / Price / Description | Primary Button |
| --- | --- | --- |
| | ABLE jewelry is made by hand in Nashville, TN studio by women who have overcome extraordinary circumstances. Handmade necklaces, bracelets, rings and earrings can often be customized too. | |
| | Deux Mains designs, makes & manufactures in ways that satisfy essential desires & honor the true meaning of choice. Statement jewelry combining 14k gold or Sterling Silver with responsibly sourced materials found and made in Haiti are turned into beautiful handmade pieces. | |
| | Laughing Frog Studio creates high-quality, handmade, unique and one-of-a-kind upcycled vintage silverware jewelry, accessories and housewares. | |
| | After designing jewelry in Austin, artisan makers in India use old-world traditional techniques combined with a modern aesthetic to craft fair trade jewelry. Artisans craft each piece from sustainable and eco-friendly materials. | |
| | Rover & Kin is a social enterprise and verified member of the Fair Trade Federation. We're committed to uphold equitable and sustainable trading partnerships that values the heritage, dignity and labor of the people and health of the planet. | |
| | Strings for Hope creates jewelry from recycled musical strings. The jewelry creation provides jobs to survivors of human trafficking. | |
| | Brilliant Earth's fine jewelry is ethically made with lab grown diamonds, recycled metals, and other sustainable materials. | |
What's the Problem with Conventional Jewelry?
You won't be able to pass down a precious piece of jewelry if it's poorly made. But mass production of jewelry, such as using a wax cast to duplicate designs, can result in poor quality pieces with stones that are not properly set.
Beyond the poor quality is the problem of the mine-to-market journey, a journey obscured by a complex supply chain and lack of transparency.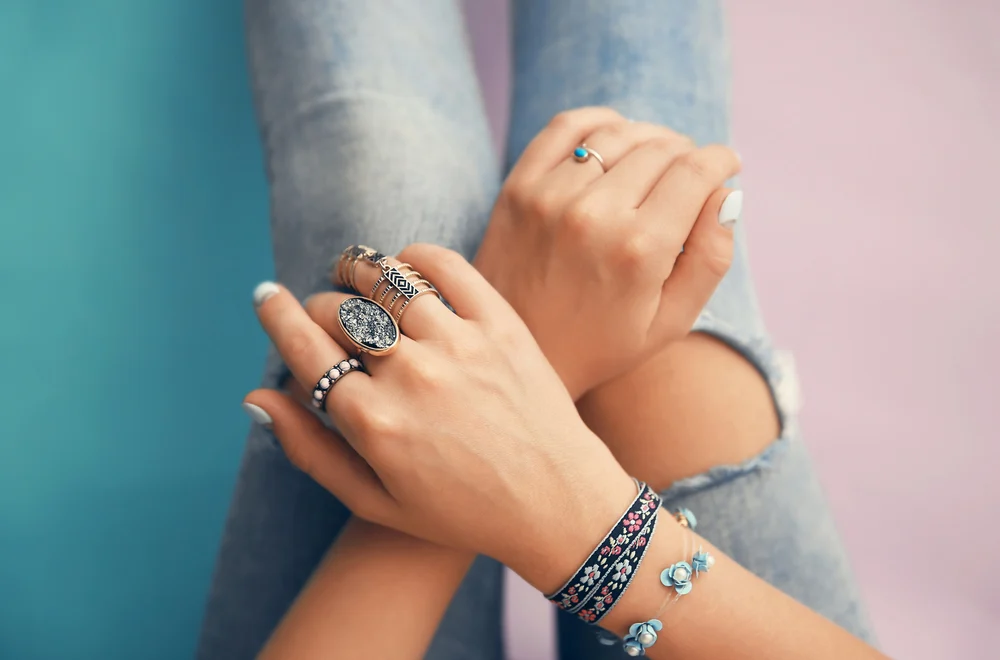 Unethical Stones & Metals in Jewelry
Most metals and gemstones come out of different regions in the world and pass through many hands before the final product is slipped onto your finger or around your neck. It is very difficult to trace that journey.
While metals and gemstones are mined in one place, the processing and manufacturing usually take place elsewhere.
Diamonds, for example, are mined in Russia, Canada, the Democratic Republic of Congo, and Botswana, but often cut and polished in India and China due to their low labor costs.
The mining industry is rife with unfair working conditions. While working in the mines, laborers are exposed to hazards that lead to health issues, injuries, and death.
Even outside the mines problems continue as gem cutting produces microscopic dust that can damage lungs. Gold mining exposes workers to mercury, a problem that affects the environment too.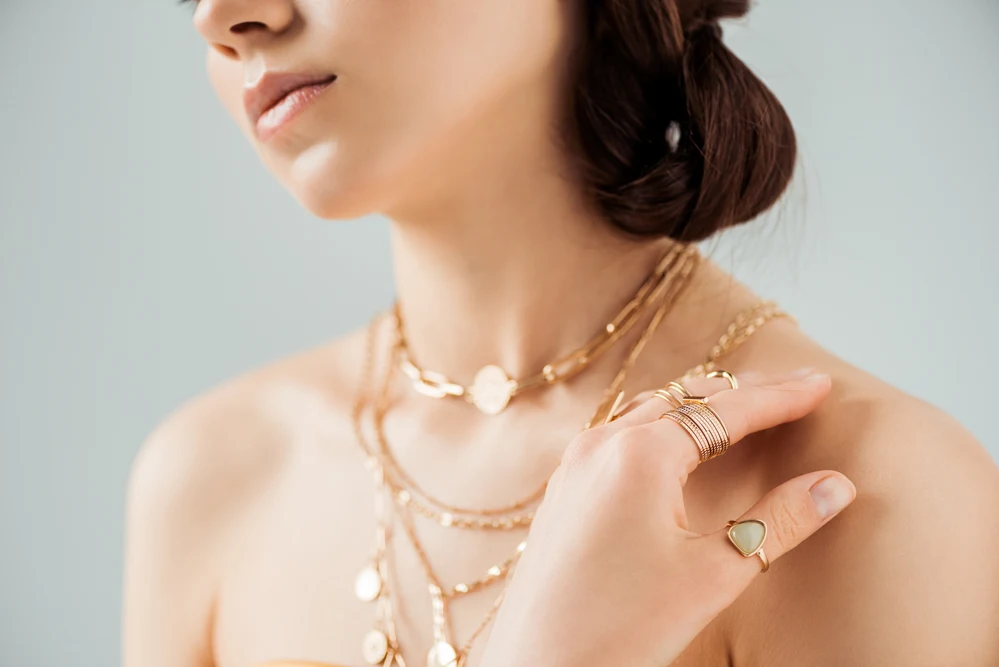 Further environmental problems include deforestation and erosion, as well as an increase in noise level, dust, and emissions and the contamination of water, air, and soil due to leaks, accidents, and the dumping of mine residue, affecting not only the environment but surrounding communities too.
Jewelry production involves the use of harsh chemicals, producing even more toxic waste. Mining operations can displace indigenous people and local residents when land is explored or cleared, with protestors repressed and even murdered.
The human rights abuses and deaths don't end there. The industry has been tied to child labor, forced labor, and human trafficking.
You've probably come across the term "blood diamond". It's not just a movie starring Leonardo DiCaprio: it refers to diamonds that have been mined in an area where there is war or conflict. This is why they're also known as "conflict diamonds".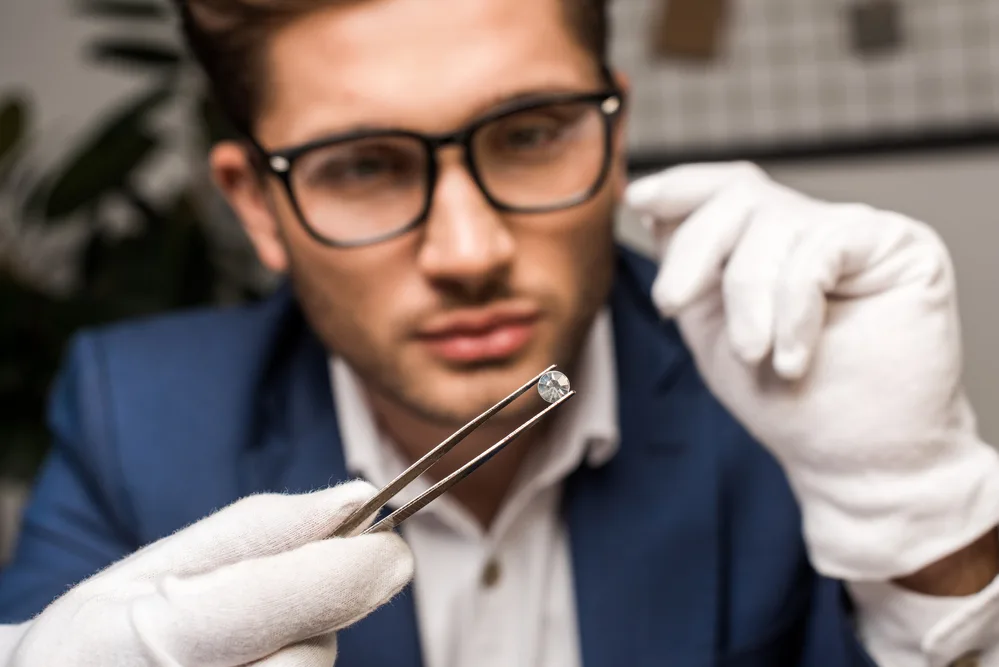 Not only are they mined from volatile regions, but armed groups involved in conflict often use the mining and sale of diamonds to fund their operations.
Beyond diamonds, metals, and other stones, many resources can be exhausted while mass producing jewelry. Think of all the energy required for mass producing, getting materials, and shipping.
Cheap Plastic Jewelry
On top of this we also have all the cheap costume jewelry that is made with harmful materials and often ends up in the landfills.
What is Ethical and Sustainable Jewelry?
Ethical and sustainable jewelry brands are committed to protecting workers and the environment. This involves the responsible sourcing of materials and transparency about their origins, knowing not only which mines and suppliers are utilized but disclosing these to consumers.
A public chain of custody should be in place for suppliers to trace and record mines of origin, and assessments made of environmental and human rights' risks and responses.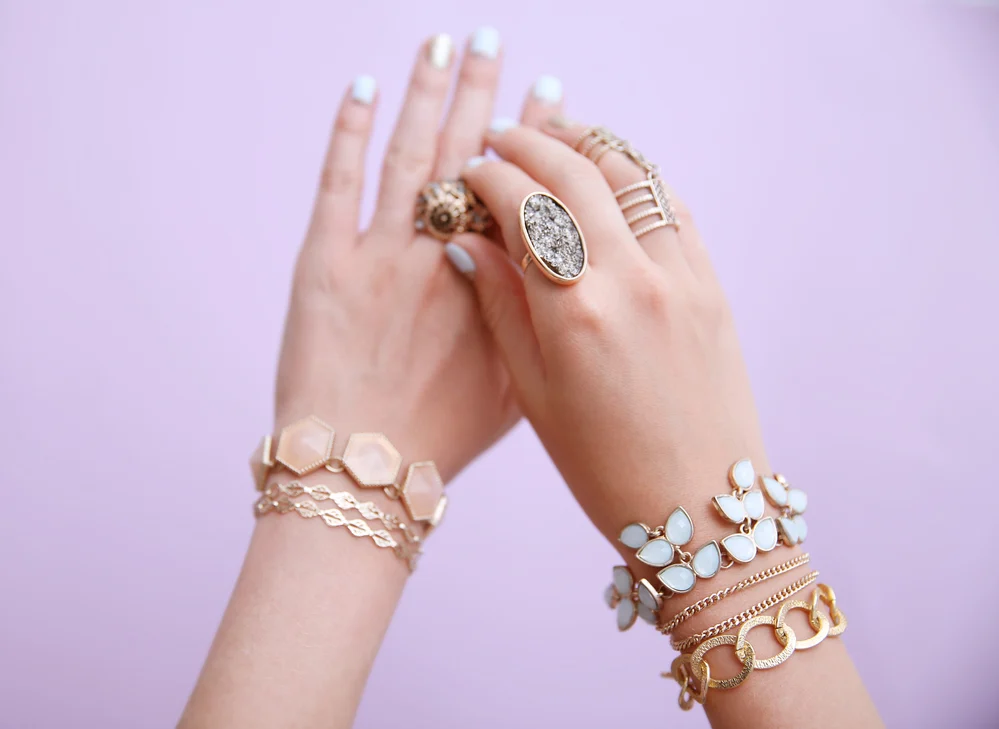 Strict working standards should be adhered to including health and safety measures and the use of proper equipment.
All this can drive up the price of ethically and sustainably produced jewelry, but it is nothing compared to the human and environmental costs when the industry is not properly monitored.
Third Party Certifications
If you're searching for higher end jewelry, certifications can guide you in choosing ethical jewelry. The Fairmined Standard sets requirements that support the sustainable development of artisanal and small-scale mining communities.
The Fairtrade Gold Standard has strict requirements for working conditions, health and safety, chemical handling, women's rights, child labor, and environmental protection.
However, it's important to keep in mind that certification programs may lack proper monitoring and enforcement. The Kimberly Process in particular, established to "reduce the flow of conflict diamonds", has various loopholes. When purchasing so-called ethically sourced jewelry, dig far and dig deep.
Why is Ethical Jewelry More Expensive?
When we talk about affordable ethical jewelry in this guide, we're prioritizing brands that have pieces in the $20-50 range. While this may be a bit higher than what you're typically used to spending, let's explore why.
Due to the higher standards, ethical and sustainable jewelry brands typically use higher quality materials. This tends to be more expensive and can be reflected in the consumer's price of purchasing the jewelry.
On top of that these jewelry brands prioritize fair wages. Their artisan partners or employees are making a livable wage, not working in a fast fashion type setting. This cost can also be passed on to the consumer.
However, please keep in mind that if you invest in high quality ethical jewelry, these can last for a lifetime and even be passed down. Remember this the next time you're looking at a new jewelry piece.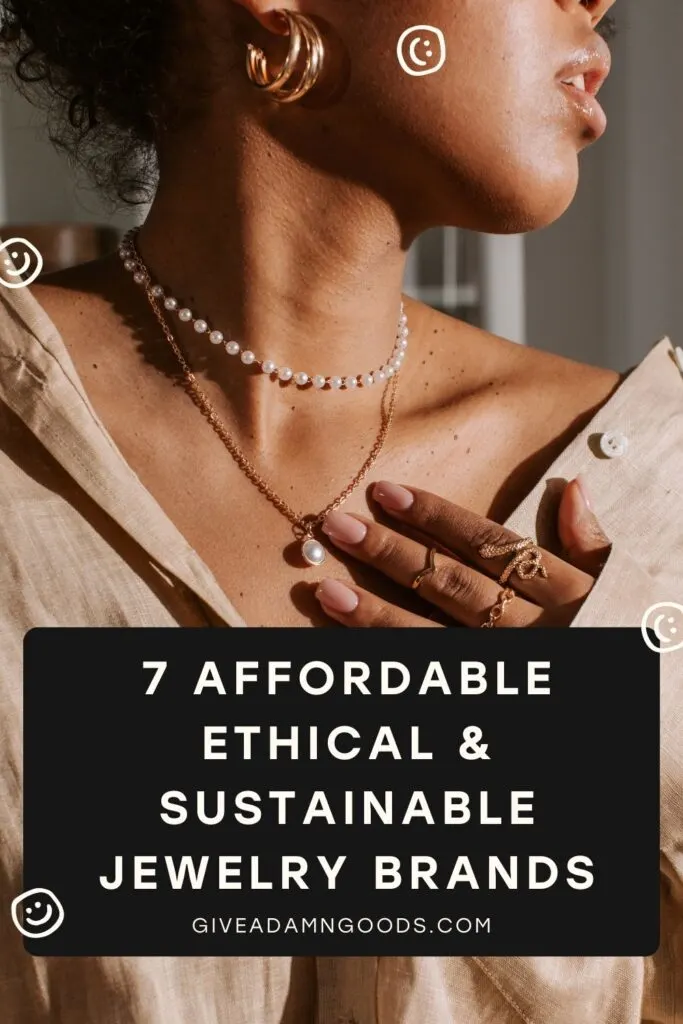 7 Affordable Ethical and Sustainable Jewelry Brands
If you're ready to find some affordable jewelry to compliment your sustainable fashion, this list is perfect for you!
ABLE jewelry is handmade by women who have overcome difficult circumstances. ABLE has grown, offering ethical clothing and accessories, and creating partnerships in Brazil, Mexico, China, India, Portugal, and, locally, in Nashville.
They're committed to making their products sustainable, focusing on quality and longevity.
Most of their jewelry is sterling silver, made using only recycled silver. Harsh chemicals are avoided and scrap metal is collected and sent to a refinery that melts and processes it into new pieces of wire or sheets of gold and silver.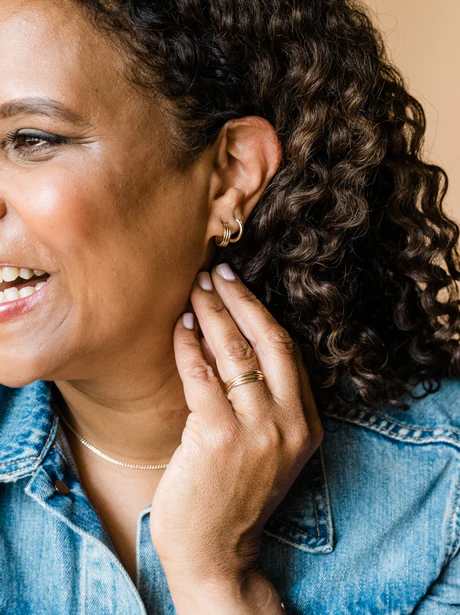 ABLE jewelry offers great choices for those looking for minimalist style jewelry including rings, necklaces, bracelets, and even custom jewelry.
Their jewelry ranges from $15-$180 with a good amount of pieces in the $30-$50 range.
Deux Mains was established after the 2010 earthquake in Haiti in an effort to create dignified employment for Haitians.
Producing bags, sandals, and jewelry with recycled and upcycled materials found in Haiti, the designs celebrate and preserve traditional craft methods.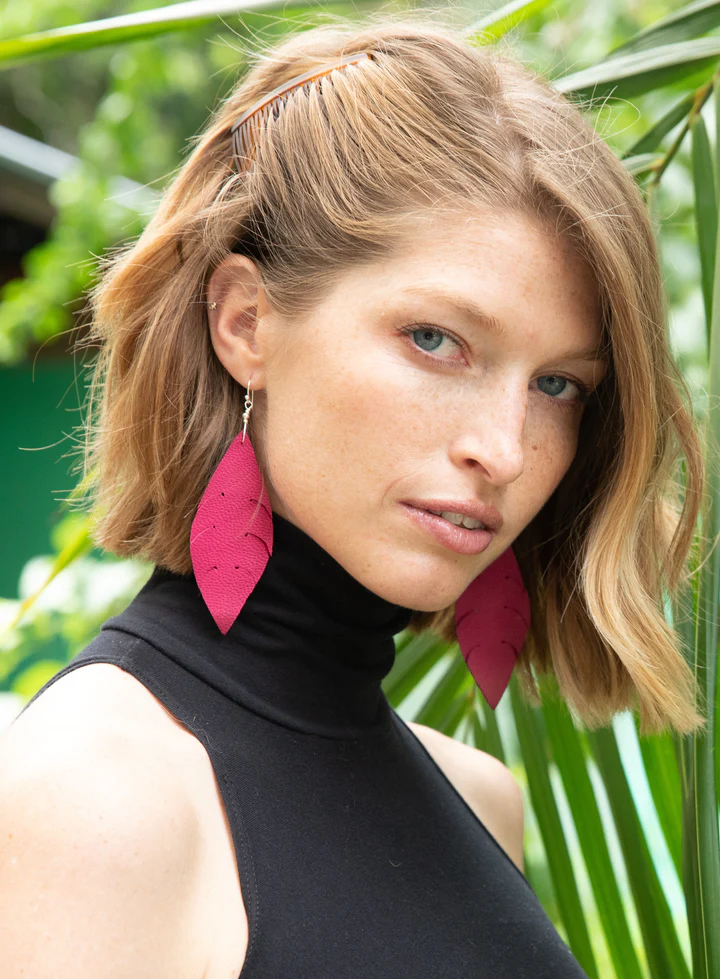 Their eco-conscious materials include upcycled tires responsibly sourced natural gems, 14-karat gold and sterling silver, locally sourced horn, majok beads, and locally sourced leather.
All Deux Mains pieces are made by hand in small batches in a solar-powered, women-owned and run factory. Workers are provided with safe working conditions, a livable wage, health insurance, and access to education. Deux Mains pieces offer bold jewelry options ranging from $30-$110.
Laughing Frog Studio Eco-friendly Jewelry Made with Upcycled Materials
Handmaking one-of-a-kind, upcycled silverware jewelry from vintage or reclaimed items, along with accessories and housewares, Laughing Frog Studio is all about turning trash into treasure.
They work primarily with silverplate silverware, but also make use of stainless steel, costume jewelry, bottle caps, beads, and buttons.
When cutting up a piece of silverware, scrap parts are placed aside for later use.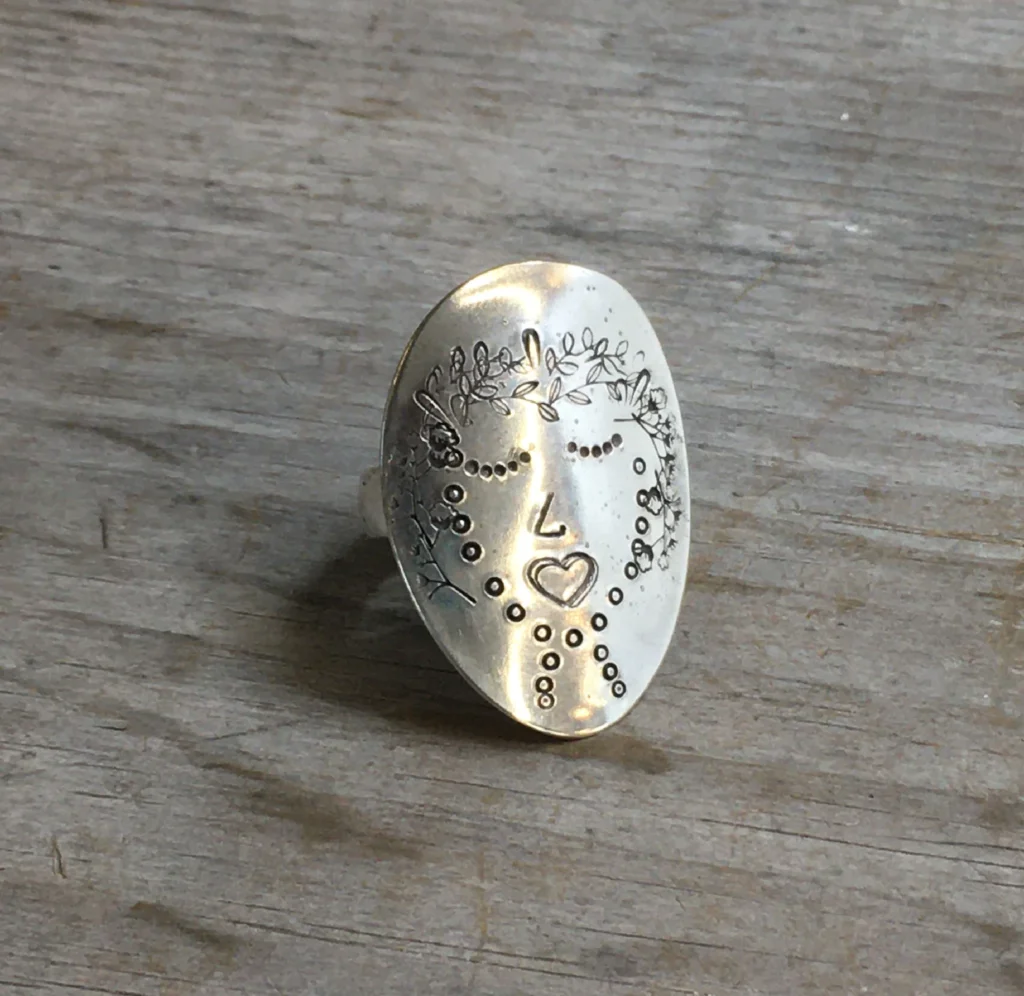 If you have an old silverware set you no longer need, Laughing Frog will look into buying it to make beautiful and unique pieces like belt buckles made from old casserole spoons, earrings from fork tines, and bell necklaces from hollowware utensils.
Laughing Frog Studio's jewelry has a bold and unique look to it! These pieces also make great gifts.
Laughing Frog studio's jewelry ranges from $35-$159 with a decent number of pieces in the $40-$50 range.
Using sustainable materials and processes, Matr Boomie works with a design team in Austin to design fair trade, handcrafted home decor, jewelry, and accessories.
Started by Manish Gupta and Ruchi Agrawal after time spent living and working in India, they blend Indian culture and modern design to create unique and timeless pieces. They work with artisans across India to provide fair wage opportunities to the communities.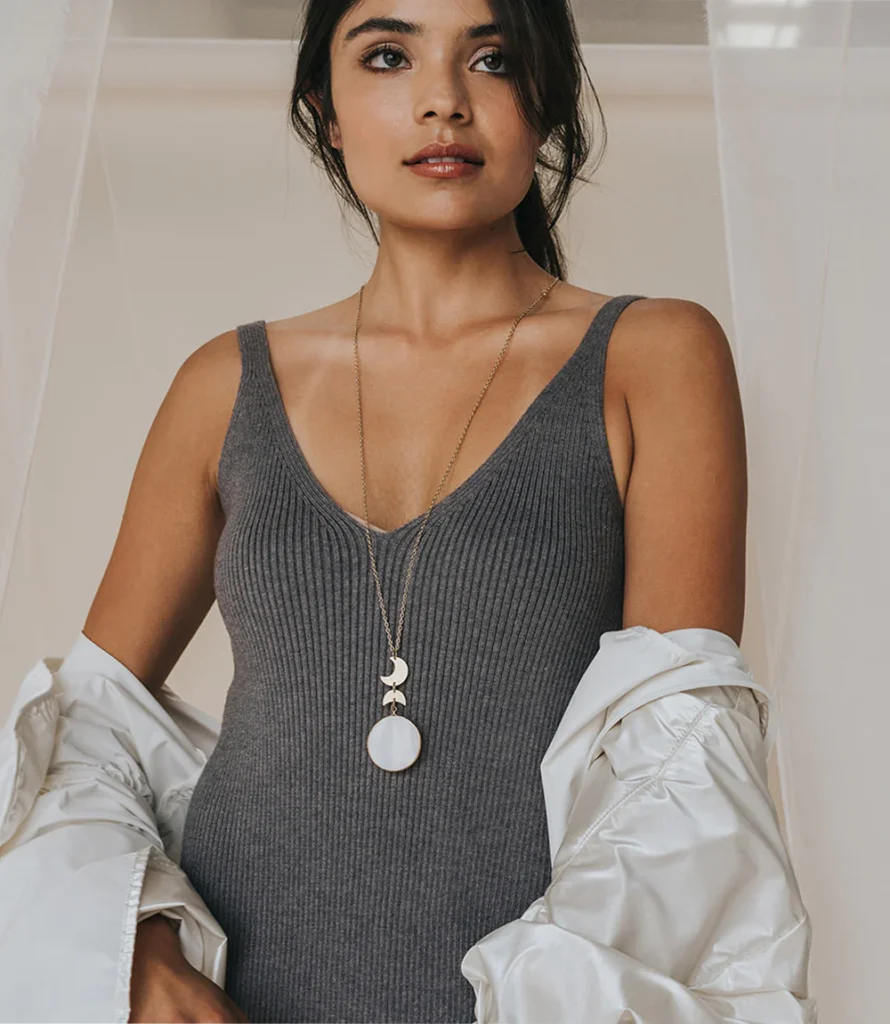 Artisan partners are paid 25% over market wages, while 15% of revenue is re-invested into communities. Along with a fair wage, safe working conditions are practiced by installing pollutant removal units and providing safety masks and kits.
Many of Matr Boomie's products are crafted from compostable or recycled materials. Matr Boomie's jewelry has a style for everyone! Matr Boomie jewelry ranges from $36-$50.
Rover & Kin is an AAPI owned & women-led jewelry brand. Collaborating with artisan partners in South Asia, Rover & Kin offer handwoven bags and handcrafted jewelry that are sustainably and ethically made. Materials used for their jewelry include recycled metals and upcycled horn.
Rover & Kin also gives back! Ten percent of sales from their Mojave Collection goes towards the Mojave Desert Land Trust, which protects desert parcels and xeric flora.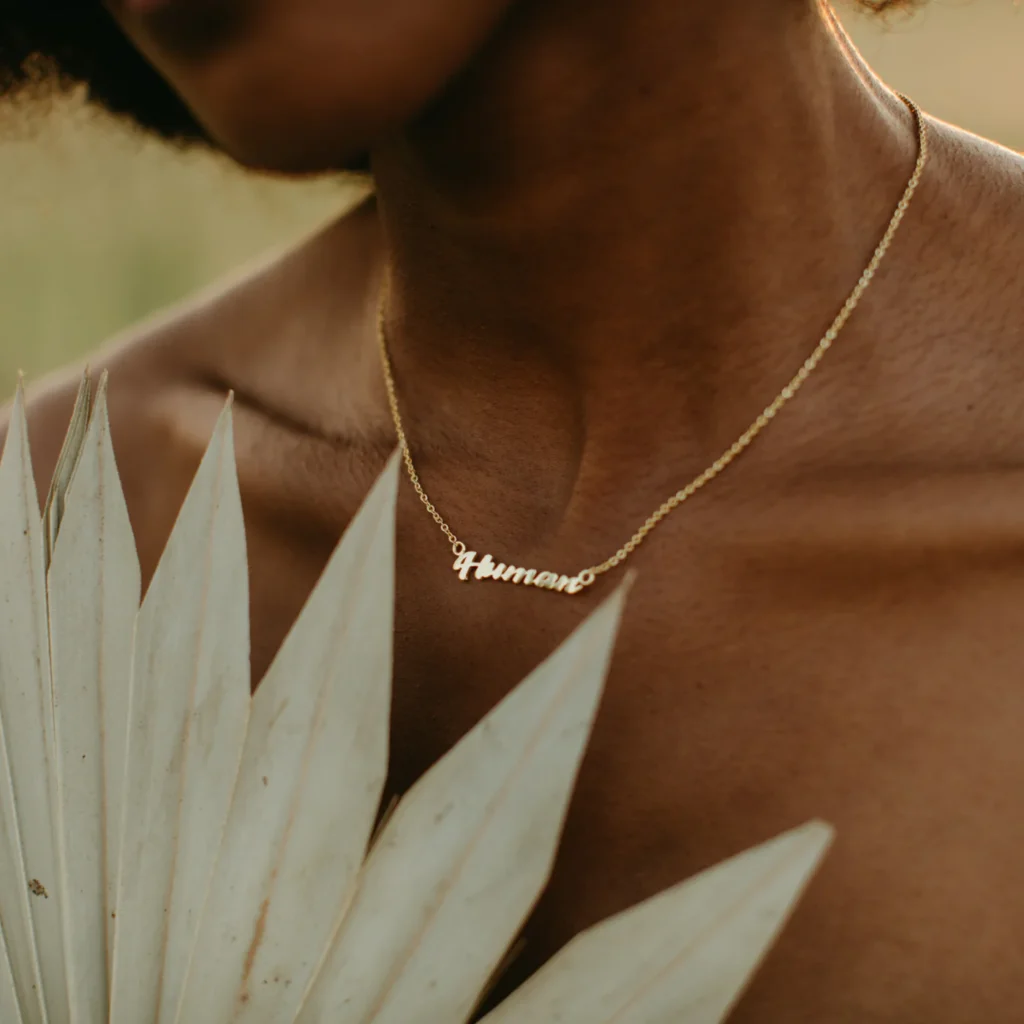 Rover & Kin is a member of the Fair Trade Federation. They also work with Grow Ahead, a program that supports farmer-run and community-led agroforestry projects. Rover & Kin jewelry is great for everyday wear.
Their jewelry ranges in price from $24-$48. Rover & Kin has some bold and modern designs that are great for those who want to make a statement with their jewelry.
Based in the home of country music, it's fitting that this Nashville brand uses secondhand musical strings to craft jewelry. Most of the strings are donated by local musicians and music stores. You can also donate strings or send them in to be used in customized pieces.
Strings for Hope has established a Work Development Program for survivors of addiction, domestic violence, and sex trafficking. Working with the brand as jewelry-makers provides them with supplemental income and job skills as they recover and prepare to enter the job market.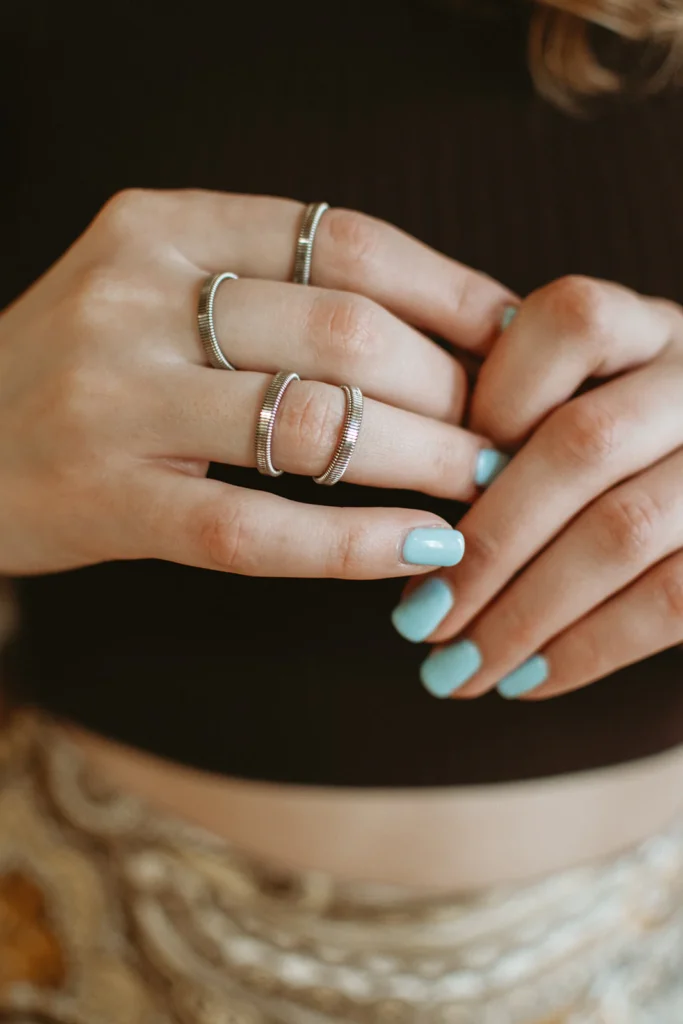 There is also a possibility for long-term employment with String for Hope. Six women have already been employed full-time as jewelry-makers through the Work Development Program.
Strings for Hope jewelry features an affordable price point of $15-$65. Their jewelry is great for those looking for minimalist jewelry.
Ten Thousand Villages makes handcrafted goods and gifts including jewelry and is committed to ensuring artisans earn a fair living wage in safe working conditions. They work with artisans by bringing their products to market through long-term, fair trade relationships.
A founding member of the World Fair Trade Organization, Ten Thousand Villages invests in artisans by putting them first. Fair trade relationships are established through transparent price agreements, interest-free microfinance investments, and payment before export.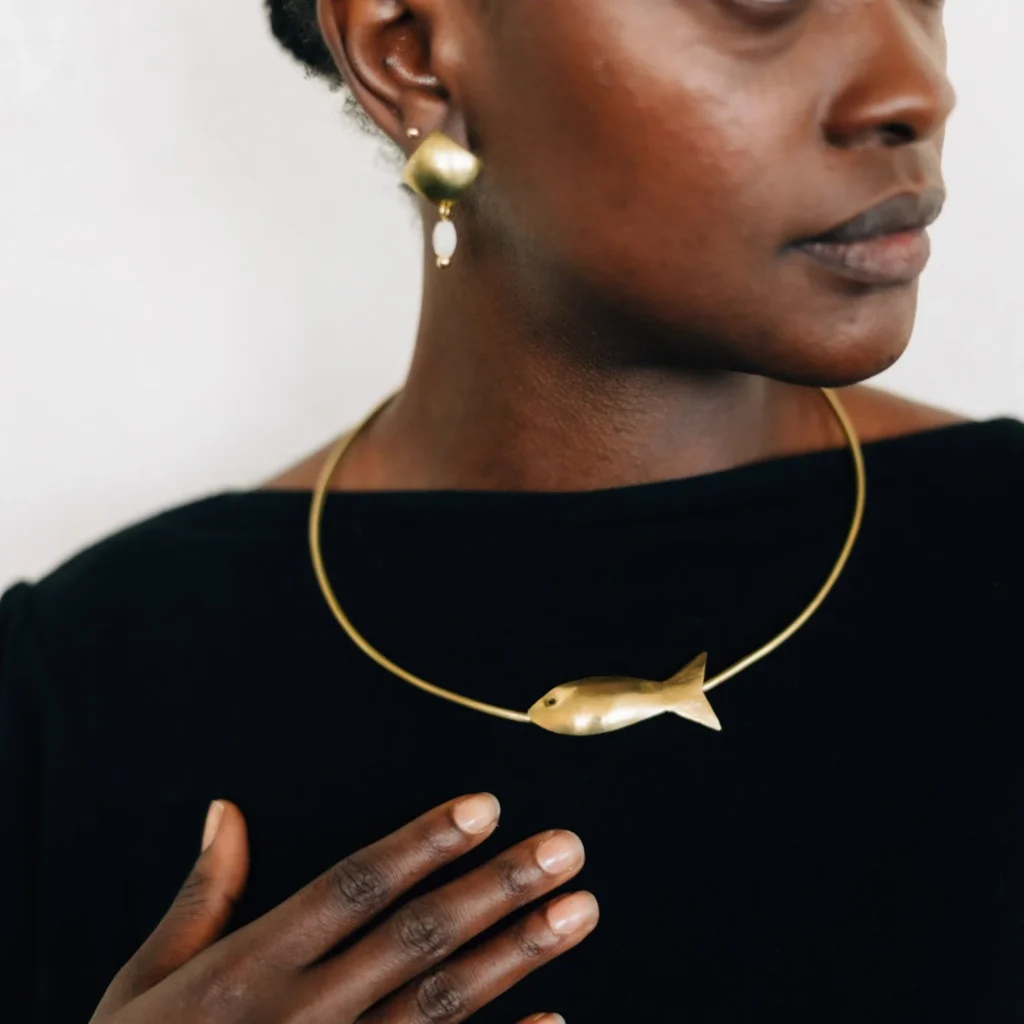 Ten Thousand Villages is a great place to find unique statement pieces that share a story. Ten Thousand Villages jewelry ranges from $5-$175 with the majority of their jewelry in the $20-$50 range.
Sustainable shoppers will find lots of artsy pieces of jewelry.
If you're looking for fine jewelry then the price range is going to be a bit different. Brilliant Earth has some more affordable lab grown diamond jewelry.
Brilliant Earth prides themselves on being a Beyond Conflict Free brand prioritizing ethics & environmental responsibility.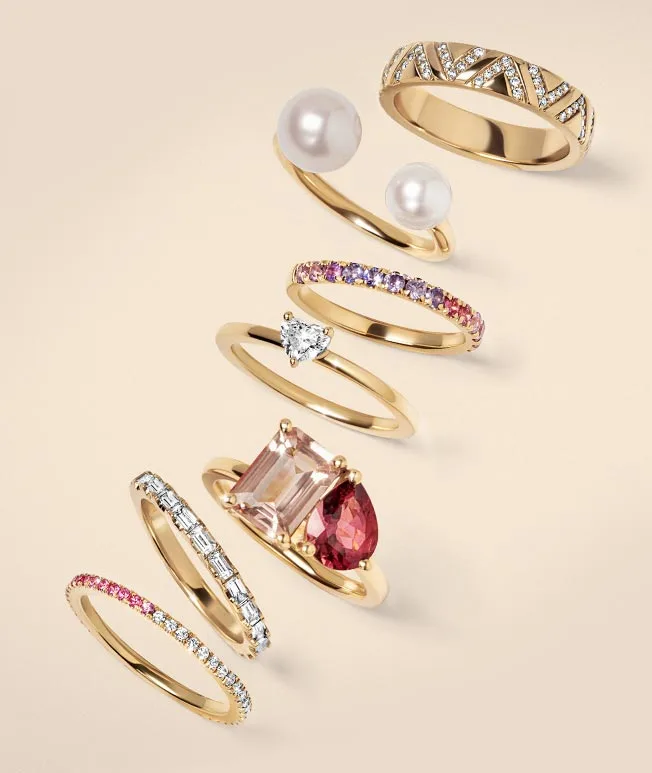 They're a great resource for engagement rings, wedding rings, and special occasions. Along with Brilliant Earth's lab grown diamonds they also use recycled gold. Brilliant Earth even has their Fairmined Collection which uses fair trade gold.
Their jewelry starts at around $300 and goes up. Their lab grown diamond jewelry can offer a more affordable engagement ring option too!
6 Ethical and Sustainable Jewelry Shopping Tips
If you're ready to start shopping for affordable jewelry that is sustainably made, here are some tips!
One of the steps in making the industry more sustainable is avoiding virgin materials. Support brands using recycled or upcycled materials, especially as metals such as silver and gold don't lose their properties during this process.
Lab-grown diamonds, which are cheaper than mined diamonds, are also coming to the fore.
Try shopping for new pieces of jewelry at your local craft fair. You can find amazing selections of handmade jewelry at makers markets.
Find out what other eco-friendly practices brands are employing such as using renewable energy and mindful packaging. Ensuring your jewelry is ethically sourced can be trickier. The shorter and clearer the supply chain, the better.
Look for eco-friendly packaging too.
Don't be afraid to check out your local secondhand shop for jewelry. This is a great way to find affordable jewelry and keep unwanted goods out of the landfill.
Hopefully this guide has helped you learn more about ethically-made jewelry, eco-friendly materials, and discover some amazing sustainable brands.