Your bed is one of the most important pieces of furniture that you'll ever buy. That's why it's so important that you make an informed choice when purchasing.
If you're looking into platform bed frames, you'll soon find that it's a purchase that could last your whole life, particularly when buying from a more sustainable brand.
Here, I'll give you the lowdown on everything you need to know about bed frames and guide you to finding a minimalist style platform bed frame.
Whether you're looking to upgrade the your master bedroom for a good night's sleep or make your guest room one worth re-visiting, this sustainable home guide will give you tips on what to avoid, plus we'll take a look at six eco-friendly minimalist platform bed frames on the market today.
This post does contain some affiliate links. If you choose to make a purchase Give a Damn Goods may receive a commission. Our commission is at no additional cost to you. Give a Damn Goods only recommend products and brands we truly believe in.
​Quick List of Sustainable Minimalist Platform Bed Frames
If you're just looking for quick eco-friendly ideas for minimalist bed frames, here you go! If you'd like to further your knowledge on bed frames, minimalism, and sustainable materials in furniture, read on!
| Product Image | Product Name / Price / Description | Primary Button |
| --- | --- | --- |
| | Palder Bed's modern, sturdy frame is crafted in solid, FSC-certified Hard White Maple or American Walnut for ultimate durability | |
| | Avocado handcrafts their Mid-Century Modern Bed Frame in their FSC®-certified Los Angeles woodshop from stunning maple or walnut wood. | |
| | The City Bed is one of the more affordable minimalist platform bed frames made from sustainably harvested solid timber. | |
| | Featuring a modern, tasteful design, Avocado handcrafts this eco-friendly Malibu Platform Bed Frame in their Los Angeles woodshop using 100% sustainably harvested maple or walnut. | |
| | Made from reclaimed wood, Avocado handcrafts the Natural Wood Bed Frame in their FSC® certified Los Angeles woodshop with a "rustic raw" stain and a zero-VOC sealant. | |
| | With a wooden bedframe and handwoven backrest, this is a great way to add a minimalist style with a pop of color to your bedroom. | |
What Is A Platform Bed Frame?
It might be where you sleep every night, but what exactly is a platform bed frame? Well, a platform bed is a low profile frame that supports your mattress. It can be made of solid wood or even metal, but you'll most commonly find them with slatted wood that lets the air circulate around the mattress.
A platform bed frame provides you with all the support that you need for your mattress, so you won't require anything additional.
How Is A Platform Bed Frame Different Than A Box Spring
A box spring is different to a platform bed for a few reasons. Firstly, box springs are generally higher off the ground than a platform bed.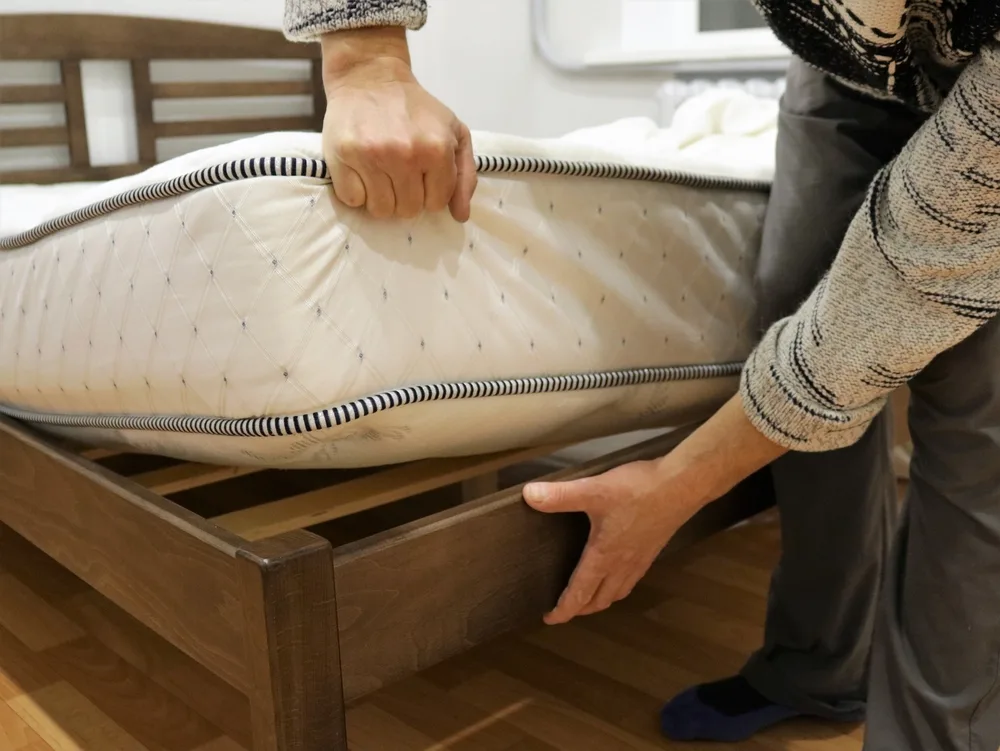 Secondly, a box spring is a bed base that you put on a bed frame. As the name suggests, they tend to have springs inside, and are designed as a barrier between your mattress and your bed frame.
Box springs aren't compatible with all mattresses however, and they are no longer needed for most modern beds, including platform bed frames. Platform bed frames are often lower to the ground or legless, and have a metal frame or wooden slats for the mattress to rest on.
Benefits Of Having A Minimalist Style Bedroom
There are many benefits to having a minimalist style bedroom. Minimalism doesn't mean having white walls and only nothing more than a bed in the room.
Having moderate visual complexity is the key. Part of this is to do with the amount of general clutter, and part to do with the style and colors that surround you.
Less to Clean
Having less stuff cluttering up a bedroom means that cleaning can be done quickly and easily.
A quick dust on of the few items of furniture, then a brush or a hoover, and you're pretty much done. The thing about having lots of knick-knacks, is that they will gather dust quickly.
Plus, if a place looks cluttered, you're far more likely to add to it yourself than if you have an open, minimal space.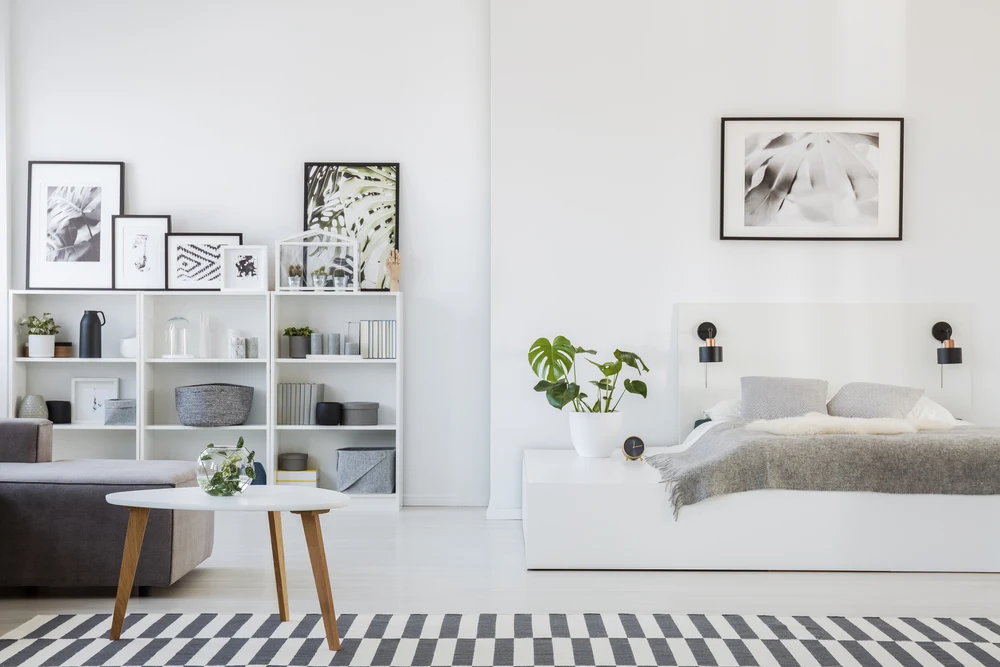 More space
This may seem like an obvious one, and even still, isn't the point of a minimalist bedroom to not use the space? Well, yes and no. Having a space that is minimalist in style can make you see what storage solutions there actually are in your room.
Plus, it can allow you to use the space in whole new ways. Never had room for a yoga mat before? With a minimalist design, you might be able to roll out your mat as part of your morning routine. Just don't leave it on the floor!
Because platform beds have low bed frames, you often have less under-bed storage, which can be a great thing when trying to let go of items you no longer need.
Peace of mind
If the place where you sleep is too busy, this can affect how your brain processes the space, making it more difficult to get to sleep. Having a minimalist bedroom can be relaxing and induce sleep thanks to the clean lines of design and lack of "noise" or clutter.
Are Conventional Platform Bed Frames Toxic? What Shoppers Should Avoid
Whenever you purchase new pieces, it's important to try to purchase non-toxic furniture.
It may come as a shock, but even your bed frames aren't free from toxic materials. Why? Well there are a few reasons for this.
The first is that when some of these chemicals were first used, putting them in plywood, or adding them to a varnish wasn't believed to cause any harm, even if they were known to be dangerous.
The second reason is that it helped to make low-cost products that met safety standards at a fast rate, simple as that. Whether it's a metal bed frame or a wooden bed frame, quality matters when it comes to toxicity.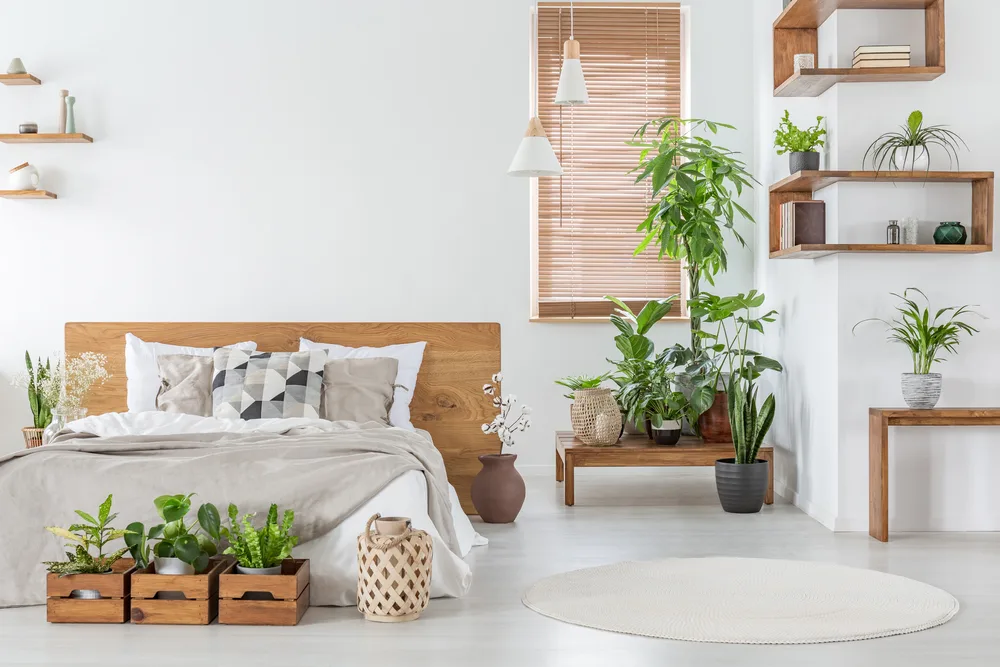 VOCs
The first thing you need to know when thinking about toxic materials is VOCs. These are Volatile Organic Compounds. You know when you buy a new piece of furniture and it has a strange smell that can last for weeks? The '"new" furniture smell?
Well, that smell is caused by these chemicals being released in a process that's known as "off-gassing" And they don't just disappear when the smell does.
While the rate will lessen, VOCs can still be released for years after the furniture has been purchased. It's for this reason that adding chemicals to our furniture is so dangerous, even if it's part of the internal structure.
Formaldehyde
This is commonly found in particleboard and plywood as well as some adhesives, so will feature in many conventional platform bed frames.
The EPA class formaldehyde as a human carcinogen and it is known for its strong smell. It can also cause irritation to the eyes and throat.
Eco-Friendly Materials Shoppers Should Look For in Platform Bed Frames
Now that you know about the harmful chemicals that are in many platform beds, let's look at how you can avoid them. It's all to do with the materials that the platform bed frame is made from and how it has been treated. There are 3 main things that you are looking for:
Natural wood
If you buy a bed frame that is all natural wood, then it's very unlikely to contain formaldehyde. Even better, if this wood is sourced from a FSC certified company, you know that it has been produced in a sustainable way.
While solid hardwood is heavy, many companies make platform frames that have a simple design to put together.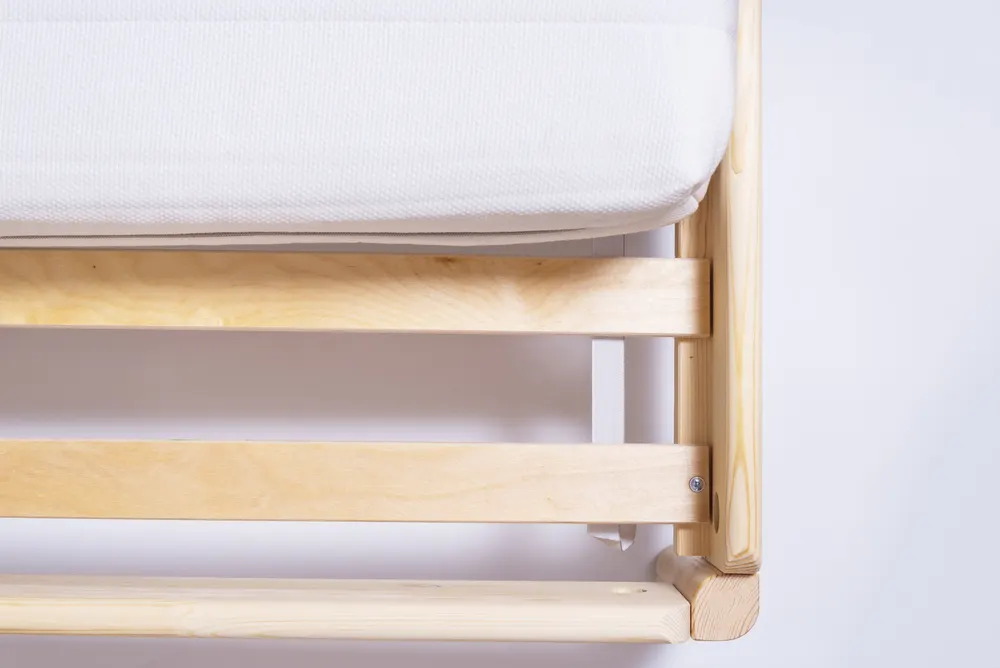 Unpainted
Paints can contain a lot of different chemicals, and produce VOCs. In order to keep your platform bed frame in the minimalist style, without toxic chemicals.
One option is to leave it unpainted and let the natural color of the solid wood bed complement your bedroom. Make sure your bedroom is painted with VOC free paint, too.
Oiled, not varnished
One of the major contributors to VOCs is the varnishes that they put on bed frames once they're finished. While you can get varnishes that are non-toxic, it's much safer, and better for the wood, if they are oiled naturally with something like linden oil.
This helps to protect the wood and keep it in good condition, as well as making it more waterproof.
6 Sustainable Minimalist Platform Bed Frames
Now that you know a lot more about platform bed frames, it's time to look at 6 of my favorite minimalist designs on the market today for the best platform beds.
A reminder: minimal design is a personal preference! You can still have a contemporary style or lean into other elements of your personality with design while keeping your bedroom or bed minimalist.
Medley is a home grown company that makes all of its furniture right here in the USA. Each of their remarkable bed frames is handmade, with up to 16 different skilled artisans working on each item. Due to the care and craft that goes into each one, they keep their styles minimal so the workmanship can really shine though.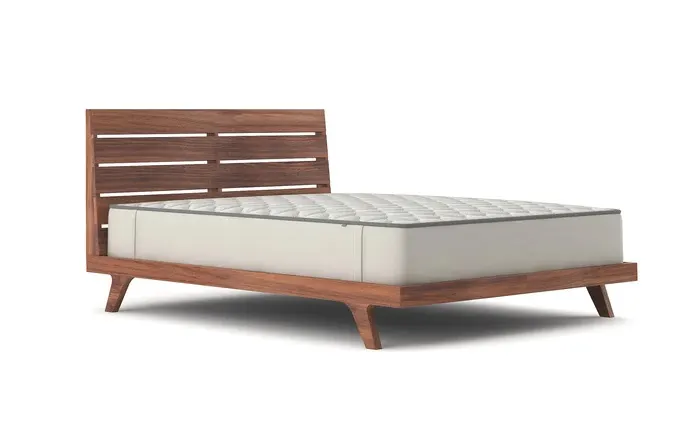 Palder– The Palder bed is just one of these options. Made using either walnut or maple, it has solid wood slats for extra durability. Plus all of Medley's wood is domestically sourced and FSC certified. This bed isn't designed to last for just a couple of years, but for a lifetime. Plus, there's the option of purchasing an organic latex mattress as well. The Palder bed is available in many sizes, from twin to king size bed even up to a California king!
Based in LA, this eco-conscious brand has a beautiful range of platform bed-frames, all made from solid wood. Avocado uses minimal glue or adhesive, and any they do use is completely VOC free. Any stains they use on their products are water based to give that all natural look without any added chemicals. This company is a great option as they have multiple styles of platform beds that are all easy assembly!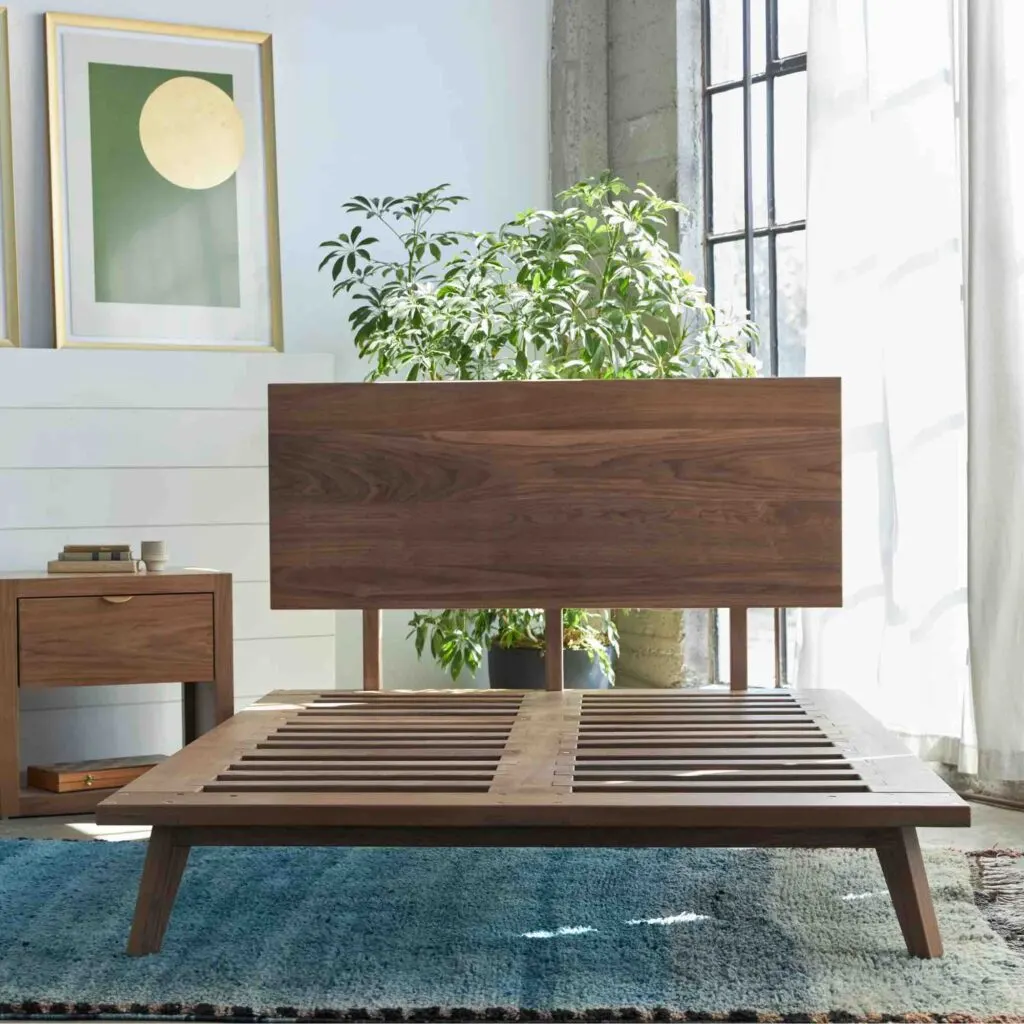 Masaya Co. is a brand determined to right the wrongs of deforestation in Nicaragua. Masaya Co. has a special reforestation project with their furniture. This not only helps the environment, but the country as a whole.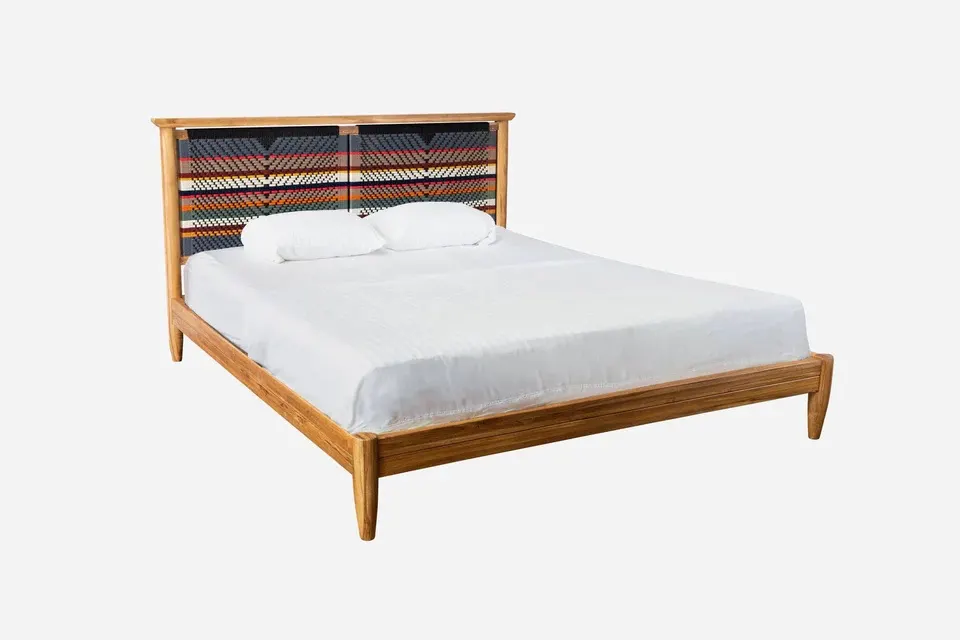 Monimbo- The Monimbo bed frame is a beautiful celebration of color, while still embracing a minimalist look. This platform bed frame is available in a variety of sustainably sourced woods. The main draw is the handwoven backrest however, handcrafted in Nicaragua using traditional techniques and available in a number of gorgeous patterns. With ease of assembly and artisan-crafted minimalist headboard, each of these beautiful low platform bed frames will be the main focal point of your peaceful bedroom.
There you have it, our guide to all things sustainable minimalist platform bed frames and six beautiful minimalist bed frames.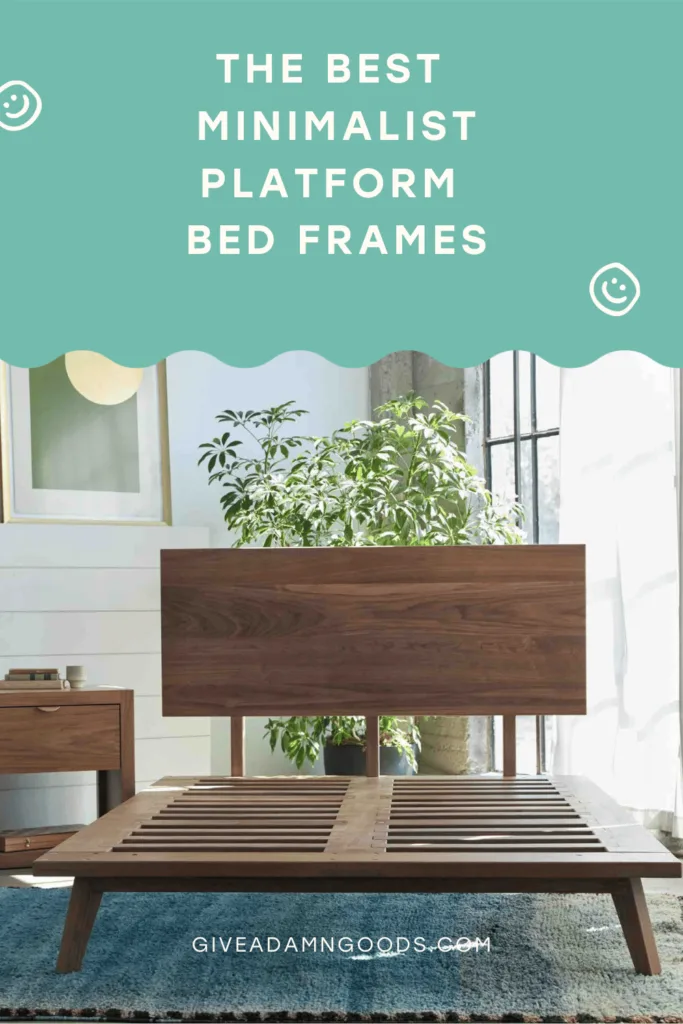 Hopefully you found out some valuable information and the best minimalist bed frames for your tastes. You don't have to stick to regular bed frames if you want a sleek style or contemporary design. Try switching to a minimalist wooden bed of high quality and see how you sleep!